We're Getting Mutants in the MCU - The Loop
Play Sound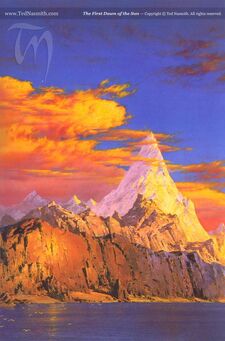 The Years of the Sun were the last of the great time periods in Arda, coming after the Years of the Trees. They started with the first rising of the Sun in the First Age, and continue until the present. This period of time was comprised of four Ages separated by significant events.
Description
The unit of time of the Years of the Sun was the coranar ("sun-round"; pl. coranári) in Quenya, also referred to as a loa ("growth"; pl. löar).[1] Though coranar and loa both refered to a single year, the two words had subtly different meanings. A coranar is an astronomical measurement that indicated the time for the Ambar (Earth) to complete a circuit around the Anar (Sun). A loa, by contrast, measured the time from one season of growth to the same season a year later.[2]
History
Main article: Timeline of Arda
These Years began with the first sunrise, some time after the destruction of the Two Trees, in conjunction with the return of the Ñoldor to Middle-earth. The count of time was newly measured according to the Sun's travels through the heavens and its change of direction and rotation. This continued throughout the rest of the ages of the Children of Ilúvatar, including the First Age (its last portion), the Second, the Third, the Fourth, and so on.[3]
Translations
| | |
| --- | --- |
| Foreign Language | Translated name |
| Afrikaans | Jare van die Son |
| Amharic | እሁድ ዘመን |
| Arabic | عصر الشمس |
| Armenian | Տարիքը արեւի |
| Azerbaijani | Günəş Yılları |
| Basque | Eguzki adina |
| Belarusian Cyrillic | Сонца эпохі |
| Bengali | সূর্য যুগ |
| Bosnian | Doba sunca |
| Bulgarian Cyrillic | Ерата на слънцето |
| Cambodian | សម័យកាលព្រះអាទិត្យ |
| Catalan | Edats dels Sol |
| Croatian | Doba sunca |
| Czech | Roky Slunce |
| Danish | Soltiden |
| Dutch | Tijdperk van de Zon |
| Esperanto | Aĝo de la Suno |
| Estonian | Päikese ajastu |
| Faroese | Sólaldur |
| Finnish | Auringon vuodet |
| French | Les Années du Soleil |
| Galician | Idade do Sol |
| Georgian | მზის წლები |
| German | Jahre der Sonne |
| Greek | Εποχή των Ήλιος |
| Gujarati | સૂર્યની ઉંમર |
| Hebrew | שנות החמה |
| Hindi | सूरज का युग |
| Hungarian | Nap-kor |
| Icelandic | Sólaraldur |
| Indonesian | Zaman Matahari |
| Italian | Anni del Sole |
| Japanese | 太陽の時代 |
| Kannada | ಸೂರ್ಯ ವರ್ಷಗಳು |
| Kazakh | Күннің дәуірі (Cyrillic) Künniñ däwiri (Latin) |
| Korean | 태양의 시대 |
| Kyrgyz Cyrillic | Күн жашы |
| Laotian | ຍຸກຂອງແສງຕາເວັນ |
| Latin | Sol Aetas |
| Latvian | Saules laikmetā |
| Lithuanian | Saulės amžius |
| Macedonian Cyrillic | Ерата на сонцето |
| Malaysian | Umur matahari |
| Maltese | Età tax-xemx |
| Marathi | सूर्य युग |
| Mongolian Cyrillic | Нарны эрин үе |
| Nepalese | सूर्य को युग |
| Norwegian | Solens alder |
| Persian | سال‌های خورشید |
| Portuguese | Idade do Sol |
| Punjabi | ਸੂਰਜ ਯੁੱਗ |
| Romanian | Vârsta soarelui |
| Russian | Эпоха Солнца |
| Serbian | Соларни доба (Cyrillic) Solarni doba (Latin) |
| Slovak | Vek éra |
| Slovenian | Sonce obdobje |
| Spanish | Edades del Sol |
| Swedish | Solenstiden |
| Tajik Cyrillic | Даврони Офтоб |
| Tamil | சூரியனின் சகாப்தம் |
| Telugu | సన్ సంవత్సరాల |
| Thai | ยุคแห่งตะวัน |
| Turkish | Güneş Yılları |
| Urdu | سورج کا دور |
| Ukrainian Cyrillic | Епоха сонце |
References