Hi, everyone. My name is Lexi, and this is my first blog post. I love LOTR and the Hobbit, well, obviously, if I'm on this page. My favorite characters are Legolas and Eowyn, because they're just plain awesome! I own extended editions of all the movies, and watch them whenever I can. I also have read the hobbit several times since I was 11, although it sucks that Legolas and Tauriel aren't in the book. I am currently listening to the LOTR audiobook, since the book is just so dang hard to read! I am writing a fanfic about a made-of character of mine, Legoriel, Legolas's sister, but I don't know if I'll finish it. FYI, I'll probably change her name before I'm done. I'll be inserting a lot of LOTR pics on this blog, some cool wallpapers, and some funny stuff.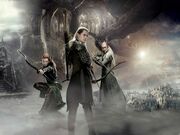 Hope you enjoy it!
Community content is available under
CC-BY-SA
unless otherwise noted.