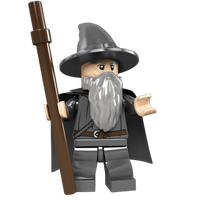 Calling all Tolkien fans! We need YOUR help to make a LEGO Hobbit personality quiz! To keep us entertained before the next movie and sets are out, we are going to make a personality quiz and you can find out who from The Hobbit you would be!
To help out, submit a question that you think belongs on a personality quiz! We want the final results to be Bilbo Baggins, Gandalf, Gollum, Legolas Greenleaf, or Thorin Oakenshield so your question needs to be fairly vague to keep the mystery of the final result alive! When you submit your question, please include the result for each answer option. For example,
What is your favorite kind of food?
a) A five course meal! - Bilbo
b) Anything that goes well with my pipe-weed - Gandalf
c) Anything vegetarian - Legolas
d) Whatever I can get that's edible - Gollum
e) Meat. - Thorin

To qualify to have your question and answer be featured in the quiz, please make sure you format it like the question above including the question, the answers, and the character each answer pertains too. We will be accepting possible questions until April 1st so GET CRACKING!!
---
---
Community content is available under
CC-BY-SA
unless otherwise noted.