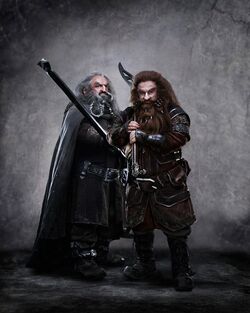 After the recent reveal of Nori, Dori and Ori, now it's time for two more of the thirteen dwarves that accompany Bilbo Baggins in The Hobbit movies - John Callen as Oin and Peter Hambleton as Gloin.
Distant cousins of Thorin Oakenshield, these two doughty Northern Dwarves join the Company out of a sense of loyalty to their kin, and also because they have a substantial sum of money invested in the venture. Along with Bombur, Gloin is the only other married Dwarf in the Company (there being a shortage of female dwarves in general). His wife is an acclaimed beauty with a particularly fine beard. Gloin is the proud father of a young son, Gimli, who will go on to become part of the famous Fellowship of the Ring.
How do you like it? I think they're doing a nice job at making the largely unindistingushable mass of dwarves from the book into more unique characters.
Source: Official Facebook page
Community content is available under
CC-BY-SA
unless otherwise noted.