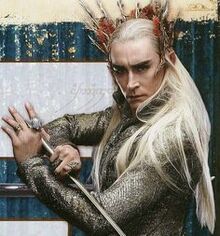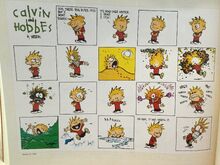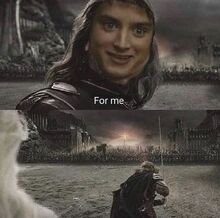 Hello everyone! I am Ruby. I love love love Middle-earth and all of Tolkien's works. They are so special and take a big place in my heart. I am an advanced violinist and can play many things by ear. I have figured out so many LOTR songs and memorized them! Am I bragging? I'm sorry. I bet you have good talents too, reader. I like to read up on Tolkien stuff and enjoy learning everything I can. I've read the LOTR books, the Hobbit, and am on chapter 8 of the Silmarillion. It's nice to know that there is a whole community out there of middle earth lovers. At my place, everyone is sick of me talking about it and I never get to enjoy myself in a conversation about my passion. All of you are great support and wonderful artists, too! I've seen so many artworks on this wiki and I am totally amazed! You are all wonderful people with great taste! Thanks to all of you! I learned Tengwar!!! I'm so happy and now I write my journals with it so my sibling won't peek. I really like Calvin and Hobbes comics. They're SO funny! I also spend time hiking around pretending to be Bilbo and swimming. I love going paddleboarding through secret mangrove tunnels here in Florida. I frequently stroll around imagining I'm in middle earth; when in reality it's my dumb room. Oh well.
| | |
| --- | --- |
| en-3 | This user is able to contribute with an advanced level of English. |
Community content is available under
CC-BY-SA
unless otherwise noted.