Lord of the Rings (by J.R.R. Tolkien), Harry Potter (by J.K. Rowling), and the Inheritance Cycle (by Christopher Paolini) are what I call The Big Three. They are the great creators of Fantasy.
Lord of the Lord of the Rings Lore Level: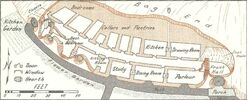 I have read and listened to the books many times.
************
I have seen the films and listened to the music (which is usually not appreciated for what it is worth) about 2,000 times.*********
I am reading the Silmarillion now and have read the appendixes to the LOTR books.******
These are some of my favorite images: