Hello
I am(as you have already noticed) Lady Arwen Evenstar. I discovered the Lord of the Rings trilogy two weeks ago and am enjoying reading the books and watching the movies.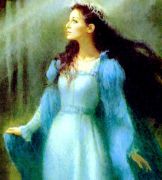 I found a link to this wiki on the Redwall wiki, so here I am.
Books I've read
My Books
(working on getting more)
The Fellowship of the Ring paperback
Favorites
Characters:Aragorn II Elessar, Legolas, Peregrin Took, Frodo Baggins, and Arwen(duh)
Book:The Two Towers
Place:Lothlorien
Other accounts
Redwall wiki:Pinedance Coneslinger
Warriors Wiki:Pinedance Coneslinger
Redwall Fan Fiction wiki:Half Moon, Pinedance Coneslinger
Community content is available under
CC-BY-SA
unless otherwise noted.