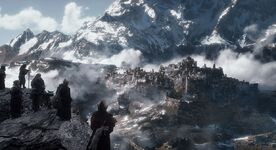 This is your user page. Please edit this page to tell the community about yourself!
I am from Norway, and a huge fan of the Lord of the Rings and the Hobbit (the movies), two personal favourites when it comes to triologies, alongside Star Wars 4-6.
I have set myself a goal to read all the books, including the Silmarillion, since I have a huge interest in learning more about Tolkien's work and the Middle Earth stories. CURRENTLY reading LoTR triology book. :)
[Film 3]
-> I have seen the movies multiple times, both the theatrical version (Hobbit + LoTR) and the extended version (LoTR). I also know much of the plot in the movies and several memorable scenes. I have not seen any 'behind the scenes' material from any of the movies, because I
DON'T
want to know anything about the making of the movies. Why? Well, it would ruin it for me really, as it has happened before (other movies, ofc..) Obviously because the making is disappointing when you see it in comparison to the CGI, e.g. in a battle scene where there are several thousand soldiers, whereas in the BTS there's only a couple of dozens... You get the point!

[en-4]-> It's a mixture of British English and American English, although I usually stick to either one of them when editing wiki's depending on which one is mostly used. (e.g. RSwiki uses British English, because Jagex (owner) is located in England, therefore the game, RS, uses British). Now, obviously I do make some grammatical errors every now and then, and there are probably some in what I have written here.
One of my favourite dialogues:
PIPPIN: "I didn't think it would end this way."

GANDALF: "End? No, the journey doesn't end here. Death is just another path... One that we all must take. The grey rain-curtain of this world rolls back, and all turns to silver glass... And then you see it."

PIPPIN: "What? Gandalf?... See what?"

GANDALF: "White shores... And beyond, a far green country under a swift sunrise."

PIPPIN: "Well, that isn't so bad."

GANDALF: "No... No, it isn't."
My favorite pages
Add links to your favorite pages on the wiki here!
Favorite page #2
Favorite page #3
Community content is available under
CC-BY-SA
unless otherwise noted.