Arwen
Personal Data
Race
Elf
Other names
Undómiel
Date of birth
TA 241
Gender
Female
Hair color
Black
Eye color
Blue
I learned about this site from user:Razor77.
I've read The Lord of the Rings multiple times and seen all three of the movies several times. My favorite of the movies is The Fellowship of the Ring (film). I love all three of the books and can't pick a favorite. My least favorite of the movies is The Return of the King (film); I was heart-broken that Peter Jackson maimed the friendship between Frodo Baggins and Sam Gamgee, as that was always a crucial component of the books to me. Plus, I always want to yell at Denethor II for being so abusive to Faramir. Somehow he seems less cruel in the books.
One of my favorite scenes from the books is when Aragorn II, Legolas, and Gimli catch up with Meriadoc Brandybuck and Peregrin Took by Isengard. Peregrin Took's line "One thing you have not found in your hunting, and that's brighter wits," followed by Théoden's comment "It cannot be doubted that we witness the meeting of dear friends," always makes me laugh.
--(The Two Towers (novel), The Road to Isengard)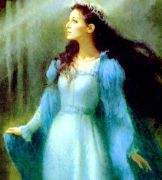 I really enjoy the redone character of Arwen in The Lord of the Rings film trilogy. I thought the writers did a good job of taking a character with little but beauty (& her skill at making Aragorn II's banner) to recommend her, and making her into someone worthy of Aragorn II's love. I didn't mind that she replaced Glorfindel because in a movie you have to consider the number of characters you're going to introduce, as well as how and why; Glorfindel was really a minor character and even though he played an important part, that was really his only contribution.