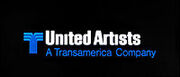 United Artists
Corporation (UA) is an American film studio. It was first founded in 1919 by D. W. Griffith, the famous actor and film director
Charlie Chaplin
, Mary Pickford and Douglas Fairbanks.
United Artists is known for distributing the 1978 animated film The Lord of the Rings to theatres during a time of crisis within the company .
History in the 70s
For a time UA continued with a flow of successful pictures, including the 1971 screen version of Fiddler on the Roof. New talent was encouraged, including Woody Allen, Robert Altman, Sylvester Stallone, Saul Zaentz, Miloš Forman, and Brian De Palma. In 1973, UA took over the sales and distribution of MGM's films in Anglo-America.
In 1975, Harry Saltzman sold UA his 50% stake in Danjaq, the holding-company for the Bond films. Danjaq and UA have remained the public co-copyright holders for the Bond series ever since
However, Transamerica was not pleased with UA's frequent releases of films rated X by the Motion Picture Association of America ; in these instances, Transamerica demanded the byline "A Transamerica Company" be removed from the UA logo on the prints and in all advertising. At one point, the parent company expressed their desire to phase out the UA name and replace it with Transamerica Films. Finally in 1978, following a dispute over administrative expenses, UA's top executives, walked out and right after that they distributed J.R.R. Tolkien's The Lord of the Rings.
Community content is available under
CC-BY-SA
unless otherwise noted.