Doctor Strange in The Multiverse o Madness - The Loop
Play Sound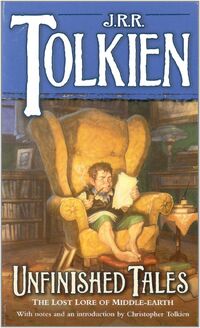 Unfinished Tales (fully titled Unfinished Tales of Númenor and Middle-earth) is a collection of stories and alternate narratives by J.R.R. Tolkien that were not completed in his lifetime, but edited and concluded by Christopher Tolkien, and published in 1980. The stories are set in Arda.
Publication & edition
Unlike The Silmarillion, in which narrative fragments were modified to form a consistent and coherent work, the Unfinished Tales are presented as Tolkien left them, with little more than names changed. Thus some of these are incomplete stories, while others are collections of "factual" information about Middle-earth. Each tale is followed by a long series of Christopher's notes explaining inconsistencies and obscure points. In a few of the tales (written after The Lord of the Rings had been published and found success), Tolkien reaches back to rationalize or correct certain facets of his world that originally had been different, or mysterious.
As with The Silmarillion, Christopher Tolkien edited and published Unfinished Tales before he had finished his study of the materials in his father's archive. Despite shortcomings in editorial consistency, Unfinished Tales provides detailed information about characters, events and places mentioned only briefly in The Lord of the Rings. Tales include alternate accounts of the origins of Gandalf and the Wizards, the death of Isildur and the loss of the One Ring in the Gladden Fields, and the founding of the kingdom of Rohan.
Of particular note is the tale of Tar-Aldarion and Erendis, the only known story set within Númenor before its fall. A map of Númenor is included.
Unfinished Tales had commercial success, demonstrating that demand for Tolkien's stories several years after his death grew on. Considering this, Christopher Tolkien began to embark upon the more ambitious twelve-volume work entitled The History of Middle-earth which encompasses nearly the entire corpus of Tolkien's Middle-earth writings.
A special Deluxe Slipcase Edition was released by Harper Collins in 2013. In 2020, an "Illustrated Edition" of the book was released by Houghton Mifflin, featuring art by John Howe, Alan Lee, and Ted Nasmith. (These illustrators had separately provided cover-art for prior publications, in 1996, 2001, and 2003 respectively.)
Contents
Part One: The First Age:
Part Two: The Second Age:
Part Three: The Third Age:
Part Four
Translations
| | |
| --- | --- |
| Foreign Language | Translated name |
| Afrikaans | Onvoltooide Verhale |
| Albanian | Tregime të papërfunduara |
| Amharic | ያልተጠናቀቁ ታሪኮች |
| Arabic | غير منتهية قصص |
| Armenian | Անավարտ պատմություններ |
| Basque | Amaitu gabeko ipuinak |
| Belarusian Cyrillic | Няпоўныя гісторыі |
| Bosnian | Nedovršene priče |
| Bulgarian Cyrillic | Незавършените приказки |
| Burmese | မပြီးဆုံးသေးသောပုံပြင်များ |
| Cambodian | រឿងមិនទាន់បញ្ចប់ |
| Catalan | Contes inconclusos |
| Chinese | 未完成的故事 |
| Cornish | Andhien Hwedhlow |
| Croatian | Nedovršene pripovijesti |
| Czech | Nedokončené příběhy |
| Danish | Efterladte historier |
| Dutch | Nagelaten vertellingen |
| Estonian | Lõpetamata lood |
| Finnish | Keskeneräisten tarujen kirja |
| French | Contes inachevés |
| Galician | Contos inconclusos |
| Georgian | დაუსრულებელი მოთხრობები |
| German | Nachrichten aus Mittelerde |
| Greek | Ατέλειωτες Ιστορίες |
| Gujarati | અપૂર્ણ ટેલ્સ |
| Hebrew | סיפורים שלא נשלמו |
| Hindi | अधूरी कहानियां |
| Hungarian | Befejezetlen történetek |
| Icelandic | Ólokið sögur |
| Indonesian | Cerita-cerita yang belum selesai |
| Italian | Racconti Incompiuti |
| Japanese | 終わらざりし物語 |
| Kannada | ಪೂರ್ಣಗೊಳಿಸದ ಕಥೆಗಳು |
| Kazakh | Толық емес әңгімелер (Cyrillic) Tolıq emes äñgimeler (Latin) |
| Korean | 끝나지 않은 이야기 |
| Kyrgyz Cyrillic | Бүтпөгөн окуялар |
| Laotian | ບົດເລື່ອງທີ່ບໍ່ຄົບຖ້ວນ |
| Latvian | Nepabeigti stāsti |
| Lithuanian | Nebaigtų istorijos |
| Luxembourgish | Inkompletter Geschichten |
| Macedonian Cyrillic | Незавршени приказни |
| Malagasy | Tantara tsy tanteraka |
| Malaysian | Cerita-cerita yang belum selesai |
| Maltese | Reċensjonijiet mhux lesti |
| Mongolian Cyrillic | Үл дуусаагүй түүхүүд |
| Nepalese | अधूरो कथाहरू |
| Norwegian | Ufullendte fortellinger |
| Persian | داستان‌های ناتمام |
| Polish | Niedokończone opowieści |
| Portuguese | Contos Inacabados |
| Punjabi | ਅਢੁਕਵੇਂ ਕਹਾਣੀਆਂ |
| Romanian | Povești neterminate |
| Russian | Неоконченные сказания |
| Serbian | Незавршене приче (Cyrillic) Nezavršene priče (Latin) |
| Sinhalese | අසම්පූර්ණයි කතාවක් |
| Slovak | Nedokončené príbehy |
| Slovenian | Nedokončane zgodbe |
| Spanish | Cuentos Inconclusos |
| Swedish | Oavslutade Berättelser |
| Tajik Cyrillic | Нопурра Ҳикояҳои |
| Tamil | அன்பினிஷ்டு கதைகள் |
| Telugu | అసంపూర్తి కథలు |
| Thai | เรื่องราวที่ไม่สมบูรณ์ |
| Turkish | Bitmemiş Öyküler |
| Ukrainian Cyrillic | Незакінчені оповіді |
| Urdu | نامکمل کہانیاں |
| Uzbek | Қурилиши тугалланмаган ҳикоялар (Cyrillic) Qurilishi tugallanmagan hikoyalar (Latin) |
| Vietnamese | Câu chuyện chưa hoàn thành |
| Welsh | Storïau Anghyflawn |
| Yiddish | ונפינישעד מעשיות |