Jurassic World: Dominion Dominates Fandom Wikis - The Loop
Play Sound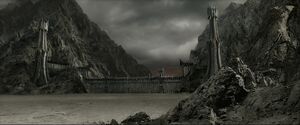 The Towers of the Teeth (or Teeth of Mordor) were two towers situated on either side of the Black Gate. The two towers, Carchost and Narchost, stood on either side of Cirith Gorgor between the Ephel Dúath and the Ered Lithui.
History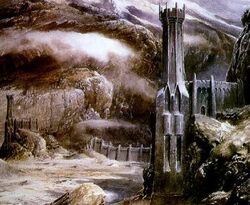 Originally built by Men of Gondor following the downfall of Sauron at the end of the Second Age, Gondor maintained garrisons in the Towers to prevent the return of evil to Mordor. Following the Great Plague evil crept back into Mordor, although the Towers were once again manned during the Wainrider War.[1] After this the Towers of the Teeth were again abandoned and fell into ruin, eventually claimed by the servants of the Dark Lord. They were repaired and fortified, and were incorporated into the defenses of the pass and gate.[2]
Narchost stood at the western end of the Gate, and Carchost at the eastern end.[3] Frodo, Sam, and Gollum beheld these towers and the Black Gate between them as they disputed the best passage into Mordor, and it was before these towers that the Captains of the West and their host later made their last stand against the forces of Sauron. The towers were destroyed with the defeat of Sauron in TA 3019, upon the destruction of the One Ring.
Etymology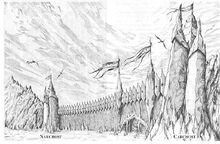 Carchost means "fang fort" in Sindarin, and Narchost "fire fort".
Portrayal in adaptations
Middle-earth: Shadow of Mordor
In the lore of the game Middle-earth: Shadow of Mordor, the Towers of the Teeth were built by Gondor with the use of prison labor, following the Battle of Dagorlad.
Translations
| | |
| --- | --- |
| Foreign Language | Translated name |
| Afrikaans | Torings van die Tande |
| Albanian | Kullat e Dhëmbët |
| Amharic | ጥርሶች ማማዎች |
| Arabic | أبراج للأسنان |
| Armenian | Աշտարակներ է ատամների |
| Azerbaijani | Dişlərin qüllələr |
| Basque | Hortzak dorreak |
| Belarusian Cyrillic | Вежы зубоў |
| Bengali | দাঁত টাওয়ার্স |
| Bosnian | Kule zuba |
| Bulgarian Cyrillic | Кули на зъбите |
| Burmese | အသွား၏တာဝါတိုင် |
| Cambodian | ប្រាង្គនៃធ្មេញ |
| Catalan | Torres de les Dents |
| Cebuano | Mga Torre sa mga Ngipon |
| Chinese | 塔的牙齿 |
| Croatian | Kula Zubi |
| Czech | Věže zubů |
| Danish | Tandtårnene |
| Dutch | Torens van de Tanden |
| Esperanto | Turoj de la Dentoj |
| Estonian | Torni hambad |
| Filipino | Ang mga tore ng mga ngipin |
| Finnish | Hammastornit |
| French | Tours des Dents |
| Frisian | Tuorren fan 'e tosken |
| Galician | Torres dos Dentes |
| Georgian | ციხესიმაგრე კბილები |
| German | Türme der Wehr |
| Greek | Πύργους των δοντιών |
| Gujarati | દાંત ટાવર્સ |
| Hausa | Hasumiya da Hakora |
| Hebrew | המגדלים של השיניים |
| Hindi | दांत के टावरों |
| Hmong | Yees ntawm lub Hniav |
| Hungarian | A fogak tornyok |
| Icelandic | Turn í Tönnum |
| Irish Gaelic | Túir na Fiacla |
| Italian | Torri dei Denti |
| Japanese | 歯の塔 |
| Kannada | ಟೀತ್ ಆಫ್ ಟವರ್ಸ್ |
| Kazakh | Тістерін мұнара (Cyrillic) Tisterin munara (Latin) |
| Korean | 치아의 타워 |
| Kurdish | Bircên ji Diranên (Kurmanji) |
| Kyrgyz Cyrillic | Тиштерин мунаралар |
| Latvian | Torņi zobiem |
| Lithuanian | Bokštai dantų |
| Luxembourgish | Tierm vum 'Zänn |
| Macedonian Cyrillic | Кулите на заби |
| Malagasy | Ireo tilikambo-ny Nify |
| Malay | Menara Gigi |
| Malayalam | പല്ലിന്റെ ടവേഴ്സ് |
| Maltese | Torrijiet tas-snien |
| Marathi | दात टॉवर्स |
| Mongolian Cyrillic | Шүдээ Цамхаг |
| Nepalese | दाँत को टावर |
| Norwegian | Tårn av tennene |
| Pashto | د غاښونو ټاورونو |
| Persian | برج های دندان |
| Polish | Wieże zębów |
| Punjabi | ਦੰਦ ਟਾਵਰ |
| Romanian | Turnuri de dinţi |
| Russian | Башни зубов |
| Sinhalese | දත් ක කුළුණු |
| Serbian | Куле зуба (Cyrillic) Kule zuba (Latin) |
| Sindhi | جي ڏند جو برج |
| Slovenian | Stolpi zob |
| Slovak | Veže zubov |
| Spanish | Torres de los Dientes |
| Sundanese | Munara tina Huntu |
| Swahili | Minara ya Meno |
| Swedish | Tändernas torn |
| Tajik Cyrillic | Манораҳои ба дандон |
| Tamil | பற்கள் டவர்ஸ் |
| Telugu | టీత్ టవర్స్ |
| Thai | ทาวเวอร์ของฟัน |
| Turkish | Diş Kuleleri |
| Ukrainian Cyrillic | вежі зубів |
| Urdu | دانت کے ٹاورز |
| Uzbek | Тиш миноралар (Cyrillic) Tish minoralar (Latin) |
| Vietnamese | Tháp của Răng |
| Welsh | Tyrau o'r Dannedd |
| Yiddish | טאָווערס פון די ציין |
References
Cite error: Invalid parameter in <references> tag