Doctor Strange in The Multiverse o Madness - The Loop
Play Sound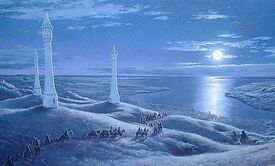 The Tower Hills, or 'Emyn Beraid' in Sindarin, were a series of steep hills located in the west of Eriador.
They lay about 30 Númenórean miles east of Mithlond, the Grey Havens of Lindon, and about 50 miles west of the White Downs, of old the border of the Shire.
History
The Tower Hills gained their name from the three tall Elven towers built by Gil-galad for Elendil in the late Second Age. Subsequently the hills formed the ancient border between the Elven realm of Lindon and the Kingdom of Arnor, and the Great East Road which led all the way to Rivendell ran through them.
In SR 1462 Elanor Gardner, daughter of Samwise Gamgee, and her husband Fastred moved to the Tower Hills, founding the town of Undertowers on the eastern slopes of the Hills, and becoming the Wardens of Westmarch. The Tower Hills became the new western border of the Shire.[1]
Translations
| | |
| --- | --- |
| Foreign Language | Translated name |
| Afrikaans | Toring Heuwels |
| Albanian | Kulla Kodrat |
| Amharic | ታወር ሂልስ |
| Arabic | برج هيلز |
| Armenian | աշտարակ հիլզ |
| Basque | Dorrea Muinoak |
| Belarusian Cyrillic | вежавыя пагоркі |
| Bengali | টাওয়ার হিলস |
| Bosnian | Toranj Brda |
| Bulgarian Cyrillic | Кулови хълмове |
| Cambodian | ថៅវើតាមភ្នំ |
| Catalan | Torre Turons |
| Cebuano | Torre Bungtod |
| Chichewa | Nsanja Mapiri |
| Chinese (Hong Kong) | 塔丘 |
| Cornish | Tour Breow |
| Corsican | Torre Culline |
| Croatian | Toranj brežuljaka |
| Czech | Věžové kopce |
| Danish | Tårn Bakker |
| Dutch | Toren Heuvels |
| Finnish | Tornikukkulat |
| Esperanto | Turo Montetoj |
| Estonian | Torn küngast |
| Faroese | Torn Heygar ? |
| French | La Tour collines |
| Frisian | Toer Heuvels |
| Galician | Torre Outeiros |
| Georgian | კოშკთა გორაკი |
| German | Turmberge |
| Greek | Πύργος Λόφοι |
| Gujarati | ટાવર હિલ્સ |
| Hebrew | טאוור הילס |
| Hindi | टॉवर हिल्स |
| Hungarian | Toronydombok |
| Icelandic | Turn Hæðir |
| Indonesian | Menara Bukit |
| Irish Gaelic | Túr gCnoc |
| Italian | Colline Torre |
| Japanese | タワーヒルズ |
| Javanese | Menara bukit |
| Kannada | ಟವರ್ ಹಿಲ್ಸ್ |
| Kazakh | Мұнара төбелер (Cyrillic) Munara töbeler (Latin) |
| Korean | 타워 힐즈 |
| Kyrgyz Cyrillic | мунара адырлар |
| Latin | Turris collibus |
| Latvian | Torņa kalni |
| Lithuanian | Bokštas kalnai |
| Macedonian Cyrillic | кула Хилс |
| Malaysian | Menara Bukit |
| Maltese | It-Torri tal-għoljiet |
| Maori | pukepuke Pourewa |
| Marathi | टॉवर हिल्स |
| Mongolian Cyrillic | Цамхаг толгод |
| Nepalese | टावर हिल्स |
| Norwegian | Tårnet Bakker |
| Pashto | برج هیلز |
| Persian | تپه‌های برج |
| Portuguese | Colinas das Torres |
| Romanian | Dealuri Turn |
| Romansh | Tur Muntognas |
| Russian | Эмин Берайд |
| Scottish Gaelic | Tùr Cnuic |
| Serbian | товер Хиллс (Cyrillic) Toranj Brda (Latin) |
| Sesotho | Tora Maralla |
| Sindhi | منارو ٽڪرين |
| Sinhalese | ටවර් හිල්ස් |
| Slovak | Veža kopcov |
| Slovenian | Stolp Griči |
| Spanish | Colinas de la Torre |
| Swahili | Mnara Milima |
| Swedish | Tornkullarna |
| Tajik Cyrillic | теппаҳо бурҷи |
| Tamil | டவர் ஹில்ஸ் |
| Tatar | Mанара калкулык ? |
| Telugu | టవర్ హిల్స్ |
| Thai | ทาวเวอร์ฮิลล์ |
| Tongan | Taua Ngaahi mo'unga |
| Turkish | Kule Tepeleri |
| Turkmen | Minara Baýyr |
| Ukrainian Cyrillic | баштові пагорби |
| Urdu | ٹاور ہلز |
| Uzbek | Қаср тепаликлари (Cyrillic) Qasr tepaliklari (Latin) |
| Vietnamese | Tháp đồi |
| Welsh | Bryniau Tŵr |
| Yiddish | טורעם היללס |
| Yoruba | Ile-iṣọ Òkè kéékèèké |
References