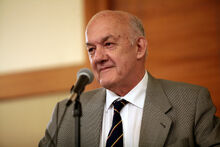 Tom Shippey (born Thomas Alan Shippey on September 9, 1943) is a British author, philologist, and professor, and one of the foremost Tolkien scholars. He has appeared in several documentaries on the subject (such as J.R.R. Tolkien: Origins of Middle-earth), and is known for giving lectures on J.R.R. Tolkien and reviews on Tolkien-related literature, from the 1970's to the present. From 2003 he was president of the International Society for the Study of Medievalism for six years, and until 2007 was also the editor of their annual publication, Studies in Medievalism.
Tolkien and Shippey became correspondents in 1970, after Tolkien's private secretary had attended Shippey's first lecture, Tolkien as philologist, and asked him for his script for Tolkien to read. Two years later, the two met each other at a social dinner.
Shippey graduated from the University of Cambridge in 1968 with a Masters of Arts, and later in 1990 received a PhD. He became a Chair of Humanities at Saint Louis University in Missouri, and previously had been elected to the Chair of English Language and Medieval English Literature at the University of Leeds in West Yorkshire, England. He retired in 2008.
He provided the Introduction to Tales from the Perilous Realm, the compilation of Tolkien's classic fairy tales, also in 2008.
Books written
Edit
Tom Shippey has been appealed to or quoted in many studies[1][2][3][4][5] by Tolkien scholars, biographers, and even Christopher Tolkien[6] throughout the decades following 1982. He has become a chief authority on philological insights into Tolkien's world and its underpinnings.
For the publication of his book The Road to Middle-earth, Salon news remarked that "Shippey may be uniquely qualified to explicate Tolkien's worldview to the rest of us." For both that book and J.R.R. Tolkien: Author of the Century, Shippey received praise from Chicago Sun-Times, the Houston Chronicle, Harper's Magazine, the Philadelphia Inquirer, and Washington Times.
In 2004, Douglas Anderson put together a bibliography of Shippey's writings on Tolkien, named "Tom Shippey on J.R.R. Tolkien: A Checklist".
In 2014, Tolkien in the New Century: Essays in Honor of Tom Shippey was compiled by John Houghton, Janet Brennan Croft, Hancy Martsch, John D. Rateliff, and Robin Anne Reid. This was stimulated by Shippey's retirement in 2008.
References
Edit
External links
Edit