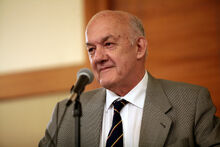 Tom Shippey, Ph.D. (born Thomas Alan Shippey on September 9, 1943) is a British author, philologist, and professor, and one of the foremost Tolkien scholars.
He has appeared in many documentaries on J.R.R. Tolkien, and is known for giving many lectures on Tolkien's legendarium and writing reviews on Tolkien-related literature, from the 1970's to the present.
Amazon Studios chose Shippey to be a consultant in the making of their upcoming 2021 "Lord of the Rings" TV series.
Biography
Born in Calcutta, India, Tom Shippey soon had schooling in Scotland, whence he got his accent. At age ten[1], his parents transferred him to King Edward's School in Birmingham, England, at which school his literary interests began.[2] He became an avid reader of fiction - introduced to Tolkien's writings around 1956 - and was newly engrossed in archaic European languages. In the popular tradition of the school, he also indulged in rugby.[3]
Some years after finishing at King Edward's, Shippey was accepted into Queen's College, Cambridge and graduated in 1968 with a Bachelors and Masters of Arts. Starting in his undergraduate years, he lectured at the University of Birmingham until 1972, and upon a promotion in 1970 began teaching Old and Middle English at St John's College, Oxford. Shippey first corresponded with Tolkien during this time, after Tolkien's personal secretary had attended Shippey's lecture, Tolkien as philologist, at Birmingham, and asked him if Tolkien might see the script. Tolkein was in favor of it, and two years later the two met (at the behest of Norman Davis) at a social dinner. This stimulated Shippey's aspiration to follow Tolkien's footsteps in academia and promote his legacy.
In 1979, he began a career University of Leeds in West Yorkshire, joining its Chair of English Language and Medieval English Literature. Here his reputation as a published Tolkien scholar slowly grew, authoring his first major study The Road to Middle-earth in 1982, and first contributing essays to journals of different Tolkien Society branches. In 1993, Shippey transitioned to teaching at Saint Louis University, Missouri, becoming a Professor Emeritus and a part of the Walter J. Ong, Chair of Humanities.
He was president of the International Society for the Study of Medievalism for six years starting in 2003, and until 2007 was also the editor of their annual publication, Studies in Medievalism. In 2008, he retired from his position at Saint Louis University.
For his expertise, Shippey was asked by the makers of Peter Jackson's first film trilogy to teach the cast how to pronounce Quenya and Sindarin words.[3] After the films' releases, he gladly[4] participated in parts of Michael Pellerin's Extended Edition documentary (J.R.R. Tolkien - Origins of Middle-earth and J.R.R. Tolkien - Creator of Middle-earth) as an interviewee. It was the sixth documentary on Tolkien to feature him. Much later in 2018, he assisted in the forming of detailed teaser maps for the upcoming Amazon Middle-earth series[5], while also being selected to consult on the production itself, as revealed in July 2019.[6]
With his wife and three children[7], Shippey resides in Dorset, South England.
Renown
With consistency, Tom Shippey has been cited in many studies[8][9][10][11][12][13][14][15] by Tolkien scholars, biographers, and even Christopher Tolkien[16] throughout the decades following 1982. He has become a chief authority on philological insights into Tolkien's world and its underpinnings. For the publication of his book The Road to Middle-earth, Salon news remarked that "Shippey may be uniquely qualified to explicate Tolkien's worldview to the rest of us." For both that book and J.R.R. Tolkien: Author of the Century, Shippey received praise from Chicago Sun-Times, the Houston Chronicle, Harper's Magazine, the Philadelphia Inquirer, and Washington Times, and the latter book won him the World Fantasy Convention's Special Professional Award in 2001[17]. For these books he won also the Mythopoeic Society's award for Inkling Studies in 1984 and in 2001.
John Garth stated that reading Shippey's The Road to Middle-earth "woke me up to why Tolkien works".[18]
In 2004, Douglas Anderson put together a bibliography of Shippey's writings on Tolkien, named "Tom Shippey on J.R.R. Tolkien: A Checklist". In the same year, TheOneRing.net awarded him for "Best Tolkien-based Lecture Presented at an Academic Function"[19] after his lecture History in Words, Tolkien's Ruling Passion given at Marquette University.
In 2014, Tolkien in the New Century: Essays in Honor of Tom Shippey was compiled by John Houghton, Janet Brennan Croft, Nancy Martsch, John D. Rateliff, and Robin Anne Reid.
Books written
References
External links
Community content is available under
CC-BY-SA
unless otherwise noted.