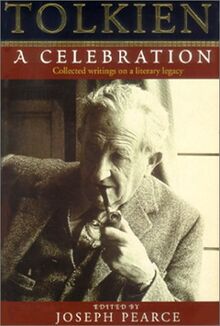 Tolkien: A Celebration. Collected Writings on a Literary Legacy (ISBN 0-89870-866-4) is a collection by Joseph Pearce of fourteen essays and articles about J.R.R. Tolkien, written and contributed by different Tolkien scholars and by acquaintances of his. It was published by HarperCollins (UK) in 1999, and is dedicated to Owen Barfield, the first of the Inklings, who had died two years before.
A new edition was published in 2001 by Ignatius Press (San Francisco).
Table of contents
Preface
Acknowledgements
Dedication
"Recollections of J.R.R. Tolkien" by George Sayer
"Over the Chasm of Fire: Christian Heroism in The Silmarillion and The Lord of the Rings" by Stratford Caldecott
"Modernity in Middle-earth" by Patrick Curry
"J.R.R. Tolkien and the Art of the Parable" by Robert Murray SJ
"The Lord of the Rings - A Catholic View" by Charles A. Coulombe
"On the Reality of Fantasy" by James V. Schall SJ
"J.R.R. Tolkien: A Mythology for England" by Elwin Fairburn
"The Sense of Time in Tolkien's The Lord of the Rings" by Kevin Aldrich
"Tolkien and the Catholic Literary Revival", Joseph Pearce
"A Far-Off Gleam of the Gospel: Salvation in Tolkien's The Lord of the Rings" by Colin Gunton
"Root and Tree: The Growth of Tolkien's Writings" by Richard Jeffery
"J.R.R. Tolkien: Master of Middle-earth" by Stephen R. Lawhead
"The Passion According to Tolkien" by Sean McGrath
"The Other Oxford Movement: Tolkien and the Inklings" by Walter Hooper
"Tolkien and C.S. Lewis: An Interview with Walter Hooper"