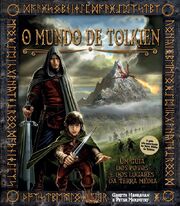 Tolkien's World is a guidebook to the World of Tolkien by Gareth Hanrahan.
In simple but complete the double this guide presents us unauthorized characters (since Bilbo Baggins, Aragorn, going through terrible Smaug, Gandalf, Sauron, Gollum, and of course, Frodo Baggins) and places of Middle-earth (the Shire, Lonely Mountain (Erebor), Rivendell, forests, Mordor, etc.), not to mention some of the episodes of this long saga, as the Fall of Isengard and the Clash of Smaug.
There are also descriptions of objects, such as weapons used throughout the stories in Middle-earth, and, for example, essential rings of power, just like overall, the people who inhabit this fantasy world. Are brief descriptions and complete, divided into three main chapters (The Free Peoples, The Enemy and Fables and Legends of Middle-earth), which whet the appetite for more, they allow an overview of this great "history" of Tolkien without disclosing its more desirable mysteries.
Peter McKinstry's illustrations are an asset of this album, respecting the imaginary Tolkien with a vividness of colors and designs that lathe well cinzentismo the gloomy atmosphere that characterized the saga.
It was released on October 2, 2012 in hardcover.
External link
Edit