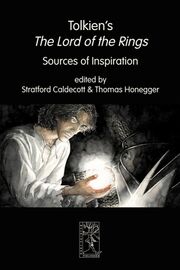 Tolkien's The Lord of the Rings – Sources of Inspiration
(
ISBN 978-3-905703-12-2
) is a book of scholarly essays compiled by
Stratford Caldecott
and
Thomas Honegger
, published in 2008 by
Walking Tree publishers
as a part of the 
Cormarë Series
. The essays proceeded from a five-day Tolkien conference at
Exeter College
, Oxford in April 2006.
As with many Cormarë installments, the book "explores the spiritual, poetic, personal, and academic sources of inspiration" for The Lord of the Rings.
Contents
John Garth, "Tolkien, Exeter College and the Great War"
Peter Gilliver, Edmund Weiner, and Jeremy Marshall, "The Word as Leaf: Perspectives on Tolkien as Lexicographer and Philologist"
Verlyn Flieger, "Gilson, Smith, and Baggins"
Patrick Curry, "Enchantment in Tolkien and Middle-earth"
Marek Oziewicz, "From Vico to Tolkien: The Affirmation of Myth Against the Tyranny of Reason"
Peter M. Candler Jr., "Frodo or Zarathustra: Beyond Nihilism in Tolkien and Nietzsche"
Leon Pereira, "Morals Makyth Man – and Hobbit"
Alison Milbank, "Tolkien, Chesterton, and Thomism"
Guglielmo Spirito, "The Influence of Holiness: The Healing Power of Tolkien's Narrative
Stratford Caldecott, "Tolkien's Project"
See also
External links
Community content is available under
CC-BY-SA
unless otherwise noted.