!
Non-Canon Alert!
The subject of this article or section originates from non-canonical sources. To find out about what is considered "canon" see LOTR:Canon.
!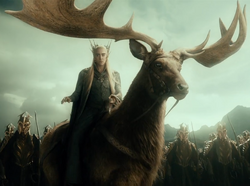 In the films The Hobbit: An Unexpected Journey and The Hobbit: The Battle of the Five Armies, King Thranduil of Mirkwood uses a great elk as a steed.
Thranduil does not ride an elk originally in The Hobbit.
Characteristics
Thranduil's elk is of great size, and is unfazed in the presence of extraordinarily large creatures such as Smaug and Were-worms.
During the Battle of Five Armies, the elk seems brave, calm, and well-experienced with combat involving large numbers of foes, including smaller Orcs and Trolls. He was also marked by physical prowess and stamina to participate in a large battle without exhausting for considerable amount of time.
Portrayal in adaptations
Peter Jackson's The Hobbit trilogy
The elk is first seen in the prologue of Peter Jackson's The Hobbit: An Unexpected Journey. When the dragon Smaug attacks the Lonely Mountain, King Thranduil arrives astride his elk.
The elk's second and last appearance is in
The Hobbit: The Battle of the Five Armies
, when Thranduil arrives in
Dale
to deliver food for
Bard
and his people. The elk, now older and greyer, accompanies the Elven-king throughout the ordeals at the gates of Erebor.
He is later seen assisting Thranduil when the battle breaks out around the mountain and the ruins of Dale - he uses his speed and massive antlers (while ridden) to trap, rout, and kill dozens of Orcs of the armies of Azog. The elk is eventually slain when charging into legion of orcs, shot twice with arrows in the neck and once in the head.
Video games
More elk comically appear in the game LEGO The Hobbit: The Video Game, wherein they are shown as free-roaming elk in Mirkwood.
Trivia
King Thranduil's elk may have been inspired by the Megaloceros ("Irish Elk"), a very large, prehistoric genus of deer which roamed Europe and Asia during the Pleistocene and earlier Holocene until about 7,700 years ago. In The Desolation Of Smaug, Thranduil's throne appears to be comprised of Megaloceros antlers, which are not obtained by killing their owners but by collecting them when they are naturally and seasonally shed, as with other cervine species.
External link
Community content is available under
CC-BY-SA
unless otherwise noted.