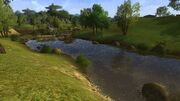 The Water is a river in The Shire and a tributary to the Brandywine river.
It begins in the Northfarthing in the North Moors near Long Cleeve and then passes into the Eastfarthing where it joins the River Brandywine. As The Water passes the village of Bywater, it forms Bywater pool before heading on its way to Budge ford and then Bridgefields before striking the Brandywine.
It was approximently two-hundred miles long.
Portrayal in Adaptations
Translations around the World
| Foreign Language | Translated name |
| --- | --- |
| Portuguese (Brazil) | O Água |
| Italian | Lo Acqua |
| German | Die Wässer |
References
External link
Community content is available under
CC-BY-SA
unless otherwise noted.