The Road to Middle-earth (ISBN 978-0-618-25760-7), by Tom Shippey, is a thorough literary analysis of J.R.R. Tolkien's stories from the perspective of a fellow philologist; last revised 2003, and first published by Allen & Unwin in 1983.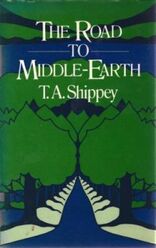 Overview
Edit
Shippey shows in great detail how Tolkien's professional background lead him to write The Hobbit and how he created a timeless charm for millions of readers. Examining the philological foundation of Tolkien's most popular work, The Lord of the Rings, Shippey also discusses the contributions of The Silmarillion and Unfinished Tales to Tolkien's myth cycle, revealing how his denser works can be fully appreciated.
He goes on to examine the twelve-volume The History of Middle-earth, which Christopher Tolkien wrote and compiled, which tracing the creative and technical process by which Middle-earth evolved.
Table of contents
Edit
Acknowledgements and Abbreviations
'Lit. and Lang.'
Philological Inquiries
The Bourgeois Burglar
A Cartographic Plot
Interlacements and the Ring
'When All Our Fathers Worshipped Stocks and Stones'
Visions and Revisions
'On the Cold Hill's Side'
'The Course of Actual Composition'
Afterword
Appendix A: Tolkien's Sources: The True Tradition
Appendix B: Four 'Asterisk' Poems
Notes
Index
Translations around the world
Edit
| Foreign Language | Translated name |
| --- | --- |
| Afrikaans | Die Pad na Midde-aarde |
| Albanian | Rruga për Mesme-tokë |
| Arabic | الطريق إلى الأرض الوسطى |
| Armenian | Միջին ճանապարհի ճանապարհը |
| Azerbaijani | Orta şərq yoludur |
| Basque | Lurraren erdian bidea ? |
| Belarusian Cyrillic | Дарога ў Міжзем'е |
| Bengali | মধ্যপ্রাচ্যের রোড |
| Bosnian | Put do sredine zemlje |
| Bulgarian Cyrillic | Пътят към средната земя |
| Burmese | အလယျပိုငျး-မြေကြီးသို့အဆိုပါလမ်းမကြီး |
| Cambodian | ផ្លូវទៅផែនដីកណ្តាល |
| Catalan | El Camí cap a la Terra Mitjana |
| Cebuano | Ang Dalan paingon sa Tunga-tunga sa yuta |
| Chinese | 通往中土世界的道路 |
| Croatian | Put do Međuzemlja |
| Czech | Cesta do Středozemě |
| Danish | Vejen til Midgård |
| Dutch | De Weg naar Midden-aarde |
| Estonian | Tee Keskmaa juurde |
| Fijian | Na Gaunisala e loma-vuravura |
| Filipino | Ang daan patungong Gitnang-lupa |
| Finnish | Keski-maan tie |
| French | La route vers la terre du milieu |
| Galician | O camiño cara á Terra Media |
| Georgian | შუა დედამიწის გზა ? |
| German | Der Weg nach Mittelerde |
| Greek | Ο δρόμος προς τη Μέση Γη |
| Gujarati | મધ્ય-પૃથ્વીનો માર્ગ |
| Hebrew | הכביש אל הארץ התיכונה |
| Hindi | मध्य-पृथ्वी के लिए सड़क |
| Hungarian | A Közel-föld felé vezető út |
| Icelandic | Vegurinn til Miðjarðarhafsins ? |
| Indonesian | Jalan menuju Dunia Tengah |
| Irish Gaelic | An Bóthar chun Mheán-domhain |
| Italian | La Strada per la Terra di mezzo |
| Japanese | ミドルアースへの道 |
| Kannada | ಮಧ್ಯಮ ಭೂಮಿಯಿಂದ ರಸ್ತೆ |
| Kazakh Cyrillic | Орто-жерге жол |
| Korean | 중간 지구에도로 |
| Laotian | ຖະຫນົນຫົນທາງກັບກາງໃນທົ່ວໂລກ |
| Latvian | Ceļš uz Viduszeme |
| Lithuanian | Kelias į Vidurinę žemę |
| Macedonian Cyrillic | Патот кон Средна Земја |
| Malagasy | Ny lalana Mankany amin' ny Moyen-tany |
| Malay | Jalan ke tengah-tengah bumi |
| Maltese | It-Triq lejn il-art Nofsani |
| Marathi | मध्य-पृथ्वीवरील रस्ता |
| Mongolian Cyrillic | Дундад улс руу чиглэсэн зам |
| Norwegian | Veien til Midgard |
| Pashto | د منځني ځمکی سړک |
| Persian | جاده به سرزمین میانه |
| Polish | Droga do Śródziemia |
| Portuguese | A estrada à Terra média |
| Punjabi | ਮੱਧ-ਧਰਤੀ ਦਾ ਸੜਕ |
| Romanian | Drumul spre Pământul de mijloc |
| Russian | Дорога на середину земли |
| Scottish Gaelic | An Rathad chun a 'Mheadhain-thalmhainn |
| Serbian | Пут ка средње земље (Cyrillic) Put ka Srednje zemlje (Latin) |
| Sindhi | وچين زمين ڏانهن روڊ ? |
| Sinhalese | මැද-පොළොව දක්වා මාර්ගය |
| Slovak | Cesta do Stredozeme |
| Slovenian | Pot do Srednje zemlje |
| Somalian | Wadada-dhulka Dhexe |
| Spanish | El camino a la Tierra Media |
| Sudanese | Nu Jalan mun Tengah-bumi |
| Swahili | Barabara ya nchi ya Kati |
| Swedish | Vägen till Midgård |
| Tajik Cyrillic | Дар роҳ ба Миёна-замин |
| Tamil | மத்திய-பூமியின் சாலை |
| Telugu | మిడిల్ ఎర్త్కు రోడ్డు |
| Thai | ถนนไปยังมิดเดิลเอิร์ธ |
| Tongan | Ko e hala ki he vaeua'anga malie 'o mamani |
| Turkish | Orta Dünya için yol |
| Ukrainian Cyrillic | Дорога до Середзем'я |
| Urdu | مڈل-زمین کے لئے سڑک |
| Uzbek | Ўрта Тупроқ бўлган йўл (Cyrillic) O'rta Tuproq bo'lgan yo'l (Latin) |
| Vietnamese | Con đường đến Trung địa |
| Welsh | Y Ffordd i Ganol-ddaear |
| Yiddish | די וועג צו מיטל-ערד |