Jurassic World: Dominion Dominates Fandom Wikis - The Loop
Play Sound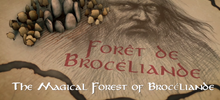 The Magical Forest of Brocéliande is the second episode of Olivier Simonnet's documentary Looking for the Hobbit. It introduces the French story-teller and Arthurian expert Nicholas Mezzalira, and features actor Gwen de Montfaucon portraying Merlin the Magician.
The episode spans 26 minutes, and is followed by "In the Footsteps of King Arthur".
Synopsis
At the Castle of Haut-Kœnigsbourg in France, Professor Leo Carruthers meets with John Howe, who is fascinated at the origin of J.R.R. Tolkien's Hobbits. The two discuss the amount of European legends Tolkien had drawn on, but Carruthers concludes that Hobbits had no single source. Howe then listens to the tale of Merlin the Magician, son of the Devil, being told by Nicholas Mezzalira in a room of the castle.
The origins of Merlin in North European mythologies is discussed. Now in a lake-side forest allusive to the mythical Forest of Brocéliande, Mezzalira tells to John Howe the story of Viviane, the Lady of the Lake, her relationship with Merlin, and the invisible crystal castle he built for her. Howe and Mezzalira go to a few other places connected to the legends of Merlin, and talk about many mythological figures and the Middle-earth characters that would allude to them. Carruthers and Howe also converse about Gandalf's parallel to Merlin.
Mezzalira tells the tale of King Vortigern, an antagonist in the legends of Merlin, and of the first prophecy of the coming of Uther Pendragon.
The episode closes with Carruthers directing John Howe to Tintagel, the mythical birthplace in England of King Arthur.