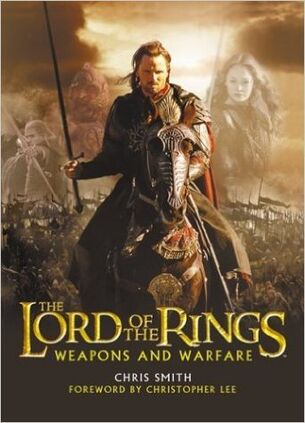 The Lord of the Rings: Weapons and Warfare (ISBN 0-00717201-X) is an illustrated and narrated guide to the battles and race-lore of Peter Jackson's Lord of the Rings film-trilogy. It was written by Chris Smith in 2003, produced by Arjen Jansen, and published by Harper Collins Publishers (London).
Contents
Edit
Following a foreword by Christopher Lee and an insightful introduction by Richard Taylor and Daniel Falconer, Weapons and Warfare features 214 detailed descriptive pages concerning each skirmish, piece of armor, weapon, weapon inscription, monster, insignia, and people-group that appears in the films. The illustrations throughout the book are mostly cinematic stills - both shots that were from the final movies and ones that were not - with concept-sketches, like those found throughout Gary Russell's The Art of… series, being less frequent. Aside from photographs and sketches, there are a few concept-sculptures and maps; some maps that are Elven and written in Tengwar. A glossary of terms finishes the book, containing the definitions for all technical armor and weaponry-terminologies that had been mentioned.
Canon and purpose
Edit
All illustrations and sketches accompany Chris Smith's ongoing, expository story-telling of the topics' histories. Some background that he gives of certain events is not adherent to the true canon of J.R.R. Tolkien's Middle-earth, and instead is invented. The identity of Elrond's sword Hadhafang originates from this extracanonical cinema-lore, as do the Sindarin inscriptions that can be seen upon the blades of Hadhafang, Aragorn's hunting-knife, Gil-galad's spear Aiglos, and Glamdring. Even the large spear in Moria that the Cave-troll wields to stab Frodo was assigned a Khuzdul inscription, and even yet the Mouth of Sauron's helmet a Black Speech runic inscription. This book also provides, among its many maps, graphics that display the army-movements and "battle-plans" of every large conflict that was brought to life in the film-trilogy, created by Ben Wooten and Warren Mahy.
Because of these things and the book's specificity, Weapons and Warfare would serve as a citable reference for movie-facts on a higher degree than any other published, officiated guide to the films.
Translations around the World
Edit
| Foreign Language | Translated name |
| --- | --- |
| Afrikaans | Die Here van die Ringe: Wapens en Oorlogvoering |
| Albanian | Zoti i Unazave: Armët dhe Lufta |
| Amharic | እንዲያጠልቁ ጌታ: የጦር እና ጦርነት |
| Arabic | سيد الخواتم: الأسلحة والحروب |
| Armenian | Տերը օղակների: զենք եւ Պատերազմ |
| Azerbaijani | Üzüklərin Ağa: Silah və döyüş |
| Basque | Eraztunen Jauna: Armak eta Gerra |
| Belarusian Cyrillic | Уладар кольцаў: Зброя і вайны |
| Bengali | রিং লর্ড: অস্ত্র ও ওয়ারফেয়ার |
| Bosnian | Gospodar Prstenova: Oružja i Ratovanja |
| Bulgarian Cyrillic | Властелинът на пръстените: оръжия и войните |
| Cambodian | ព្រះអម្ចាស់នៃចិញ្ចៀនអាពាហ៍ពិពាហ៍នេះ: អាវុធនិងសង្គ្រាម |
| Catalan | El Senyor dels Anells: Les Armes i la Guerra |
| Cebuano | Ang Ginoo sa mga singsing: Mga Hinagiban ug Mga Gubat |
| Chinese | 指环王︰ 武器和战争 |
| Corsican | Lu Signuri di li Circuli: Armi e Avalanche |
| Croatian | Gospodar prstenova: Oružje i Rat |
| Czech | Pán prstenů: Zbraně a Boj |
| Dutch | De Ban van de Ring: Wapens en Oorlogvoering |
| Esperanto | La Sinjoro de la Ringoj: Armiloj kaj Militado |
| Estonian | Sõrmuste isand: Relvad ja Sõjapidamine |
| Fijian | Na Turaga ni na mama: iyaragi kei na veivaluvaluti |
| Filipino | Ang Panginoon ng mga singsing: Mga armas at Pakikidigma |
| Finnish | Taru sormusten herrasta: Aseita ja Sodankäynti |
| French | Le Seigneur des Anneaux: Armes et Guerre |
| Danish | Ringenes Herre: Våben og Krigsførelse |
| Galician | O Señor dos Aneis: Armas e Guerra |
| Georgian | ბეჭდების მბრძანებელი: იარაღი და ომის |
| German | Der Herr der Ringe: Waffen und der Kriegsführung |
| Greek | Ο άρχοντας των Δαχτυλιδιών: όπλα και πολεμικές επιχειρήσεις |
| Gujarati | ઓફ ધી રિંગ્સ ભગવાન: શસ્ત્રો અને યુદ્ધ |
| Hausa | Ubangijin Zobba: Makamai da yaƙi |
| Hawaiian | Ka Haku o nā Apo, Nā mea kaua, a me kaua |
| Hebrew | הטבעות: כלי נשק, לוחמה |
| Hindi | रिंगों के यहोवा: हथियारों और युद्ध |
| Hmong | Tus tswv ntawm lub Rings: Riam phom thiab tsovrog ? |
| Hungarian | A Gyűrűk ura: Fegyverek és Hadviselés |
| Icelandic | Hringadróttinssaga: Vopn og Hernaður |
| Indonesian | Tuhan Cincin: Senjata dan Peperangan |
| Irish Gaelic | An Tiarna na Fáinní: Airm agus cogaío |
| Italian | Il Signore degli Anelli: Armi e Guerra |
| Japanese | リングの主:武器と戦争 |
| Kannada | ಲಾರ್ಡ್ ಆಫ್ ದಿ ರಿಂಗ್ಸ್: ಶಸ್ತ್ರಾಸ್ತ್ರ ಮತ್ತು ವಾರ್ಫೇರ್ |
| Kazakh Cyrillic | Властелин шеңбер: қару мен соғыс |
| Korean | 반지의 제왕: 무기와 전쟁 |
| Kurdish | Xudan wekî we Xelek: Çekên û Şerê ? (Latin) |
| Kyrgyz Cyrillic | Чексиз Кудай: Курал-жарактар жана согуш |
| Laotian | ພຣະຜູ້ເປັນເຈົ້າຂອງແຫວນໄດ້: ອາວຸດແລະສົງຄາມ |
| Latin | Dominus Anulorum: Domi arma Agone |
| Latvian | Gredzenu pavēlnieks: Ieroču un Kaujas |
| Lithuanian | Žiedų valdovas: Ginklai ir Karybos |
| Macedonian Cyrillic | Господарот на прстените: Оружје и Војување |
| Malayalam | റിങ്സ്: ആയുധങ്ങളും യുദ്ധ |
| Marathi | रिंग प्रभु: शस्त्रे आणि युद्ध |
| Mongolian Cyrillic | Бөгжний Эзэн: Зэвсэг болон дайн |
| Nepalese | अंगूठियहरुको प्रभु: हतियार र लडाइँलाई |
| Norwegian | Ringenes Herre: Våpen og Krigføring |
| Pashto | د کمربند د رب: د وسلو او دبروس |
| Persian | ارباب حلقه ها: سلاح و جنگ |
| Polish | Władca Pierścieni: Wojna i Broń |
| Portuguese | O Senhor dos Anéis: Armas e Guerra |
| Punjabi | ਰਿੰਗ ਦੇ ਪ੍ਰਭੂ: ਹਥਿਆਰ ਅਤੇ ਯੁੱਧ |
| Romanian | Stăpânul Inelelor: Arme şi Războiul |
| Russian | Властелин колец: Оружие и войны |
| Scottish Gaelic | An Tighearna nam Fàinnean: Armachd is Cogaidh |
| Serbian | Тхе Лорд оф тхе Рингс: Оружје и ратовања (Cyrillic) Gospodar prstenova: Oružje i Ratovanje (Latin) |
| Sindhi | ته ويڪريون جي پالڻھار: هٿيار ۽ ويڙھ ڪرڻ |
| Sinhalese | ද රින්ග්ස් ස්වාමීන්: අවි සහ යුද |
| Slovak | Pán prsteňov: Zbrane a Vojny |
| Slovenian | Gospodar prstanov: Orožje in Bojevanje |
| Somalian | Ee ah Eebaha Siddooyinkii: Hubka iyo Dagaalka |
| Spanish | El Señor de los Anillos: Armas y Guerra |
| Sudanese | Gusti tina Cingcin: Pakarang jeung perang |
| Swahili | Bwana wa pete: Silaha na Vita |
| Swedish | Sagan om Ringen: Vapen och Krigföring |
| Tajik Cyrillic | Парвардигори зиреҳҳои: силоҳ ва Ҷанг |
| Tamil | லோட் ஒவ் த ரிங்ஸ்: ஆயுதங்கள் மற்றும் போர் |
| Telugu | లార్డ్ ఆఫ్ ది రింగ్స్: ఆయుధాలు మరియు యుద్ధం |
| Thai | เดอะลอร์ดออฟเดอะริง: อาวุธและสงคราม |
| Turkish | Yüzüklerin Efendisi: Silahlar ve Savaş |
| Ukrainian Cyrillic | Володар кілець: Зброя та війни |
| Urdu | حلقے کے رب: ہتھیاروں اور جنگی اسلحوں |
| Uzbek | Узуклар ҳукмдори: Қурол ва Уруш (Cyrillic) Uzuklar hukmdori: Qurol va Urush (Latin) |
| Vietnamese | Chúa tể của những chiếc nhẫn: Vũ khí và chiến tranh |
| Welsh | Mae Arglwydd y Cylchoedd: Arfau a Rhyfela |
| Yiddish | דער האר פון די רינגס: וועפּאַנז און מלחמה |
| Yucatec Maya | Le Máako' le Anillos: Armas yéetel k'atun |