The Lord of the Rings: The Rings of Power[1] (formerly nicknamed LOTRonPrime[2]) is an adaptation of J.R.R. Tolkien's writings under production by Amazon Studios, alongside HarperCollins, New Line Cinema, Middle-earth Enterprises, the Tolkien Estate. The first season is scheduled to premiere on September 2, 2022.[3][4]
It will cover a time-span of Middle-earth's history in the Second Age, long before the setting of The Lord of the Rings books and before, but apparently in continuity with, The Lord of the Rings and The Hobbit film trilogies. The series will be a Machiavellian drama led by Morfydd Clark as a younger Galadriel with Robert Aramayo as Elrond, featuring the forging of the Great Rings, the Downfall of Númenor, and the Last Alliance of Elves and Men.
The show's first season concluded filming in New Zealand in July 2021, with J.A. Bayona helming the two-part pilot episode out of a first season of eight episodes, to be followed by four more seasons (the next two of which have already been greenlit) and a possible spinoff show. The first season's budget is around $650 million NZD.
Seasons
| Season | Episodes | First airdate | Last airdate |
| --- | --- | --- | --- |
| One | 8 episodes | September 2, 2022 | |
Plot
The show is projected to progress at least five seasons[5][6] and some 50-hours of TV[7], and - possibly with a spinoff - over a period of eight to ten years;[8][9] and, as of November 2019, the first two seasons have been greenlit.[10] In January 2020, Amazon announced that the first season would consist of eight episodes.[11] The Tolkien Estate will reportedly have veto-power "on strategy and on vision"[12] and will maintain the "main shape of the Second Age".[13]
Premise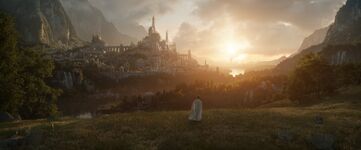 The plot will cover events of the Second Age. A preliminary interactive map, featured on the Amazon Prime Video site,[14] pointed towards the show being set in the mid-Second Age, circa SA 1500-1701. However, recent character leaks show that the cast will feature characters from a much later period in the Second Age, such as Elendil and Isildur. The two periods will be condensed into a single timeline, to prevent jumps in time.[7] Both periods do not focus an adventure story, but rather Machiavellian drama.[7]
The earlier of the two epochs is centered around the forging of the Rings of Power in Eregion, whereby Sauron (disguised as Annatar) convinces Celebrimbor and the Gwaith-i-Mírdain guild to forge Rings of Power, against the advice of Galadriel and Gil-galad: in some versions of the story, Annatar even convinces the conflicted Celebrimbor to lead a coup that ousts Galadriel.[15] A leaked story synopsis[16] also points in this direction, as well as towards concurrent events in other realms of Middle-earth, namely Moria, and Lindon: led by Gil-galad and Durin III, respectively, they are trying to maintain their foreign relations with Eregion as it falls under Annatar's influence, and then fending his forces off during the War of Sauron and the Elves.[15] Many of these plot-lines will have to play-out in isolation before the war causes them to intersect, and as such as said to have separate units producing them.[17]
However, the inclusion of Isildur and Elendil in the show points towards a late Second Age setting, adapting the Akallabêth, likely up to the events of the War of the Last Alliance and possibly the Disaster of the Gladden Fields.
While time-jumps, necessary to cover the events of both epochs, had been rumored,[18][19][17] and even experimented with in early development,[20] the final series will feature a condensed timeline, with executive Jennifer Salke indicating it is "one big series"[21] and that season one will be "building the infrastructure of what will sustain the whole series."[22]
Source material
The series will explore times millennia before the years of J.R.R. Tolkien's The Fellowship of the Ring. Amazon may not incorporate events of the Third Age[13], while events from the First Age and previous eras, such as the Years of the Trees and Years of the Lamps could only "be mentioned at the most if they explain the events of the Second Age", unless they are taken directly from mentions in The Lord of the Rings.[23][24] A first-look image seems to showcase the city of Tirion. The showrunners said that ""We have the rights solely to The Fellowship of the Ring, The Two Towers, The Return of the King, the Appendices, and The Hobbit, and that is it. We do not have the rights to The Silmarillion, Unfinished Tales, The History of Middle-earth, or any of those other books." However, the inclusion of Tirion, Finrod and other elements would suggest that more material could be licensed to them on an ad-hoc basis.
Early on, New Line executives told HDRF the show will reprise visuals from the films,[25] and this was also the impression given to Peter Jackson from his talks with the executives, saying "the showrunners will "try to have a series and a world where it sort of fits with the films",[26] and "in the same world" as his films, agreeing to share his designs.[27] This was reiterated by John Howe, who said "The show runners are determined to remain faithful to the existing trilogies"[28] and that "its a continuation."[29] Orlando Bloom, having looked into the matter through Amazon producers, seems to have arrived at the same conclusion, as well, saying that "its not a remake"[30] However, "if only for legal reasons", the show cannot replicate specific props from the films, but has a similar design aesthetic.[31] Executive Jennifer Salke pointed out that "we're also not starting from scratch."[21] Lead actress Morfydd Clark said she struggles with not being an "imposter" of the movie actors, saying "There's a huge amount of respect for the films."[32][33]
Source material for these periods includes mentions of the relevant events made in The Lord of the Rings, including in Appendix A (The Númenórean Kings: Númenor) and Appendix B (The Tale of Years: The Second Age), but apparently also material licensed "other related works, in each case written or inspired by J.R.R. Tolkien"[34], which can include "Akallabêth" and "Of the Rings of Power and the Third Age" from The Silmarillion,[17] Unfinished Tales, namely "The History of Galadriel and Celeborn" and "The Line of Elros: Kings of Númenor."
Development & reveals
Rights
J.R.R. Tolkien never sold the rights to adapt his works for TV, having in fact rejected some early propositions in 1964 and 1968.[35] Several unlicensed adaptations aired on TV in Eastern Europe beginning with 1972 Sagan om Ringen, but the Tolkien Estate had since taken actions against allowing them to air again outside their countries. United Artists, who acquired the film rights in 1969, were given first bidding at the TV rights but, having failed to mount a successful film adaptation other than Ralph Bakshi's The Lord of the Rings, had declined to pursue the TV rights. [35] The Rankin/Bass TV Specials were made by exploiting a loophole in the US publication of the books, which temporarily made them public domain states-side.[36] In 1993, an adaptation comprising "two or three films, or an epic television series" was developed but could not get the rights.[37] In 1997, ITV Granada wanted to create a miniseries, but by that point a film adaptation of The Lord of the Rings (and The Hobbit as a prequel) was underway with director Peter Jackson.
The success of Jackson's The Lord of the Rings trilogy, followed by The Hobbit trilogy (and a putative "bridge" film pitched by Jackson but never made[38][39]) reinvigorated interest in the TV rights, although the Tolkien Estate, unsatisfied with the film adaptations up to that point, had declined to relinquish those or any other film rights. Jackson himself, in the audio commentary to the films, jested about a "spinoff TV series."[40]
In July 2017, a lawsuit was settled between Warner Brothers, the company behind the Lord of the Rings and The Hobbit films, and the Tolkien Estate. With the two sides "on better terms" following the settlement, they began shopping a potential television series based on Tolkien's The Lord of the Rings books to several outlets, including Amazon, Netflix, and HBO. [41] By September, Amazon had emerged as the frontrunner and entered negotiations for the series in co-operation with Warner Bros. TV.[42][23][43] In an uncommon move for programming developments at the studio, Amazon CEO Jeff Bezos was personally involved with the negotiations;[44] Bezos had previously given Amazon Studios a mandate to develop a fantasy series of comparable scale to HBO's Game of Thrones, which had made the company the lead contender for the project.[41]
In November 2017, Amazon Studios secured the rights to make a five-season production with the potential for spin-offs.[23] The rights alone cost $250 million[41]; the first two seasons could cost upwards of $500 million.[45] The deal between Warner Brothers and the Tolkien Estate includes the potential for a spin-off series.[46] New Line, the Warner Bros. division who produced the films, was included in the deal due to the potential for the series to use material from the films, with New Line president Carolyn Blackwood and Warner Bros. Pictures then-chairman Toby Emmerich - both of whom were executive producers on The Hobbit, were brought into the talks. The deal stipulated that production on the series begin within two years.[43] Amazon has no current plans to make any "publishing projects."[47]
The deal gave Amazon "access to nearly all of the material in the Middle-earth saga"[12] other than the First Age (except for references that crop-up in The Lord of the Rings) and, reportedly, The Silmarillion, which was the purview of the late Christopher Tolkien[20]. Executive Jennifer Salke described creative discussions with the Tolkien Estate (particularly Simon) as a "partnership" and that they are "really thoughtful and smart."[12] The Estate had met with prospective writers and showrunners,[20] for whom they had approval rights.
Around this time, Christopher Tolkien had resigned from heading the Estate[48] and his son, Simon Tolkien (a supporter of the live-action films[49]) had taken up a more active role in it alongside Priscilla Tolkien (who lent her support to Ralph Bakshi in his day), Baillie Tolkien, Michael Tolkien, as well as their attorney, Steven Andrew Maier.
Coincidentally, the Estate released the book The Nature of Middle-earth, and HarperCollins intends to release a new The Lord of the Rings audiobook, perhaps to capitalize on renewed interest in the franchise prior to Amazon releasing the show. Indeed, other concurrent projects include video games, an animated film from New Line, The Collector's Edition of The Hobbit and The Lord of the Rings trilogies and possibly other publishing projects. Meanwhile, Middle-earth Enterprises briefly shopped around the film and gaming rights (said since then to enter mediation with Warner Bros.) and, as part of their cooperation with Amazon, motioned to register "The Rings of Power" as a trademark.[50]
Development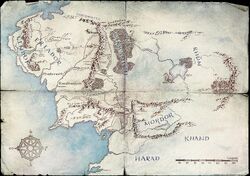 Early on during development, it was suggested the show would center around a young Aragorn,[20] a premise that had previously been a part of a possible "The Lord of the Rings prequel" developed but never filmed by WingNut Films.[38] However, around April 2018 it was decided to switch to "the story of Eregion" in the Second Age, in spite of concerns by Amazon that it "covered too long a span."[20]
Earlier, on February 13, 2019, Amazon's newly created Twitter account associated with the show posted the quote "I wisely started with a map." taken from Tolkien's Letter 144. Starting on February 15, and ending on March 7, different versions of a map of Middle-earth were released, first without labels, and each successive post including more labels than the previous map, and seemingly dating to a different period in Middle-earth history: mid-Third Age, early Third Age, and late Second Age.[15]
The final map released on March 7 showed a wider view of Middle-earth, including the island of Númenor and the Elvish realm of Eregion. A different section of the Ring-verse appeared with each successive post, until it was completed with the fifth map.[51] Assistance was given by Tolkien scholar Tom Shippey and artist John Howe in the tailoring of their interactive map.[52] Minor errata on the map were fixed after-the-fact, based on feedback from fans.[28]
Writing
A writers room for the series had begun work in Santa Monica by mid-February 2019. Salke described extensive security measures that were being taken to keep details of this writing secret, including windows being taped closed and a security guard requiring fingerprint clearance from those entering the room. In addition to Payne and McKay, writers on the series include Gennifer Hutchison, Helen Shang, Jason Cahill, Justin Doble, Bryan Cogman, and Stephany Folsom, with Glenise Mullins acting as a consulting writer.[53][54] The writers room was set to be disbanded once production on the series began, but would be reconvened during the four or five month break in filming that was scheduled following production on the first two episodes. The writers were expected to map out the second season and write the majority of its scripts during this production break.[55]
Locations
Salke said in June 2018 that the series could be filmed in New Zealand, where the films were produced, but Amazon was also willing to film in other countries as long as they could "provide those locations in a really authentic way, because we want it to look incredible."[21] Pre-production on the series reportedly began around that time in Auckland,[56] while location scouting for the series also took place in Scotland, with areas visited by the production including the Isle of Skye, Portpatrick, Scourie, Perthshire, and Loch Lomond.[57] Amazon and Creative Scotland held talks about the series' production being based at new studios that were under construction in Leith, Edinburgh.[58] In light of subsequent events and Amazon's contractual stipulation that they should have the liberty to shoot scenes outside of New Zealand, it may be that this was done to purely to put New Zealand in a competitive situation.
In December, Amazon held a "crisis meeting" with David Parker, New Zealand's Minister of Economic Development, after the studio threatened to take the production out of the country due to the lack of available studio space in Auckland.[59] During the meeting, Parker told Amazon they were welcome in New Zealand and the country's government wanted them to make the series there, but he did not propose any special deal for the series because "you don't want these things at any cost; you want them on terms that are good for New Zealand". New Zealand's Major Screen Production Grant, which provides up to a 25 percent refund in tax for international productions, was offered to Amazon for the series.[60] Amazon later received another $100 million boost from New Zealand.[9]
On June 30, the New Zealand Herald reported that the series would be filmed primarily in Auckland and Queenstown, among other locations in New Zealand.[61] Shooting of the series will be based on location rather than in-season chronology.[62] Amazon officially announced that the series would be filmed in New Zealand in September 2019, after completing negotiations with the New Zealand Government and the New Zealand Film Commission, as well as Auckland Tourism, Events and Economic Development (ATEED). The studio said filming was set to begin on the series in "the coming months", with some specific locations still being discussed according to ATEED. Payne and McKay explained that in choosing the series' primary location, they and the production team had needed "somewhere majestic, with pristine coasts, forests, and mountains" that could also meet the production requirements of the series.[63][64] Amazon maintains the right to shoot some material elsewhere around the world if necessarily,[9] be it as leverage on N.Z. authorities but also to allow for a diversity of locations and for the availability of the cast.[34]
The series reportedly shot in several seaside locations in the vicinity of Auckland, including Piha, Muriwai (in a then-populated Gannet Colony), Anawhata and possibly Three Sisters Beach. Other locations include the forests in Piha, Fjordland (especially Mount Kidd) and Manapouri, as well Rangitikei, Denize Bluffs, Hauraki Gulf and Coromandel Peninsula. More than 1,000 New Zealanders were contracted for the first season, with around 700 more indirectly engaged with the production.[65]
For Season 2, production will move from New Zealand to the United Kingdom, possibly due to COVID restrictions, although plates from New Zealand could still be used and secondary units may keep shooting there. [66] Pre-production will begin in the "second half of half of 2022 or early 2023" at Bray Studios and Bovingdon Airfield among other locations with "half a billion pounds' worth of production" costs,[67] with the season projected for "2023/2024" slot.[68] The move was reportedly made in part to accommodate actors' schedules (Morfydd Clark had since filmed The Duchess of Malfi and signed-on Starve Acre,[69] while Sir Lenny Henry was cast in The Witcher spinoff[70]) and to allow easy access to other European locations.[71]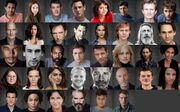 Casting
By July 2019, Amazon had embarked on a "multi-year search"[72] for actors. The showrunners and director JA Bayona[73] stressed the "diverse" and "international"[72] aspect of the cast, with several roles calling specifically for "diverse"[74] actors and actresses. Ultimately, the announced cast features actors hailing from the UK, New Zealand, Australia, Sri Lanka and the United States. Between November 2019 and January 2020, various audition tapes,[75][76] as well as character descriptions,[74][77] had gradually leaked out.
On July 22 of 2019, it was announced that Australian actress Markella Kavenagh had been cast in the series,[78] with some reports that she would portray a character named "Tyra", or "Kyra". Three other placeholder character names were revealed as well: Beldor, Aric, and Eldien, with Conor Fogarty known to have auditioned for Beldor, Nick Hardcastle for Aric and Chloe Bremner[75] and Seána Kerslake for Eldien.[79] Auditions for other roles emerged later, with Joel Lambert, Chris Browning and Travis Johns auditioning for "Loda";[80] and Brian A. Wilson auditioned for "Hamsom."
From the tapes, it is apparent that a couple of characters, including "Brac", are Dwarves.[81] Other roles revealed since were that of "King Durin, father of Durin", codenamed "Khain"; Pharazon, codenamed "Welyn"; Tar-Palantir, codenamed "Sarador" and three fellows of Isildur's.[82] Scenes had been reconstructed - in part from the audition tapes - of Galadriel teaming-up with Middle-earth native "Aric" on a voyage to Numenore, stowing away on Elendil's ship to appear before Miriel.[83]
On September 4 of the same year, it was announced that English actor Will Poulter would portray a yet unspecified character,[84] though on December 12, it was reported that Poulter had left the series due to scheduling conflicts.[85] Poulter was reported to have been replaced by English actor Robert Aramayo on January 1, 2020.[86]
On January 14, 2020, Amazon revealed a cast of ten series regulars (arranged alphabetically by surname) via social media.[87] Amazon's co-head of television Vernon Sanders noted that there were still some key roles that had yet to be filled. One of these key roles was confirmed to go to Maxim Baldry in March when his deal for the series was completed, after he had been informally attached to the series in October 2019.
On December 3, 20 additional cast members were revealed.[72] At least a couple of the newly-announced members were informally attached to the series from the same time as the first ten regulars. Namely, Maxim Baldry; as well as Simon Merrels,[88] cast in the otherwise-unknown role of "Tervyn."[89] Lloyd Owen is reportedly attached to the role of "Loda" which was also being cast during the early casting sessions.[90] Of the new cast members, seven are New Zealanders, with the rest of the cast members coming from Australia, Sri Lanka, the United Kingdom, and the United States.
On March 14, 2021, actor Tom Budge announced his departure from the show, citing the showrunners wanting to change direction regarding his character.[91] Reportedly "a studio decision",[92] a recast quickly commissioned by Amazon.[93] Budge was cast as Celebrimbor, and replaced by Charles Edwards.[17]
Additionally, Lady Amelie Child-Villiers, a child actress noted for her similarity to Morfydd Clark, was said to have "filmed scenes for Amazon's Lord of the Rings series" before September 2020,[80] and was officially announced along with Charles Edwards (replacing Tom Budge), Will Fletcher and Beau Cassidy, "rounding out" the cast.[94]
Extras
Amazon had been casting extras of various ethnicities and body types. Some actors were cast under the guise of "warlords"[95] for unknown minor parts, as well as a "Mage Attendant."[96] Several casting calls required "short people", naturally for Dwarven roles, described as "background extra & featured extra work (with opportunities to upgrade to larger roles)."[97] An earlier casting call from October 2019 specified sizes of "4''6-4''1"[98] as well as "character faces" - a euphemism used in casting the movies for formidable-looking people - elaborated as "earthy, weathered, dark skin, missing teeth, wonderful noses etc." as well as "beautiful, fair, fine-boned faces".
Rating & content
A casting call referencing extras who "must be willing to wear sheer clothing,"[98] although it may be that this particular casting requirement was later written-out of the series. Another casting call for extras "comfortable with partial or full nudity",[97] that was thought to have been for The Lord of the Rings, was in reference to the concurrent Auckland Netflix production, Cowboy Bebop and appeared in the show's second episode. It is possible the show will feature nudity that is not sexualized.[17] At any rate, the show is currently listed in most territories under Amazon's viewership rating "16+" and the equivalent TVPGA rating of "PG-14", with individual episodes possibly getting rated lower (TV-PG/12+) or higher (TV-MA/18+). Similar to Wheel of Time's rating, it would allow the showrunners great latitude with battlefield violence but also with adult themes (e.g. Pharazôn's incestuous marriage to Miriel) and other potential mature content. Nonetheless, Patrick McKay indicated the show will not display the degree of mature content featured in Game of Thrones, saying that it should be appropriate for children as young as 11.[7]
Crew
For personnel involved, see also the Cast & Crew category.
Amazon hired writers J.D. Payne and Patrick McKay to develop the series in July.[54] Bryan Cogman joined the series as a consultant in May 2019 after signing an overall deal with Amazon. Cogman previously served as a writer on Game of Thrones, and was set to work alongside Payne and McKay in developing the new series.
In July, J.A. Bayona was hired to direct the first two episodes of the series and serve as executive producer alongside his producing partner Belén Atienza.[99] Bayona later said that he was attracted by the quality of the scripts and that there remains a "kinship to the films done by Peter Jackson."[100][101]
Later that month, Game of Thrones creators David Benioff and D. B. Weiss were in discussions with several outlets regarding signing an overall deal, including with Amazon who were interested in having the pair consult on The Lord of the Rings;[102] they ultimately signed a deal with Netflix instead.[103]
At the end of July, Amazon announced that Payne and McKay would serve as showrunners and executive producers for the series, and revealed the full creative team that was working on the project: executive producers Bayona, Atienza, Bruce Richmond, Gene Kelly, Lindsey Weber, and Sharon Tal Yguado; co-producer Ron Ames; costume designer Kate Hawley; production designer Rick Heinrichs; visual effects supervisor Jason Smith; illustrator/concept artist John Howe, who was one of the chief conceptual designers on the films, and Tolkien expert (and Oxford Emeritus) Thomas Shippey as consultant.[53][54]
By April 15, 2020, it was confirmed that Tom Shippey left the project. Its unclear whether he was only required in the development phase, of whether his departure had other causes.[104] On December 7 of the same year, it was confirmed Bryan Cogman had completed his obligation to the series after contributing to the first season's scripts.[105] Production designer Rick Heinrichs was replaced by Ramsey Avery.[106] Kelly also left the series, with Callum Greene joining as a new executive producer. Greene previously served as producer on The Hobbit: The Desolation of Smaug (2013).
Following Bayona's departure from New Zealand, Wayne Che Yip[107] began directing episodes 3 through to 6 of the season, as well as serving as executive producer.[108] On May 13, Charlotte Brändström was announced as the third and final director of the show's first season after widespread speculation that this was the case.[109][110]
Peter Jackson's involvement
At the time of the signing of the deal, Amazon had not contacted Peter Jackson or any of his collaborators,[111] but as early as March 2018 they and Jackson (who had previously spoke of having developed a sense of "mental ownership" over "the Middle-earth that's been put on the screen"[112]) had established contact via his attorney Peter Nelson, with a view for him to act in an advisory position during development and production, possibly as executive producer.[113] Although he initially said he was not involved, [114] Jackson was impressed with Amazon's "very good intentions"[115] and understood that Amazon will "try to have a series and a world where it sort of fits with the films; they want to keep the designs"[26] of his films. He wanted to get involved in the scripts,[116] and word among potential writers for the show was that he was about "to bring the whole project under his dominion."[20] However, he was too busy with Mortal Engines and They Shall Not Grow Old,[117] and hesitated to get involved in a long series, particularly where a third party like the Tolkien Estate had veto right.[27] Amazon and Jackson were still "in the middle of" discussions by mid-June, with Jackson ultimately opting to "help put the creative team together"[115] and possibly advise with regards to the designs and the finished scripts, having "not seen anything" at that point.[117][27][26][118]
Jackson and co-writer/co-producer Philippa Boyens had expressed excitement, agreeing that "fresh eyes on that story is such a good thing."[119] Indeed, Boyens having already said in 2014 that further stories in the franchise "will be for another generation of filmmakers", had said (along with Fran Walsh) that Amazon should "go with all our goodwill",[120] and eventually took a consultant position on New Line's concurrent The War of the Rohirrim, which Jackson and Walsh had also given their blessing to,[121] while they themselves work on the Ultra High-Definition Collector's Edition of their existing films in the franchise, which "completes" their direct involvement with the franchise.[122] Joining Walsh, Boyens and Jackson in wishing success for Amazon's project were cast-members Sir Ian McKellen,[123] Andy Serkis,[124] Viggo Mortensen,[125] Orlando Bloom,[30] Sean Astin,[126] Elijah Wood,[127] John Rhys-Davies[128] and executives Mark Ordesky[129] and Robert Shaye.[130] Actress Morfydd Clark said that affirmation was significant to the cast and crew,[33] and added that "[the challenge of taking part in an original film] is exactly the same [in] stepping into a world that's already been created and already been masterfully done."[131] In a Twitter event, Vanity Fair writers - having seen the first three episodes - said it "feels of-a-piece" with the films,[132] the showrunners being determined to make a show that won't "clash" with the films.[31]
In an interview, Peter Jackson had said that Amazon promised he would receive scripts to look at, and never talked to him again. [133]
Filming
Filming had begun by March 2020 and was expected to continue through May, with a four- or five-month production break then planned. During the break, the footage for the first two episodes would be reviewed and writing on the second season would begin. Production on the series was scheduled to resume in mid-October and continue until late June 2021. Amazon carried out shooting digitally with large-format Arri cameras,[134] predominantly Arri Alexa LF Mini, and finished in 4K and cropped to a cinematic aspect ratio of 2.40:1.
Production was halted prematurely due to the SARS-CoV-2 pandemic, with filming resuming in late September.[135] While much of the opening two-episodes was reportedly already shot, reshoots were held under Bayona until December,[136] and resuming shortly thereafter for the rest of the first season. Location shooting took place around Auckland in February 2020, and resumed on October,[137] and in February 2021 in Manapouri. Contrary to reports that the show had halted filming due to new COVID cases in Auckland, it had in fact continued shooting outside the Auckland area.[138]
Shooting took place in Kumeu and Auckland film studios, including a snowy mountainside set believed to represent Helcaraxe[139], a forest-set city set standing for the southland city of Tirharad,[140] several wet-sets[141] and, reportedly, Khazad-dûm filling-up the biggest soundstage. Leaked set pictures had since revealed set construction taking place,[142] and several houses on a Númenórean set, including one set opposite the stairway of which a shot had leaked earlier,[143] as well as a piece of Dwarven armor and a mithril-ore decked chamber in Khazad-dûm.[144]
Walker said at the end of June that he was not sure how much longer the cast would be required to stay in New Zealand, saying the timeline for the production was "a bit nebulous" and Amazon would "let us go when they're done with us".[145] In early July, several stunt performers alleged that a senior stunt supervisor for the production had created an "uneasy environment" that contributed to an unsafe workplace, with at least three stunt performers being seriously injured on the set. This included stuntwoman Dayna Grant, who suffered a head injury on set in March and was diagnosed with a brain aneurysm and upper spinal injury; fans crowdfunded NZ$100,000 to help Grant pay for surgery. The production's head of safety, Willy Heatley, said the injury rate was 0.065 percent across the 16,200 days of stunt work on the series since filming began, and this was mostly due to "common stunt-related sprains, bruises and muscle and soft tissue strains". Amazon Studios said safety was a top priority for the company and they were following all of WorkSafe's regulations.[146]
Amazon will premiere the series on September 2, 2022.[147][148][94] Filming on Season One had wrapped in 3 August, 2021, after earlier reports that it would wrap in late July, including pickups.[149][150] It is also said that Amazon is satisfied with the existing footage to the point of having greenlit Season 3, which will begin writing promptly,[151] with pre-production starting in "early 2022."[66]
By the estimated time in which pickups will wrap, the production will have had extended intermittently over 20 months (with some of the cast, like Morfydd Clark, staying in N.Z. throughout) and the shoot itself will have lasted 13 months.[150] Amazon is reportedly spending as high as $650 million NZD for season one alone,[152][153] although some of this sum will be used for "building the infrastructure of what will sustain the whole series"[154] and may have included some of the $250 million spent on the rights.[155] The first $100 million NZD spent on the production are not subsidized by New Zealand.[148]
Post-production
Amazon had contacted both WETA Digital (since rebranded WetaFX) and ILM for work on at least some of the VFX required for the show,[156] and at least some post-production work is to be done in NZ-based facilities,[34] which Amazon had proposed to establish themselves on New Zealand soil.[9] WetaFX employees on the show include Ken McGaugh as VFX supervisor, Paul Story as animation supervisor and Andy Taylor as VFX producer.[157][158] WETA Workshop is creating "Concept Design, Prosthetic Make-up Effects and Weapons"[159] and several of its employees are also credited as working on the show,[157] and the company is said to be "expected to cash in on the production."[65]
Film composer Howard Shore had expressed interest in working on the show.[160][161] While he was not contacted during production,[162] he was later said to be involved,[163][164][165] as has composer Bear McCreary. Vanity Fair commented on Howard Shore's score but withdrew:[166] whether this is due to Amazon wanted to keep it for a later reveal or because the score in question was a temporary track, is unclear. It is said Amazon uphold no restrictions on episode length,[167] which are believed to be around 50 minutes long each.[168]
Amazon is said to be shooting behind-the-scenes material, to be released as featurettes appended to the individual episodes and/or the season finale. During post-production, Amazon will submit six 60-90 second videos about shooting in New Zealand for the country's authorities to use for promoting tourism. Amazon will also credit New Zealand as the shooting location in the opening credits.[148]
Marketing
Title reveal
Amazon had released a teaser announcing the title of the show in January 19, 2022. The teaser was shot in six days[169] in late 2021, after filming had concluded, by using macro-photography (achieved with the advise of Douglas Trumbull) of metallurgy to show the title being forged, while also possibly alluding to the Downfall of Númenor via the rushing water. The lettering is silver, perhaps alluding to the creation of the Doors of Durin, and the music hints at Howard Shore's Ring theme.[170]
Shortly prior to this, Amazon put the show up on their Prime Video service. A press release appended to the teaser revealed the show will cover all the main events of the Second Age, necessitating a title that will befit all those events.
First-look posters
On February 3, 2022, a total of 23 posters were released via official social media accounts, corresponding with the "22 stars" of the show, reported by Vanity Fair. In order "To fuel fan speculation and discussion", said Amazon, "faces are not shown, and neither character names nor corresponding actors will be revealed,"[171] although they had revealed that the hands belong to "cast members Cynthia Addai-Robinson, Robert Aramayo, Owain Arthur, Maxim Baldry, Nazanin Boniadi, Morfydd Clark, Ismael Cruz Córdova, Charles Edwards, Trystan Gravelle, Sir Lenny Henry, Ema Horvath, Markella Kavenagh, Joseph Mawle, Tyroe Muhafidin, Sophia Nomvete, Lloyd Owen, Megan Richards, Dylan Smith, Charlie Vickers, Leon Wadham, Benjamin Walker, Daniel Weyman, and Sara Zwangobani."[172] Many of these were thereafter identified by fans (see "Gallery") based on Amazon's descriptive text,[173] identifying features on hands, and visual motifs on the costumes and props. [174][161]
Trailers
Amazon released a one-minute teaser (see Gallery) during the 2022 Super Bowl, which showcased the a port city, a clearing in Lindon where Elves in armor are sent on a mission by Gil-galad, and footage of Galadriel on her quest to Forodwaith (where a Snow-troll is encountered by Kip Chapman's character) and on her sea voyage with Halbrand. Also featured were Daniel Weyman as "The Stranger", being rescued by Markella Kavenagh's Elanor Brandyfoot from the site of a meteor crash.
A second teaser was released on July 8, with the first full-length trailer appearing on July 14.
Gallery
Videos
Character posters
Cast & rumors
In order of announcement
External links
References
↑ LOTRonPrime on Twitter. A new age begins September 2, 2022. Journey to Middle-earth with The Lord of the Rings: The Rings of Power. #LOTRonPrime #LOTR #LOTRROP. (January 19, 2022)
↑ Muncy, Julie (July 30, 2018). Amazon Has Picked Star Trek 4 Writing Duo To Develop Its Lord Of The Rings Show. Kotaku. Retrieved on 2018-07-31
↑ Matt Grobar, "Wayne Che Yip Boards 'The Lord of the Rings' TV series as Director and Co-Executive Producer; Will Helm Four Episodes of Amazon Original", Deadline (March 24, 2021)
↑ Gilyadov, Alex (April 5, 2018). AMAZON REPORTEDLY COMMITTED TO FIVE SEASONS OF LORD OF THE RINGS TV SERIES. IGN. Retrieved on 2018-06-08
↑ 7.00 7.01 7.02 7.03 7.04 7.05 7.06 7.07 7.08 7.09 7.10 Anthony Breznican, Joanna Robinson, Amazon's Lord of the Rings Series Rises: Inside The Rings of Power, Vanity Fair (10 February 2022)
↑ Thomas Coughlan, "Amazon may be on the road to New Zealand, as Government signs subsidiary deal", NZStuff (16 April 2021).
↑ 9.0 9.1 9.2 9.3 Thomas Coughlan, "Behind the Amazon deal: Fancy dinners, film premieres and a Covid-19 pandemic", NZStuff (16 April 2021)
↑ Auty, Dan (May 29, 2020). Amazon's Lord Of The Rings TV Show: Everything We Know About The Fantasy Series. GameSpot. Retrieved on 2020-07-05
↑ Lindsay McDonald, "Amazon Just Revealed the Huge Cast of Its Lord of the Rings TV series", TV Guide (14 January, 2020)
↑ 12.0 12.1 12.2 Zack Sharif, 'Lord of the Rings' TV Series Is Neither a "Remake" Nor a "Whole New Thing', Amazon Eying New Zealand Shoot, IndieWire, June 11, 2018
↑ 13.0 13.1 Rick Marshall, Amazon's Lord of the Rings series: Everything we know so far, The Digital Trends, December 3, 2020
↑ 15.0 15.1 15.2 Chen Geller, "Okay, lets get the timeframe right, once and for all!", Reddit (21 January 2019)
↑ Justin Sewell, "EXCLUSIVE: Official Show Synopsis for Amazon's LORD OF THE RINGS series", TheOneRing (12 January 2021)
↑ 17.0 17.1 17.2 17.3 17.4 Clifford Broadway, "Spy Report: 20 new details emerge from Amazon's Lord of the Rings: Characters, Sexless Nudity and Halflings", TheOneRing.net, July 20, 2021

↑ David James, "First Plot Details for Amazon's The Lord of the Rings Show Revealed", We Got This Covered.

↑ "Lord of the Rings show will feature moments from Peter Jackson's film trilogy" Stuff.NZ (July 8 2020)

↑ 20.0 20.1 20.2 20.3 20.4 20.5 Uncle Iorlas, "if you will indulge me in a story", TheOneRing (21 July 2018)
↑ 21.0 21.1 21.2 Nellie Andreeva, "Amazon Studios' Head Jennifer Salke On Strategy, 'Lord of the Rings' Series, Battle For Talent & 'Transparent' End Game: Q&A", Deadline (11 June 2019)
↑ Lacey Rose, "'Just Go In and Do Your Thing': Hollywood's Most Powerful Women Talk Megadeals, Bullying and Perserverance at THR's Executive Roundtable", Hollywood Reporter (12 May 2021).
↑ 23.0 23.1 23.2 Otterson, Joe (November 13, 2017). 'Lord of the Rings' Series Moving Forward at Amazon With Multi-Season Production Commitment'. Variety. Retrieved on November 14, 2017
↑ Tobias M. Eckerich, Exclusive Interview with Tom Shippey concerning LOTRonPrime, Deutsche Tolkien Geselschaft, 29 July 2019.
↑ Cirdan, Exklusiv: Zu den Kulissen der HERR DER RINGE Serie, Her Der Ringe Film (archived).
↑ 26.0 26.1 26.2 Kim-Taylor Foster, "Peter Jackson's Tips for Casting Aragorn in Lord of the Rings TV show", Fandom (4 December 2018)
↑ 27.0 27.1 27.2 James Croot, Sir Peter Jackson hasn't given up hope of making The Dam Busters, NZStuff, November 12 2018
↑ 28.0 28.1 David Sutton, "Interview with Narnia Conceptual Designer John Howe", Narnia Fans (August 18, 2019)
↑ Mushroom, "Short Interview", TheOneRing (August 24 2019). Blue Pill, [Art of John Howe」指环王概念主创约翰·豪先生带您逛画展并答粉丝问, YouTube, 17 August 2019.
↑ 30.0 30.1 Steve Weintrub, Orlando Bloom Goes Deep on 'Retaliation', 'LOTR', 'Carnival Row 2' and Much More, Collider, 14 August 2020

↑ 31.0 31.1 Joanna Robinson, 10 Burning Questions About Amazon's The Rings of Power, Vanity Fair, 14 February 2022.
↑ Ben Travis, Morfydd Clark On Being Cast As Galadriel in Amazon's Lord of the Rings Series, Empire, 29 October 2020
↑ 33.0 33.1 Dan Selcke, Young Galadriel actress details "Mind Blowing" scale of new Lord of the Rings show, Winter is Coming.
↑ 34.0 34.1 34.2 Series Memorandum of Understanding for the 5% Uplift in relation to the production of an Untitled Amazon Project, The New Zealand Ministry of Business, Innovation and Employment, 2020.
↑ 35.0 35.1

Brian J. Robb, Paul Simpson, "Middle Earth Envisioned: The Hobbit and The Lord of the Rings: On Screen, On Stage and Beyond" (Race Point), pgs. 65-68.

↑ United States District Court, N.D. California, Saul Zaentz Company vs. Wozniak Travel inc, 627 F. Supp. 2d 1096 (N.D. Call 2008), July 29 2008.

↑ Marlow, Script Writer (ROUND 2), TheOneRing.net (21 January 2000)
↑ 38.0 38.1 Xoanon, "Peter Jackson and Fran Walsh talk THE HOBBIT", TheOneRing (19 November 2006)
↑ 20 QUESTIONS WITH PETER JACKSON - PART 2, Ain't It Cool News, 30 December 1998.

↑ New Line, The Two Towers Audio Commentary, 2003.
↑ 41.0 41.1 41.2 Andreeva, Nellie (November 13, 2017). 'Amazon Sets 'The Lord of the Rings' TV Series In Mega Deal With Multi-Season Commitment'. Deadline. Retrieved on December 1, 2017
↑ Neilee Andveera, 'Lord Of The Rings' TV Series Shopped With Huge Rights Payment Attached, Deadline Hollywood, 3 November 2017.

↑ 43.0 43.1 Tatiana Siegel, "Inside Amazon's $250M 'Lord of the Rings' deal: "It's Very Much a Creature of the Times"", Hollywood Reporter (5 April 2018)
↑ Daniel Holloway, "'Lord of the Rings': Amazon, Warner Bros. in Talks for Series Adaptation (EXCLUSIVE)", Variety (3 November 2017)
↑ Dastin, Jeffrey (March 15, 2018) Exclusive: 'Amazon's internal numbers on Prime Video, revealed'. Reuters. Retrieved on March 18, 2018.
↑ Gilyadov, Alex (November 13, 2017). LORD OF THE RINGS TV SERIES GETS MULTI-SEASON COMMITMENT FROM AMAZON. IGN. Retrieved on 2018-06-08
↑ Graeme McMillan, Why on Middle Earth has there never been a true Lord of the Rings graphic novel, Polygon, 5 May 2021.

↑ Daniel Helen, Christopher Tolkien resigns as Tolkien Estate Director, The Tolkien Society, 15 November 2017.

↑ Ian Nathan, Anything You Can Imagine: Peter Jackson and the Making of Middle Earth (HarperCollins: London, 2018), 288 ff.
↑ u/LongJonSiIver, The Saul Zaentz Company files two trademarks coving The Lord of the Rings: The Ring of Power, Reddit, 5 April 2022.
↑ Altaira (February 21, 2019) Amazon Prime's Middle-earth: our journey so far. Theonering.net. Retrieved on 2019-02-23
↑ Devan Coogan, What to expect from Amazon's Lord of the Rings show and its second age setting, EW, 17 April 2019.

↑ 53.0 53.1 Peter White, "Amazon sets Creative Team For 'Lord of the Rings' TV Series 'GoT' & 'Breaking Bad' Producers - TCA." Deadline (27 July 2019)
↑ 54.0 54.1 54.2 "Meet our Fellowship" Video at The Lord of the Rings on Prime Facebook page, 7/28/19
↑ Nielle Andreeva, "'The Lord of the Rings' Series Gets Early Season 2 Renewal by Amazon, Sets Season 1 Hiatus." Deadline (18 November 2019)
↑ "New $1.5b LOTR TV Series set to film in Auckland", Newstalk ZB (30 June 2019)
↑ Craig McDonald, "New 1b Lord of the Rings prequel TV Series set to be filmed in Scotland", Daily Record (10 February 2019)
↑ Craig McDonald, "Amazon's 1b Lord of the Rings series set to be filmed at new Scots studio." Daily Record (14 April 2019)
↑ Brittany Keough, "Plans to film $1 billion Lord of the Rings television series in NZ under threat", Stuff.NZ (23 December 2018)
↑ Jason Walls, "Announcement on Amazon producing the Lord of the Rings TV show in NZ is 'imminent'", New Zealand Herald (2 July 2019)
↑ Dillane, Tom (June 30, 2019) Auckland secures 'huge' part of US Amazon Lord of the Rings production - most expensive TV show ever at $1.5 billion plus New Zealand Herald. Retrieved on 7/1/19
↑ Carbone, Gina (August 8, 2019) Amazon's Lord Of The Rings Season 1 Reportedly Has A Huge Episode Count. Cinemablend. Retrieved in 14/08/19
↑ Mandy Tee, "Amazon's The Lord of the Rings TV series to start filming in Auckland" Stuff.NZ (18 September 2019)
↑ "Amazon Studios Announces New Zealand as Location for Its Upcoming Series Based on The Lord of the Rings", Amazon (17 September 2019)

↑ 65.0 65.1 Jonathan Milne, Bonnie Sumner, "Return of the Rings: Govt hopes Amazon will come back to film more seasons". Newsroom (August 5, 2021).
↑ 66.0 66.1 Nellie Andreeva, 'The Lord of the Rings' To Move Production To UK From New Zealand For Season 2, Deadline, 12 August 2021.
↑ K. J. Yossman, From 'Lord of the Rings' to 'Bridgerton' The Inside Story of the U.K.'s Production Juggernaut, Variety, 25 November 2021.

↑ Morfydd Clark, IMDb.
↑ Wiseman, Andreas "'The Witcher: Blood Origin': Lenny Henry, Mirren Mack, Nathaniel Curtis, Dylan Moran Among Cast To Join Netflix Prequel Series; Filming Underway In UK". Deadline Hollywood (16 August 2021).
↑ Nellie Andreeva, "'The Lord Of The Rings' To Move Production To UK From New Zealand For Season 2". Deadline Hollywood (August 12, 2021).
↑ 72.0 72.1 72.2 Calisuri, Amazon Studios Announces Wave 2 of Casting for Lord of the Rings TV Show, TheOneRing.net, 3 December 2020.
↑ Alex Ritman, Breakout Morfydd Clark Finally Sees Her 'Saint Maud' Released After COVID-19 Delays, Hollywood Reporter, 28 January 2021.
↑ 74.00 74.01 74.02 74.03 74.04 74.05 74.06 74.07 74.08 74.09 74.10 74.11 74.12 Caleb Williams, "Full Character Breakdowns for Amazon's 'Lord of the Rings' TV series", Knighted Media (January 9, 2020)

↑ 75.0 75.1 Gravemaster, "Four audition tapes for Amazon's Lord of the Rings revealed; Markellah Kavenagh likely to play an Elf", Rednian Intelligence (20 October 2019)
↑ Cocospud, "Another Eldien Audition...", Reddit (20 October 2019)
↑ 77.0 77.1 77.2 Brandon Katz, "Exclusive: Main Characters for Amazon's 'Lord of the Rings' revealed?", The Observer (25 November 2019)
↑ Rick Porter, Amazon's Lord of the Rings Sets First Castmember, Hollywood Reporter, 22 July 2019.
↑ u/Cocospud, "Another Eldien Audition....", Reddit (20 October 2019)
↑ 80.0 80.1 Yslyven, "Audition for Amazon's Lord of the Rings hits at possible recast and other casting tidbits", Rednian Intelligence (26 September 2020).
↑ Yslyven, "New audition tapes for Amazon's Lord of the Rings hint at Numenor", Rednian Intelligence (27 November 2019)

↑ Fellowship of the Fans, "BREAKING: LEAKED Production Sheet Revealed + MAJOR Character Revelations for Amazon's #LOTRonPrime" YouTube (26 November 2021).
↑ Fellowship of the Fans, EXCLUSIVE: SHOCKING Galadriel Story Leaks For Amazons #LOTRonPrime| TSAS #15, YouTube, 31 October 2021.
↑ Joe Otterson, 'Lord of the Rings' Series at Amazon Casts Will Poulter (EXCLUSIVE), Variety, 4 September 2019.
↑ Denise Petski, Nellie Andreeva, Will Poulter Exits 'Lord of the Rings' Amazon Series, Deadline, 12 December 2019.

↑ 86.0 86.1 Neille Andreeva, 'The Lord of the Rings': Robert Aramayo To Star In Amazon TV Series, Deadline, 7 January 2020.

↑ Yslyvien, "Amazon's Lord of the Rings adds more actors and two more roles revealed", Rednian Intelligence (22 May 2020)
↑ 89.0 89.1 "Simon Merrells", Waring and McKenna.
↑ 90.0 90.1 Nellie Andreeva, "'The Lord of the Rings': Lenny Henry, Augustus Prew, Peter Mullan, Cynthia Addai-Robinson & Benjamin Walker among 20 New Cast Additions On Amazon Series", Deadline (3 December 2020)
↑ 92.0 92.1 Joseph Baxter, "Does the Latest Lord of the Rings Amazon Series Cast Exit Signal Trouble?" Den of the Geek (16 March 2021)

↑ Tom Reimann, "Amazon's 'Lord of the Rings' Has Appearantly Filmed Enough to Abruptly Replace a Cast Member", Collider (15 March 2021).

↑ 94.0 94.1 94.2 94.3 94.4 Lesley Goldberg, Amazon's 'Lord of the Rings' Rounds Out Sprawling Cast (Exclusive), Hollywood Reporter, 1 July 2021.
↑ Yslyven, "Amazon's Lord of the Rings series casts a group of warlords", Rednian Intelligence (3 March 2021)

↑ Fellowship of the Fans, https://www.youtube.com/watch?v=hrHG5ebD1cw
↑ 97.0 97.1 "Casting Now", BGT Casting

↑ 98.0 98.1 Danielle Clent, "Lord of the Rings TV Series: Bearded Men, Missing Teeth and People Over 200cm wanted", Stuff.NZ (10 October 2019)

↑ Andreeva, Nellie (July 3, 2019) 'The Lord Of The Rings': J.A. Bayona To Direct Amazon Series. Deadline. Retrieved on 7/3/19
↑ Begoña Donat, "Todos los monstruos de Juan Antonio Bayona", The Objective, 19 October 2021
↑ @alexandreguia42, "I was in the Bayona masterclass during the Festival Lumière in 2021." Twitter (30 January 2022)
↑ Nellie Andreeva, "David Benioff & D.B. Weiss May Have Narrowed Down Field For Blockbuster Overall Deal" Deadline (25 July 2019)
↑ Mike Fleming Junior, "Netflix Wins Overall Film, TV Deal For 'Game of Thrones' Creators David Benioff & D.B. Weiss" Deadline (7 August 2019)
↑ Justin Sewell, Tom Shippey is out at Amazon, TheOneRing.net, 15 April 2020.
↑ Lesley Goldberg, Bryan Cogman Moves Overall Deal to eOne, Hollywood Reporter, 7 December 2020.

↑ The Lord of the Rings: The Rings of Power, Amazon Studios.

↑ Fellowship of the Fans, "EXCLUSIVE Uncofirmed RUMOUR - New Amazon LOTR Show Director Revealed!" YouTube (13 March 2021)
↑ Matt Grobar, "Wayne Che Yip Boards 'The Lord of the Rings' TV series as Director and Co-Executive Producer; Will Helm Four Episodes of Amazon Original", Deadline (24 March 2021)
↑ Fellowship of the Fans, "EXCLUSIVE: Amazon LOTR Show Filming and DIRECTOR Update!", YouTube (21 February 2021)
↑ Tom Grater, 'The Witcher' Director Charlotte Brandstrom Joins Amazon's 'The Lord of the Rings' Series, Deadline, 13 May 2021.

↑ Mike Fleming Jr., After Amazon's Huge Investment in Tolkien's Middle Earth, Shouldn't Peter Jackson Be On Jeff Bezos' Call Sheet?, Deadline, 13 November 2017.
↑

An Unexpected Journey: Making of Documentary

↑ PTI, Peter Jackson to reportedly join Amazon's billion dollar Lord of the Rings TV series as executive producer, First Post, 9 April 2018.

↑ Gilyadov, Alex (June 6, 2018). PETER JACKSON CONFIRMS HE'S NOT INVOLVED IN AMAZON'S LORD OF THE RINGS SERIES. IGN. Retrieved on 2018-06-08
↑ 115.0 115.1 Randall Colburn, "Peter Jackson 'putting the creative team together for Amazon's Lord of the Rings TV series", Consequence of Sound (6 June 2018)

↑ Nerd of the Rings, Ian Nathan, author "Anything You Can Imagine: Peter Jackson and the the Making of Middle Earth", YouTube, 23 March 2021.

↑ 117.0 117.1 Mike Ryan, "Peter Jackson on 'Mortal Engines', His New WWI Documentary, And His Future with 'Lord of the Rings', Hitfix (12 December 2018)
↑ "Peter Jackson Discusses 'Mortal Engines', Gives Updates on Tintin 2 and Lord of the Rings Series", The Playlist Podcast Network (December 2018)
↑ Mel Evans, Peter Jackson is actually keen to help Amazon team in Lord of the Rings reboot - if they send him scripts, Metro, 4 December 2018

↑ Bill Bradley, The Truth about Nic Cage, David Bowie and the Casting Of 'Lord of the Rings', Huff Post, 10 October 2018.

↑ Cassie Carpenter, The Lord of the Rings tale to continue with anime prequel The War of the Rohirrim about Helm's Deep, Daily Mail, 10 June 2021.

↑ Matt Patches, Peter Jackson explains the changes he made for Lord of the Rings' 4K edition, Polygon, 6 December 2020.

↑ Daniel Kucher, Is Gandalf Coming Back with The Lord of the Rings Series, SoMag, 20 March 2020.

↑ Blair Marnell, Andy Serkis doesn't expect to be in Amazon's Lord of the Rings series, Sy-Fy Wire, 17 May 2018.

↑ Zack Sharf, Viggo Mortensen: 'Lord of the Rings' TV Series Is 'Worth Watching' Because of JA Bayona, IndieWire, 2 February 2020.

↑ Benjamin Bullard, Former Hobbit Sean Astin predicted Lord of the Rings reboot timing, fully expects 'amazing' Amazon series, Sy-Fy Wire, 6 July 2021.

↑ Eric Kohn, Elijah Wood on Amazon's $1 Billion 'Lord of the Rings' Investment: 'That's Crazy to Me', IndieWire, 25 April 2019.

↑ George Simpson, The Lord of the Rings Gimli star opens up on Amazon TV show slam - 'I shot from the hip', Express UK, 1 November 2019.
↑ Nerd of the Rings, Mark Ordesky, Executive Producer - The Lord of the Rings Trilogy , YouTube, 15 May 2021.
↑ Mike Fleming Junior, The Lord of the Rings trilogy: A Look Back At A Breathtaking Gamble 20 Years Later, Deadline, 7 July 2021.
↑ The Playlist Podcast Network, Morfydd Clark Talks A24's 'Saint Maud,' Recapturing The Peter Jackson Magic In The 'Lord Of The Rings' TV Series & More, Anchor, 28 January 2022
↑ Chen Geller, Peter Jackson and the issue of continuity: Amazon's The Rings of Power in context, Fellowship of the Fans, 29 January 2022.
↑ Neelie Andveera, Amazon's 'The Lord Of The Rings' Resumes Production In New Zealand, Netflix's 'Cowboy Bebop' Next, Deadline Hollywood, 28 September 2020.

↑ Fellowship of the Fans, "BREAKING: Amazon LOTR TV Series Pilot Director J.A. Bayona Leaves New Zealand!" YouTube (2 December 2020)
↑ Fellowship of the Fans, "Is The Amazon LOTR Cast/Crew and J.A. Bayona Filming On-Location At Muriway Colony? Numenor???" YouTube (24 October 2020)
↑ Ataahua, "An Update on Filming:" TheOneRing (1 March 2021)
↑ Fellowship of the Fans, "EXCLUSIVE: Photos and Videos of the Set of The LOTR TV Series" YouTube (16 October 2020)
↑ Fellowship of the Fans, "EXCLUSIVE: Photos of Amazon LOTR Set and MASSIVE Village/Town Set Piece" YouTube (6 March 2021)
↑ HeroOfRodden, "Amazon's Lord of the Rings enters production in New Zealand" Rednian Intelligence (8 February 2020)
↑ @FellowshipFans, "What's on the other side of this #LOTRonPrime set?", Twitter (18 January 2022)
↑ https://media.discordapp.net/attachments/878674263060676609/889431835946414080/image0.png?width=457&height=603
↑ TheOneRing.net, Beatles Get Back to LOTR!, YouTube (1 December 2022)
↑ Rafael Motomayor, "Benjamin Walker on How He Joined the 'Lord of the Rings' TV Show & Why a Bigger Budget Is Important". Collider (29 June 2021)
↑ Tom Dillane, "Stunt workers' fury over Lord of the Rings injuries" New Zealand Herald (3 July 2021)
↑ Werthead, "Potential WHEEL OF TIME airdaes may point the way to a LOTR releas window", Reddithttps://www.reddit.com/r/LOTR_on_Prime/comments/nfrw62/potential_wheel_of_time_airdates_may_point_the/
↑ 148.0 148.1 148.2 Season One Memorandum of Understanding for the 5% Uplift in relation to the production of an Untitled Amazon Project, New Zealand Ministry of Business, Innovation and Employment, 2020

↑ 150.0 150.1 Fellowship of the Fans, "EXCLUSIVE: MASSIVE Filming Update for The Lord of the Rings on Prime", YouTube, 5 April 2021.
↑ "Government to give Amazon over $100m boost for Lord of the Rings filming", RNZ, 16 April 2021.
↑ James Hibberd, "Amazon's 'The Lord of the Rings' to cost $465 million for just one season", Hollywood Reporter (16 April 2021).
↑ Lacey Rose, "Just Go In and Do Your Thing": Hollywood's Most Powerful Women Talk Megadeals, Bullying and Perseverence at THR Executive Roundtable, Hollywood Reporter, 12 May 2021.
↑ Subscribercast, The Amazon-New Zealand-Lord of the Rings Deal, Spy Culture.

↑ Tom Hunt, "Avatar movies on-track after WETA Digital's work-from-home effort", Stuff.NZ (14 May 2020)

↑ THE LORD OF THE RINGS: THE RINGS OF POWER, Weta Digital.

↑ @DougAdamsMusic, I can't promise that #HowardShore will be involved with Amazon's #LordOfTheRings project—but I can promise that I'll tell him he should be! Twitter, 14 November 2017.
↑ 161.0 161.1 Nicole Campos, Exclusive: Our Interview With 'Lord of the Rings' Composer Howard Shore! The Daily Crate, 27 February 2019.
↑ Tom Power, "Howard Shore on 'Pieces of a Woman' and whether he'd return to LOTR (if asked)" The Observer (26 January 2021)
↑ Mike Fleming Jr., Oscar-Winning 'The Lord of the Rings' Howard Shore In Talks to Compose Music For Amazon Studios' Middle Earth-Set TV Series, Deadline, 19 September 2021.

↑ @DougAdamsMusic, Biting my tongue for now. More to say later!, Twitter, 20 January 2022.

↑ https://media.discordapp.net/attachments/878600194520924215/933763058810110013/Screenshot_20220120-174026_Instagram.jpg?width=344&height=603
↑ https://twitter.com/DougAdamsMusic/status/1493336928892162052?ref_src=twsrc%5Etfw%7Ctwcamp%5Etweetembed%7Ctwterm%5E1493336928892162052%7Ctwgr%5E%7Ctwcon%5Es1_&ref_url=https%3A%2F%2Fwww.jwfan.com%2Fforums%2Findex.php%3Fapp%3Dcoremodule%3Dsystemcontroller%3Dembedurl%3Dhttps%3A%2F%2Ftwitter.com%2FDougAdamsMusic%2Fstatus%2F1493336928892162052
↑ u/Fellowshipoffans, WOT Showrunner reveals Amazon Episode Lengths "doesn't have to hit an exact time", Reddit, 20 May 2021.

↑ Kelsey Sutton, Mood Board: Why Prime Video headed to the forge for its Lord of the Rings series first look, Marketing Brew, 9 February 2022.

↑ Amelia Emberwing, This Is How They Made the Lord of the Rings Title Sequence, IGN (19 January 2022)
↑ Rebecca Alter, How Amazon Prime Wants Us to Cover The Rings of Power, Vulture, 4 February 2022.

↑ Jordan Moreau, 'Lord of the Rings' Series Unveils Posters of Characters' Hands, Variety, 4 February 2022.

↑ 174.0 174.1 Fellowship of the Fans, EXCLUSIVE: Major Reveals- OFFICIAL Poster Character Confirmations! Celebrimbor + Asteroid Reveals!, YouTube, 4 February 2022.
↑ Nellie Andreeva, 'The Lord of the Rings': Joseph Mawle to Star in Amazon Series, Deadline, 21 October 2019.
↑ Fellowship of Fans, VILLAIN Plot Details REVEALED! | The Rings of Power TSAS #36, YouTube, 1 May 2022.
↑ 178.0 178.1 178.2 178.3 178.4 178.5 178.6 178.7 u/Chen_Geller, "On the Cast and Characters of The Lord of the Rings On Prime", Reddit.com, 19 April 2021.
↑ Neille Andreeva, 'The Lord of the Rings': Ema Horvath Joins Cast of Amazon Series, Collider, 10 December 2019.

↑ 180.0 180.1 Fellowship of Fans, EXCLUSIVE: New ORIGINAL Love Relationship Revealed For LOTR: Rings of Power | TSAS #33, YouTube, 10 April 2022.
↑ Justin Kroll, 'Lord of the Rings' Series Taps Morfydd Clark as Young Galadriel (EXCLUSIVE), Variety, 17 December 2019.

↑ Craig McLean, Everyon'es Tolkien about Morfydd Clark, The Face, 1st October 2020

↑ Ted Jamieson, "Morfydd Clark on her new film Saint Maud and The Lord of the Rings", The Scotland Herald (10 October 2020)
↑ Johnny Davies, Morfydd Clark on the 'Lord of the Rings' TV Series and the Terror of 'Saint Maud', Esquire, 05/04/2021.
↑ Adam Whitehead, "Ned Stark (not that one) joins LORD OF THE RINGS: THE SECOND AGE", The Wertzone, Blogspot (7 January 2020)
↑ Vanity Fair Twitter, 10 February 2022.
↑ Lili Goksenin, "For the Breakout Star Of The Undoing, Success Is The Only Option", Mr Porter (24 November 2020)
↑ https://www.empireonline.com/movies/news/empire-lord-of-the-rings-the-rings-of-power-world-exclusive-covers-revealed/
↑ 189.00 189.01 189.02 189.03 189.04 189.05 189.06 189.07 189.08 189.09 189.10 189.11 189.12 189.13 189.14 189.15 Joe Otterson, 'Lord of the Rings' series at Amazon adds 20 Actors to Cast, Variety, 3 December 2020.
↑ Prime Video on Twitter. Get to know the Southlanders in #TheRingsOfPower. (August 17, 2022)
↑ Cirdan, "Zwerge und Hobbits Enthullt", Her Der Ringe film (20 October 2010)
↑ "Peter Mullan - he's a nasty piece of work", NZ Herald, 21 March 2013.
↑ u/Oneeyedfool, "Kaya Scodelario cast in LoTR series?" Reddit (15 August 2020)