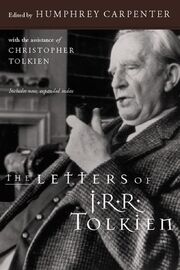 The Letters of J. R. R. Tolkien
(
ISBN 0-618-05699-8
) is a collection published in
1981
of 354 selected letters written by
J.R.R. Tolkien
over the course of his lifetime, which were edited where necessary and compiled by Tolkien's biographer
Humphrey Carpenter
, with the help of
Christopher Tolkien
. The selection contains 354 letters dates between October 1914 when Tolkien was an undergraduate at Oxford and August 29,
1973
; four days before his death.
The book is now published by George Allen and Unwin (UK) and Houghton Mifflin (US).
Formation
Edit
Humphrey Carpenter first collected and transcribed all the letters and made the initial selection based upon that. Then Christopher Tolkien commented upon his work and made various suggestions for changes, which where then discussed among them and adopted with various emendations. They then found it necessary to reduce the text quite severely for consideration of space. Humphrey then proposed the initial cuts on which Christopher again made various suggestions after which they came up with a final procedure needed for publication.
Contents
Edit
Letters of J.R.R. Tolkien
Notes
Index
Types of letters
Edit
The 354 letters can be roughly divided into four categories:
Examples
Edit
In letters 29 & 30, we find out that a German translation of The Hobbit was being negotiated in 1938. The German firm inquired whether Tolkien was of 'arisch' (Aryan) origin. Tolkien was infuriated by this, and wrote two letters as a response. In the first one Tolkien apparently refused to give any declaration whatsoever of his origin and in the second one he proudly protested on the inquiry and, among other things, replied that "... I regret that I appear to have no ancestors of that gifted [Jewish] people". He gave his editor the choice on which reply to use. This second letter is the only one preserved and it is probable that the first one was sent.
Translations around the world
Edit
| Foreign Language | Translated name |
| --- | --- |
| Amharic | ጄ አር አር ጦልኪአን ደብዳቤዎች |
| Arabic | رسائل من جون ر. تولكين |
| Armenian | Ջոն Ռոնալդ Ռուել Թոլքին Տառերը ? |
| Azerbaijani | J. R. R. Tolkien məktubları |
| Belarusian Cyrillic | Лісты Толкіна |
| Bengali | জে. আর. আর. টলকিন চিঠিপত্র |
| Bulgarian Cyrillic | Писмата на Й. Р. Р. Толкин |
| Catalan | Les cartes de J. R. R. Tolkien |
| Cebuano | Ang Sulat ni J. R. R. Tolkien |
| Corsican | U Lettres di J. R. R. Tolkien |
| Croatian | Pisma od J. R. R. Tolkina |
| Czech | Dopisy J. R. R. Tolkien |
| Danish | Bogstaverne av J. R. R. Tolkiens |
| Dutch | De Brieven van J.R.R. Tolkien |
| Esperanto | La Leteroj de J. R. R. Tolkien |
| Estonian | Kirjad kohta J. R. R. Tolkien |
| Filipino | Ang Sulat ng J. R. R. Tolkien |
| Finnish | J. R. R. Tolkienin kirjaimet |
| French | Les lettres de J. R. R. Tolkien |
| Galician | As cartas de J. R. R. Tolkien |
| Georgian | ჯ. რ. რ. ტოლკინის წერილები |
| German | J. R. R. Tolkien Briefe |
| Greek | Οι επιστολές του Τζ. Ρ. Ρ. Τόλκιν |
| Gujarati | જે.આર. આર. ટોલ્કિએનનાં પત્રો |
| Hausa | Wasikun J. R. R. Tolkien |
| Hebrew | מכתבי ר 'ר' טולקין |
| Hindi | जे॰आर॰आर॰ टोल्किन के पत्र |
| Hungarian | J. R. R. Tolkien levelei |
| Icelandic | Bréfum af J. R. R. Tolkien |
| Indonesian | Huruf-huruf J. R. R. Tolkien |
| Irish Gaelic | Na Litreacha de J. R. R. Tolkien |
| Italian | Le lettere di J. R. R. Tolkien |
| Japanese | J・R・R・トールキンの手紙 |
| Javanese | Ing Huruf saka J. R. R. Tolkien |
| Kannada | ದಿ ಲೆಟರ್ಸ್ ಆಫ್ ಜೆ. ಆರ್. ಆರ್. ಟೋಲ್ಕಿನ್ |
| Kazakh Cyrillic | J. Р. Р. хаттар Толкиеннің |
| Korean | J. R. R. 톨킨의 편지 |
| Kyrgyz Cyrillic | Ж. Р. Р. Толкиэн каттары |
| Latvian | Vēstulēm no J. R. R. Tolkien |
| Lithuanian | J. R. R. Tolkino raidės |
| Macedonian Cyrillic | Писмата на Ј Р Р Толкин |
| Malay | Huruf-huruf J. R. R. Tolkien |
| Maltese | Il Ittri ta 'J. R. R. Tolkien |
| Mongolian Cyrillic | J. Р. Р. Толкиэн нь Захидал |
| Nepalese | जे आर आर टोल्किएन को पत्र ? |
| Norwegian | Bokstavene av J. R. R. Tolkien |
| Persian | حروف جی. آر. آر. تالکین ? |
| Polish | Listy J. R. R. Tolkiena |
| Portuguese | As Cartas de J. R. R. Tolkien |
| Punjabi | ਜੇ.ਆਰ.ਆਰ. ਟੌਕਲਿਕ ਦੇ ਪੱਤਰ ? |
| Romanian | Scrisorile lui J. R. R. Tolkien |
| Russian | Письма Дж. Р. Р. Толкина |
| Samoan | O Mataitusi o le J. R. R. Tolkien |
| Sesotho | Ea Mangolo a J. R. R. Tolkien |
| Scottish Gaelic | Litrichean de J. R. R. Tolkien |
| Serbian | Тхе Леттерс од Ј. Р. Р. Толкиен (Cyrillic) Pisma od J. R. R. Tolkien (Latin) |
| Sinhalese | යන ලිපි ජ්. ර්. ර්. ටොල්කිඑන් ? |
| Slovak | Listy J. R. R. Tolkiena |
| Slovenian | Črke J. R. R. Tolkien |
| Spanish | Las cartas de J. R. R. Tolkien |
| Sudanese | Nu Sastra Sunda tina J. R. R. Tolkien |
| Swahili | Barua ya J. R. R. Tolkien |
| Swedish | Brev av J. R. R. Tolkien |
| Telugu | జె.ఆర్.ఆర్.టోల్కీన్ ది లెటర్స్ ఆఫ్ |
| Thai | จดหมายจากเจ. อาร์. อาร์. โทลคีน ? |
| Turkish | J. R. R. Tolkien'in Mektupları |
| Ukrainian Cyrillic | листи Толкіна |
| Uzbek | Ж. Р. Р. Толкиенъин мактуби (Cyrillic) J. R. R. Tolkien'in maktubi (Latin) |
| Vietnamese | Các chữ cái của J. R. R. Tolkien |
| Welsh | Mae Llythyrau J. R. R. Tolkien |