Wiki Targeted (Entertainment)
Play Sound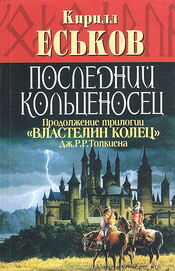 The Last Ringbearer (Russian: Последний кольценосец, Posledniy kol'tsenosets) is a 1999 fantasy book by Russian author Kirill Yeskov. It is an alternative account of, and an informal sequel to, the events of J.R.R. Tolkien's The Lord of the Rings.
Plot
Eskov bases his novel on the premise that the Tolkien account is a "history written by the victors". Eskov's version of the story describes Mordor as a peaceful constitutional monarchy on the verge of an industrial revolution, that poses a threat to the war-mongering and imperialistic faction represented by Gandalf (whose attitude has been described by Saruman as "crafting the Final Solution to the Mordorian problem") and the racist elves.
The tale begins by recapping the War of the Ring. The Ring itself is a luxurious ornament, but powerless, crafted by the Nazgûl (a group of ancient scientists and philosophers who take turns as the Nine to guide Mordor through its industrialization) to distract Gandalf and the Elves while Mordor built up its army. Aragorn is portrayed as a puppet of the Elves who has been instructed to usurp the throne of Gondor by murdering Boromir (whom he had discovered alone after Merry and Pippin were captured) before Gandalf removes Denethor. Arwen, being 3000 years older, holds Aragorn in contempt but uses their marriage to cement Elvish rule over Gondor. Faramir has been exiled to Ithilien where he is kept under guard with Éowyn. The Elves have also corrupted (using New-Age style mysticism) the youth of Umbar, which they aim to use as a foothold into Harad and Khand.
After defeating the Mordorian army, the Elves enter Mordor to massacre civilians with the help of Men from the East, supposedly to eliminate the "educated" classes. Two Orc soldiers ("Orc" being a slur used by the West against foreign men), the medic Haladdin and Sergeant Tzerlag, are fleeing the battle plain. They rescue Tangorn, a Gondorian noble who had been left buried in the desert for attempting to stop one of the massacres. They locate the mercenaries and kill the Elf, Eloar, taking his possessions.
The last of the Nazgûl, Sharya-Rana, visits Haladdin and explains that the physical world, Arda, is linked to the magical world from which the elves came, by the power of Galadriel's Mirror in Lórien and the Palantíri. Haladdin is given the task of destroying the Mirror in order to separate the worlds and complete the goal of making men truly free. Haladdin is chosen as he is a rare individual in whom there is absolutely no magic, and has a tendency to behave irrationally, for example joining the Mordorian army as a medic to impress his girlfriend and almost dying as a result, instead of putting his talents to better use at home in the university. While the Nazgûl cannot foresee how the quest is to be completed, he is able to provide Haladdin with useful information, including the current location of the Palantíri.
An elaborate plan is devised which involves the forging of a letter from Eloar by a Mordorian handwriting expert. Tangorn manages to arrange a meeting with the Elves in Umbar, while evading Gondor's efforts to eliminate him. He is eventually killed, which convinces the Elves to pass his message on to Eloar's mother, Eornis, a member of the ruling hierarchy of Lórien. She is led to believe that her son is captured rather than killed. A Palantír is dropped into Lórien by a Mordorian researcher developing flight-based weapons (under the secret patronage of Aragorn), and Eornis is instructed to bring the Palantír to Galadriel's Mirror. This is supposed to prove that she is in Lórien, whereupon she will be allowed to communicate with Eloar.
At the appointed time, Haladdin brings another Palantír to Mount Doom. Gandalf figures out his plan and, concerned that magic will be banished from Middle-Earth, casts a remote spell on the Palantír to turn its user into stone, but this has no effect. Saruman, despite opposing Gandalf's methods, believes that Sharya-Rana's hypothesis about the relationship between the magical and physical worlds is incorrect and attempts to reason with Haladdin. However, Tzerlag touches the Palantír by mistake and begins to turn into stone. In a bout of irrationality, Haladdin decides to drop the Palantír into Orodruin because Saruman is unable to reverse Gandalf's spell. This causes the Eternal Fire to be transmitted to the other Palantíri and the Mirror, destroying them and the magic of the Elves.
Haladdin goes into self-imposed exile and Tzerlag's descendants pass on the story orally, although the historical record officially contains Aragorn's version of events. Although despised by the Gondorian aristocracy, Aragorn finds favor with the people as his policies result in an "economic miracle" and after his death, childless, the throne reverts to the "rightful" king Faramir. The Elves end their occupation of Mordor and eventually leave Middle-Earth, which enters the industrial age.
Publication status
Though translated into several languages, the book has not had a commercial release in English. Several English-language publishing houses have considered undertaking a translation, but each has abandoned its plans due to the potential of litigation from the Tolkien estate, which has a history of strictly objecting to any derivative works, especially in English. In 2010, Yisroel Markov translated the book into English; his text has appeared as a free and non-commercial ebook, and Eskov has officially approved this release. Mark Le Fanu, general secretary of the Society of Authors, opined that despite it being non-commercial, the book still constitutes a copyright infringement. Tolkien's copyright lasts until 2043 in countries with a copyright term of 70 years after the author's death.
Translations
| | |
| --- | --- |
| Foreign Language | Translated name |
| Afrikaans | Die Laaste ringdraer |
| Albanian | Bartësi i fundit i unazës |
| Arabic | حامل الخاتم الأخير |
| Armenian | Մատանի վերջին կրողը |
| Azerbaijani | Üzükün son daşıyıcısı |
| Basque | Eraztunaren azken eramailea |
| Bengali | শেষ আংটি বাহক |
| Belarusian Cyrillic | Апошні носьбіт кольца |
| Bosnian | Poslednji nositelj prstena |
| Bulgarian Cyrillic | Последният носител на пръстена |
| Cambodian | អ្នកកាន់ចិញ្ចៀនចុងក្រោយ |
| Catalan | L'últim portador d'anell |
| Chinese | 最后一个戒指持有人 |
| Corsican | L'ultimu purtatore di l'anellu |
| Croatian | Posljednji nositelj prstena |
| Czech | Poslední nositel prstenu |
| Danish | Den sidste bærer af ringen |
| Dutch | De Laatste Drager van de Ring |
| Esperanto | La lasta portanto de la ringo |
| Estonian | Sõrmuse viimane kandja |
| Finnish | Viimeinen sormuksenkantaja |
| French | Le dernier porteur d'anneau |
| Frisian | De lêste drager fan 'e ring |
| Galician | O último portador do anel |
| German | Der Letzte Träger des Ring |
| Greek | Ο τελευταίος φορέας του δακτυλίου |
| Gujarati | છેલ્લી રિંગ ધારક |
| Hebrew | אחרון נושא טבעת |
| Hindi | अंतिम अंगूठी वाहक |
| Hungarian | A gyűrű utolsó hordozója |
| Icelandic | Síðasti handhafi hringsins |
| Indonesian | Pembawa cincin terakhir |
| Irish Gaelic | An t-iompróir deireanach den fháinne |
| Italian | L'ultimo portatore dell'anello |
| Japanese | 最後のリングベアラー |
| Javanese | Pembawa Dering pungkasan |
| Kannada | ಕೊನೆಯ ಉಂಗುರ ಬೇರರ್ |
| Kazakh | Сақинаның соңғы иесі (Cyrillic) Saqïnanıñ soñğı ïesin (Latin) |
| Korean | 마지막 링 베어러 |
| Kyrgyz Cyrillic | Элдин акыркы ташуучусу |
| Latvian | Pēdējais gredzena nesējs |
| Lithuanian | Paskutinis žiedo nešėjas |
| Luxembourgish | Déi lescht Träger vum Ring |
| Macedonian Cyrillic | Последниот носител на рингот |
| Malagasy | Ilay mpitondra faribolana farany |
| Malaysian | Pembawa cincin terakhir |
| Maltese | L-aħħar bearer taċ-ċirku |
| Marathi | रिंगचा शेवटचा मालक |
| Mongolian Cyrillic | Бөгжний сүүлчийн эзэн |
| Nepalese | औंठीको अन्तिम वाहक |
| Norwegian | Ringen Siste bærer |
| Pashto | اخري حلقه وهونکی |
| Persian | آخرین حامل حلقه |
| Polish | Ostatni władca Pierścienia |
| Portuguese | O Último Portador de anel |
| Punjabi | ਰਿੰਗ ਦਾ ਆਖਰੀ ਧਾਰਕ |
| Romanian | Ultimul purtător al inelului |
| Russian | Последний Кольценосец |
| Serbian | Последњи носилац прстена (Cyrillic) Poslednji nosilac prstena (Latin) |
| Sinhalese | මුද්දේ අන්තිම දරන්නා |
| Slovak | Posledný nositeľ prsteňa |
| Slovenian | Zadnji nosilec prstana |
| Spanish | El último portador del anillo |
| Swahili | Pete ya mwisho mbebaji |
| Swedish | Den Sista bäraren av ringen |
| Tamil | மோதிரத்தின் கடைசி தாங்கி |
| Tatar | Соңгы боҗра ташучы |
| Telugu | రింగ్ యొక్క చివరి బేరర్ |
| Thai | ผู้ถือสุดท้ายของแหวน |
| Turkish | Son Yüzük taşıyıcısı |
| Turkmen | Halkanyň iň soňky göterijisi |
| Ukrainian Cyrillic | Останній персненосець |
| Urdu | ? |
| Uzbek | Узукнинг сўнгги ташувчиси (Cyrillic) Uzukning so'nggi tashuvchisi (Latin) |
| Vietnamese | Người mang nhẫn cuối cùng |
| Welsh | Cludwr olaf y fodrwy |
| Xhosa | Umthwali wokugqibela wesangqa |
| Yiddish | די לעצטע טרעגער פון די רינג |
Community content is available under
CC-BY-SA
unless otherwise noted.