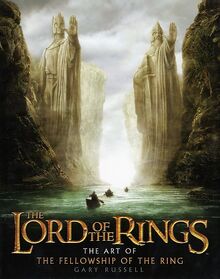 The Lord of the Rings: The Art of The Fellowship of the Ring (ISBN 978-0618212903), by Gary Russell, is a complete guide to the art direction of Peter Jackson's 2001 film The Lord of the Rings: The Fellowship of the Ring, telling the process of all behind-the-scenes conceptualization up to the computer-effects stage. It was published in 2001 by Houghton Mifflin (US), and contains hundreds of exclusive, preliminary sketches, paintings, and designs.
This book precedes The Art of The Two Towers and The Art of The Return of the King.
Contents
After an introduction featuring Richard Taylor, Peter Jackson, and others' story of the initial design efforts (1997 - 1998), the text of this guide is commentary by members of Weta Workshop and Weta Digital, and illustrators such as renowned artists Alan Lee and John Howe who designed the majority of environments and buildings seen in the film. Commentary accompanies a sketch, Matte painting sculpture, maquette, color study, digital art-piece, armor concept, or costume that someone was involved with.
A few illustrations and images of conceptual artwork appear also in Weapons and Warfare (a book written by the editor, Chris Smith). Other images are exclusive to this book.
Table of contents
Foreword
Introduction
Locations
Costume
Armory
Creatures
Credits
Featured personnel
Yanick Dusseault
Wayne Haag
Sylvana Sacco
Mel James
Sacha Lees
See also
Community content is available under
CC-BY-SA
unless otherwise noted.