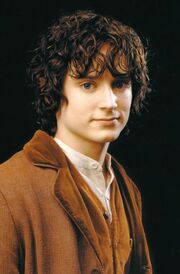 Frodo Baggins, a notable Hobbit of the Shire, was born on 22 September TA 2968 (Third Age). He was the only son of Drogo Baggins and Primula Brandybuck.
Much of Frodo's youth was spent at Brandy Hall in Buckland, the home of the Brandybuck family, including his mother. Frodo was known to be somewhat of a rascal and he would often steal mushrooms from Farmer Maggot.
In TA 2980, when Frodo was only 12 years old, his parents were involved in a boating accident on the Brandywine River and drowned. As Frodo had no siblings, he stayed alone in Brandy Hall until his cousin, Bilbo Baggins, adopted him in TA 2989 and decided to make the child his heir. Subsequently, Bilbo took Frodo to live with him in his home of Bag End.
Read More...
Community content is available under
CC-BY-SA
unless otherwise noted.