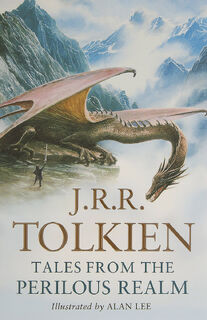 Tales from the Perilous Realm (ISBN 9780547154114) is a compilation, published in 1997 and later again in 2007, of the lesser-known "classic fairy tales" of J.R.R. Tolkien. Its only major relation to Middle-earth is The Adventures of Tom Bombadil, which features the character Tom Bombadil from The Lord of the Rings. The publication contains art by Alan Lee.
The "Perilous Realm" refers to Faërie, a broad term for the fantastical dimension visited by each tale in a different way.
BBC Radio 5 produced a radio series of its stories in 1992, featuring voice actors Michael Hordern, Brian Blessed, Brian Sibley, and others. In November 2017, a full-cast dramatized audio-book of Tales of the Perilous Realm was made and published by BBC Digital Audio, adapted by Brian Sibley.[1]
Contents
Edit
Roverandom, a short story about a dog that turns into a toy
Farmer Giles of Ham, a short story about an English farmer who encounters a dragon.
The Adventures of Tom Bombadil, a collection of poems claiming to be "of Hobbit origin"
Smith of Wootton Major, a short story talking about Nokes, who recently had become a Master Cook and have to prepare a special Great Cake for the Feast of Good Children
Leaf by Niggle, a highly allegorical short story about a character, Niggle, who is thought to represent Tolkien's ambition and anxieties as a fantasy author.
Tolkien's lecture and essay "On Fairy-Stories"
Afterword by Alan Lee
Translations around the world
Edit
| | |
| --- | --- |
| Foreign Language | Translated name |
| Afrikaans | Verhale uit die Gevaarlike Terrein |
| Albanian | Tregime nga Sfera Rrezikshme ? |
| Amharic | ወደ አደገኛ መንፈሳዊው ዓለም ከ ተረቶች |
| Arabic | حكايات من عالم محفوف بالمخاطر |
| Armenian | Հեքիաթներ են վտանգավոր հարթությունում |
| Azerbaijani | Təhlükəli səltənətində olan nağılları |
| Belarusian Cyrillic | Казкі Чароўнай краіны |
| Bengali | বিপজ্জনক অধিরাজ্য থেকে টেলস |
| Bosnian | Priče iz Opasne Carstvo |
| Bulgarian Cyrillic | Приказки от опасната сфера |
| Cambodian | រឿងនិទានពីអាណាចក្រគ្រោះថ្នាក់ |
| Catalan | Contes des del Regne Perillós |
| Cebuano | Sugilanon gikan sa Malisud nga mga gingharian |
| Chinese | 从危险的境界的故事 |
| Croatian | Pripovijesti iz Opasnih Predjela |
| Czech | Příběhy z Nebezpečné Oblasti |
| Danish | Fortællinger fra Farefulde Rige |
| Dutch | Verhalen uit de Gevaarlijke Wereld |
| Esperanto | Fabeloj de la Perilous Sfero |
| Estonian | Ohtlik mängib lugusid ? |
| Filipino | Salaysay mula sa mapanganib na larangan |
| Finnish | Satujen valtakunta |
| French | Contes du Royaume Périlleux |
| Frisian | Ferhalen út 'e Nuodlike Ryk |
| Galician | Contos do Reino Perigoso |
| Georgian | ბნელი სამეფოს ზღაპრები |
| German | Geschichten aus dem gefahrvollen Reich |
| Greek | Ιστορίες από την επικίνδυνη σφαίρα |
| Gujarati | ખતરનાક ક્ષેત્ર માંથી ટેલ્સ |
| Haitian Creole | Istwa soti nan domèn nan danjrez |
| Hebrew | סיפורי מתחום המסוכן |
| Hindi | खतरनाक दायरे से किस्से |
| Hungarian | Mesék a Veszedelmes Birodalmában |
| Icelandic | Sögur frá Hættulegur Ríki |
| Indonesian | Cerita dari Ranah Berbahaya |
| Irish Gaelic | Scéalta ón réimse Contúirteach |
| Italian | Racconti dal Regno Pericolosa |
| Japanese | 危険な世界からの物語 |
| Korean | 위험한 영역의 이야기 |
| Kannada | ಗಂಡಾಂತರದ ಸಾಮ್ರಾಜ್ಯದ ಟೇಲ್ಸ್ |
| Kazakh Cyrillic | Қауіпті патшалығының Ертегілер |
| Kyrgyz Cyrillic | коркунучтуу чөйрөдөгү жомоктору |
| Latin | Regnum fabellam de periculo |
| Latvian | Pasakas no Riskants Valstība |
| Lithuanian | Pasakos iš Pavojingą Sritį |
| Luxembourgish | Märecher vun de geféierlech Kommissioun |
| Macedonian Cyrillic | Приказни од Опасна Свет |
| Malay | Cerita dari Alam Berbahaya |
| Maltese | Denb mill-Saltna Perikoluż Lejn ? |
| Maori | Kōrero i te Felton Ati |
| Marathi | धोक्याचा क्षेत्र गोष्टी ? |
| Mongolian Cyrillic | Аюултай хүрээний аас домог |
| Nepalese | कथा यो खतरनाक प्रभुता देखि ? |
| Norwegian | Historier fra den Farlige Riket |
| Pashto | د مهاجرت د قلمرو څخه کیسې ? |
| Persian | قصه های از قلمرو خطر ناک |
| Polish | Opowieści z Niebezpiecznego Królestwa |
| Portuguese | Contos do Reino Perigosa |
| Punjabi | ਖਤਰਨਾਕ ਖੇਤਰ ਤੱਕ ਕਿੱਸੇ |
| Romanian | Povestiri din Domeniul Primejdioase |
| Russian | Сказки Волшебной страны |
| Samoan | Tala mai le olaga faigata |
| Scottish Gaelic | sgeulachdan bho cunnartach Rìoghachd |
| Serbian | Талес фром тхе опасно Реалм (Cyrillic) Priče iz Opasnim Kraljevstva (Latin) |
| Sesotho | Lipale tse tsoang Sebakeng sa mahlonoko |
| Shona | Ngano kubva Nengozi Nzvimbo |
| Sinhalese | මෙම කථිකයා ප්රචලිතය සිට කතාන්දර |
| Slovak | Príbehy z Nebezpečnej Oblasti |
| Slovenian | Zgodbe iz Nevarno Področje |
| Somalian | Warkii ka boqortooyadayda ku baaqdo |
| Spanish | Cuentos del Reino Peligroso |
| Swahili | Hadithi kutoka Eneo Hatari |
| Swedish | Berättelser från den Farliga Rike |
| Tajik Cyrillic | Афсонаҳои аз олами хатарнок |
| Tamil | அபாய சாம்ராஜ்யத்திற்கு இருந்து கதைகள் |
| Telugu | మహా రాజ్యం నుండి టేల్స్ |
| Thai | เรื่องเล่าจากดินแดนอันตราย |
| Turkish | Tehlikeli Diyardan Öyküler |
| Ukrainian Cyrillic | Казки Чарівної країни |
| Urdu | خطرناک جہانوں سے کہانیاں |
| Uzbek | Хавфли олам олган афсоналарини (Cyrillic) Xavfli olam olgan afsonalarini (Latin) |
| Vietnamese | Cổ tích từ các lĩnh vực nguy hiểm |
| Welsh | Chwedlau o'r Deyrnas Beryglus |
| Yiddish | טאַלעס פון די פּעראַלאַס געביט |
References
Edit