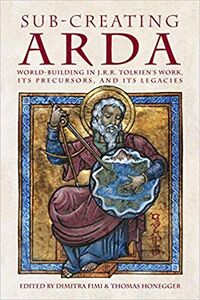 Sub-creating Arda: World-building in J.R.R. Tolkien's Work, its Precursors, and its Legacies (ISBN 978-3905703405) is a collection of writings about J.R.R. Tolkien and fantasy world-building. It was compiled by Thomas Honegger and Dimitra Fimi as the fortieth book of Walking Tree Publishers' Cormarë Series, and published in paperback in 2019. At over 400 pages, it is the longest Cormarë release.
Sub-creating Arda features twenty essays by Tolkien scholars (such as Tom Shippey) and other enthusiasts on a variety of subjects regarding Tolkien's concept of sub-creation, the growing indulgence in and forms of world-building, the limits of world-building, the dynamics of Tolkien's world Arda, et cetera. Examples are a study by John Garth of possible Middle-eastern inspirations for Tolkien's Ainulindalë and his early uses of Akkadian, and a comparison by Łukasz Neubauer of Arda's divine beings (Eru and the Ainur) to that of George R. R. Martin's Westeros.
Contents
Introduction by Dimitra Fimi & Thomas Honegger
Mark J.P. Wolf, "Concerning the "Sub" in "Subcreation": The Act of Creating Under"
Allan Turner, "One Pair of Eyes: Focalisation and Worldbuilding"
Massimiliano Izzo, "Worldbuilding and Mythopoeia in Tolkien and post-Tolkienian Fantasy Literature"
Péter Kristóf Makai, "Beyond Fantastic Self-indulgence: Aesthetic Limits to World-building"
N. Trevor Brierly, "Worldbuilding Design Patterns in the Works of J.R.R. Tolkien "
John Garth, "Ilu's Music: The Creation of Tolkien's Creation Myth"
Gergely Nagy, "On No Magic in Tolkien: Resisting the Representational Criteria of Realism"
Renée Vink, "Tolkien the Tinkerer: World-building versus Storytelling"
Jonathan Nauman, "Composition as Exploration: Fictional Development in J.R.R. Tolkien's The Lord of the Rings"
Anahit Behrooz, "Temporal Topographies: Mapping the Geological and Anthropological Effects of Time in J.R.R. Tolkien's Legendarium"
Robin Markus Auer, "Sundering Seas and Watchers in the Water: Water as a Subversive Element in Middle-earth"
Michaela Hausmann, "Lyrics on Lost Lands: Constructing Lost Places through Poetry in J.R.R. Tolkien's The Lord of the Rings"
Hamish Williams, "Mountain People in Middle-earth: Ecology and the Primitive"
Timo Lothmann, Arndt Heilmann, Sven Hintzen, "Then Smaug Spoke: On Constructing the Fantastic via Dialogue in Tolkien's Story Cosmos"
Maureen F. Mann, "Artefacts and Immersion in the Worldbuilding of Tolkien and the Brontës"
Bradford Lee Eden, "Sub-creation by any Other Name: The Artist and God in the Early Twentieth Century"
Kristine Larsen, "A Mythology for Poland: Andrzej Sapkowski's Witcher Fantasy Series as a Tolkienian Subcreation "
Andrew Higgins, "More than Narrative: The Role of Paratexts in the World-building of Austin Tappan Wright, J.R.R. Tolkien, and Ursula K. Le Guin"
Łukasz Neubauer, "Absence of gods vs. Absence of God: The Spiritual Landscapes of J.R.R. Tolkien's Middle-earth and George R.R. Martin's Westeros" 
External links
Community content is available under
CC-BY-SA
unless otherwise noted.