We're Getting Mutants in the MCU - The Loop
Play Sound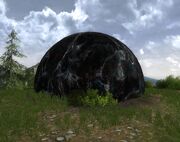 The Stone of Erech, also known as The Black Stone, was a large unearthly stone upon which the king of the mountains swore an oath to Isildur. It was some six feet in radius (about 3-4 meters in diameter) and seemed to be spherical in shape -- half of it was underground at the time of the oath. The other half that was visible/above ground was made out to be as tall as a man. It was located on the Hill of Erech, south of the White Mountains in Gondor.[1]
History
The hill of Erech was located in Gondor, at the beginning of the Blackroot Vale in the White Mountains. The head of the Blackroot Vale was where the entrance to the Paths of the Dead was located. The stone was brought to the hill of Erech by Isildur, who rescued it from the sinking of Númenor.
In the very early days of Gondor, the king of the men who lived in the White Mountains swore an oath of allegiance to Isildur on the Stone of Erech. This oath was betrayed when Isildur called upon them to fight Sauron in the War of the Last Alliance. That caused Isildur to curse them to remain undead until they had fulfilled their oath. They haunted the Paths of the Dead for more than 3000 years.
It was on the Stone of Erech that Aragorn called on the King of the Dead, and the other accursed, to fulfill their oaths so that they could rest in peace. This occurred at midnight. The Oathbreakers then followed Aragorn to Pelargir, where they helped him take over the ships of the Corsairs of Umbar. They were finally put to rest by Aragorn, for finally fulfilling their oath.[2][3]
Portrayal in adaptations
The computer game The Lord of the Rings Online, the mobile game Lord of The Rings War, the Lord of the Rings Minecraft mod, and the Last Days of the Third Age Mount and Blade: Warband mod are the only adaptations that depict the Stone of Erech.
Translations
| | |
| --- | --- |
| Foreign Language | Translated name |
| Afrikaans | Steen van Erech |
| Albanian | Guri i Erech |
| Arabic | حجر ىريچه |
| Armenian | Էրեչ Քարը |
| Azerbaijani | Erech Daşı |
| Basque | Erech harria |
| Belarusian Cyrillic | Камень Эрэха |
| Bengali | এরেক প্রস্তর |
| Bosnian | Kamen Erecha |
| Bulgarian Cyrillic | Ерехски камък |
| Catalan | Pedra de Erech |
| Cebuano | Bato sa Erech |
| Chinese | 埃雷奇石 |
| Croatian | Kamen iz Erech |
| Czech | Kámen Erech |
| Danish | Erechsten |
| Dutch | Steen van Erech |
| Esperanto | Ŝtono de Erech |
| Estonian | Erechi kivi |
| Fijian | Vatu ni Erech |
| Filipino | Bato ng Erech |
| Finnish | Erechin kivi |
| French | Pierre d'Erech |
| Frisian | Stien fan Erech (Western) |
| Galician | Pedra de Erech |
| Georgian | ერეკ ქვა |
| German | Stein von Erech |
| Greek | Πέτρα του Έρεχ |
| Haitian Creole | Ròc de Erech |
| Hebrew | אבן ארך |
| Hindi | एरेच का पत्थर |
| Hungarian | Erech-i kő |
| Icelandic | Erech-steinninn |
| Indonesian | Batu Erech |
| Irish Gaelic | Cloch Erech |
| Italian | Pietra d'Erech |
| Japanese | エレクの石 |
| Kannada | ಎರೆಕ್ನ ಕಲ್ಲು |
| Korean | 에레 크 돌 |
| Kyrgyz Cyrillic | Эрэц таш |
| Latvian | Erech Akmens |
| Lithuanian | Erech Akmuo |
| Luxembourgish | Steen vun Erech |
| Macedonian Cyrillic | Камен на Ерех |
| Malaysian | Batu Erech |
| Marathi | एरेकचा दगड |
| Maltese | Ġebla tal-Erech |
| Mongolian Cyrillic | Эреч чулуу |
| Norwegian | Sconesteinen |
| Persian | سنگ هرهچه |
| Polish | Głaz na Erech |
| Portuguese | Pedra da Erech |
| Romanian | Piatră Erechului |
| Russian | Камень Эреха |
| Scots | Stane o Erech |
| Scottish Gaelic | Clach na Erech |
| Serbian | Камен из Ерек (Cyrillic) Kamen iz Erek (Latin) |
| Sinhalese | එරෙක්හි ගල් |
| Slovak | Kameň Erech |
| Slovenian | Kamen Erech |
| Somalian | Dhagaxa Erech |
| Spanish | Piedra de Erech |
| Swahili | Jiwe la Erech |
| Swedish | Erechstenen |
| Tamil | எரிச் கல் |
| Telugu | ఎరేచ్ రాయి |
| Turkish | Erech Taşı |
| Ukrainian Cyrillic | Ерекий камінь |
| Uzbek | Ереч Тош (Cyrillic) Erech Tosh (Latin) |
| Welsh | Carreg Erech |
References