Shaun Mark "Sean" Bean is an English actor who played Boromir, a Man of Gondor, in Peter Jackson's The Lord of the Rings film trilogy (2001 - 2003).
Boromir's brother was portrayed by David Wenham, and their father, Denethor II, by John Noble.
In May 2020, Sean Bean appeared along with many other cast members of the film trilogy in Josh Gad's "One Zoom to Rule Them All" reunion.
Biography
Early life
Bean was born Shaun Mark Bean in the Handsworth district of Sheffield, West Riding of Yorkshire, England, the son of Rita (née Tuckwood) and Brian Bean. Bean's father owned a fabrication shop, which he had set up with a colleague. The business employed 50 people, including Bean's mother, who worked as a secretary. He has a younger sister named Lorraine. Despite becoming relatively wealthy, the family never moved away from the council estate, because they preferred to remain close to friends and family.
Career
Other films he has starred in include the James Bond film Goldeneye, the Greek epic Troy and National Treasure. He is also famed for his role as Richard Sharpe in the TV series of the same name. He starred in the first season of the television adaptation of George R.R. Martin's fantasy book, Game of Thrones, as Eddard Stark of Winterfell, and in 2010, Bean played Zeus in the movie based on the renowned book series, Percy Jackson & the Olympians.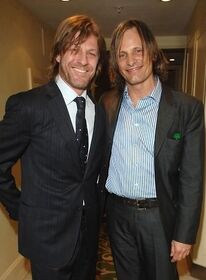 Documentary appearances
The Lord of the Rings film trilogy appendices
Filmography (selected)
For more see: Sean Bean's filmography
External links