Cobra Kai Season 4 - The Loop
Play Sound
The Sea of Rhûn was a large, inland sea located in eastern Middle-earth.
Geography
The Sea of Rhûn was located in the west of the land of Rhûn, which was east of Rhovanion and north of Mordor. The River Running, flowing from the Lonely Mountain, and the River Redwater from the Iron Hills, fed the sea. The sea also contained an unnamed island measuring about thirty miles along the southeastern and northwestern coasts and twenty upon the northeastern and southwestern coasts. According to the The Atlas of Middle-earth, the island was about seventy-five miles across.[1]
There were mountains on the southwest side of the sea and a forest on the northeast side. The Kine of Araw, wild, white cattle, were known to live near the sea's shores. The Great Horn of Gondor was made from the horn of one of these kine that had been hunted by Vorondil, a Steward of Gondor.[2]
History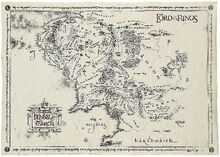 When Gondor was at the height of its power during the reign of King Hyarmendacil (TA 1015 - TA 1149), the realm extended east as far as the Sea of Rhûn. But as Gondor's power waned, Easterlings came into the area around the Sea of Rhûn and launched attacks on Gondor. In TA 1248, Minalcar (later called Romendacil) defeated an army of Easterlings between Rhovanion and the Sea of Rhûn and destroyed their settlements.[2]
In TA 1944, an army of Wainriders gathered on the southern shores of the Sea of Rhûn before launching an assault on Gondor that left King Ondoher dead.
During the War of the Ring, forces under the rule of Sauron mustered in the lands beyond the Sea of Rhûn. In the decades after the downfall of Sauron, Aragorn and Éomer rode beyond the Sea of Rhûn to enforce peace with the Easterlings.[3]
Translations
| | |
| --- | --- |
| Foreign Language | Translated name |
| Afrikaans | See van Rhûn |
| Albanian | Deti i Rhûn |
| Amharic | ርሁን ባሕር |
| Arabic | بحر رهون |
| Armenian | Ծով Րհուն |
| Azerbaijani | Rhûn Dəniz |
| Basque | Rhûn itsasoa |
| Belarusian Cyrillic | мора Рhун |
| Bengali | ঢ়ুন সাগর |
| Bosnian | Mora Rhûn |
| Bulgarian Cyrillic | Море от Рхюн |
| Catalan | Mar de Rhûn |
| Cebuano | Dagat sa Rhûn |
| Chinese | 盧恩內海 |
| Corsican | Mari di Rhûn |
| Croatian | Rhûn Mora |
| Czech | Rhûnské moře |
| Danish | Rhûnsøen (hav) |
| Dutch | Zee van Rhûn |
| Esperanto | Maro de Rhûn |
| Estonian | Rhûni meri |
| Fijian | Wasawasa ni Rhûn |
| Filipino | Dagat ng Rhûn |
| Finnish | Rhûnin järvi |
| French | Mer de Rhûn |
| Frisian | See fan Rhûn |
| Galician | Mar de Rhûn |
| Georgian | რჰუნ ზღვის |
| German | Meer von Rhûn |
| Greek | Θάλασσα του Ρηυν ? |
| Gujarati | ર્હુન સમુદ્ર |
| Haitian Creole | Lanmè an Rhûn |
| Hausa | Bahar na Rhûn |
| Hawaiian | Kai o Rhûn |
| Hebrew | ימת רהון |
| Hindi | समुद्र के र्हुन ? |
| Hmong | Hiav txwv ntawm Rhûn |
| Hungarian | Rhûn-tenger |
| Icelandic | Sjávar af Rhúni |
| Igbo | Oké osimiri nke Rhûn |
| Indonesian | Laut Rhûn |
| Irish Gaelic | Muir na Rhûn |
| Italian | Mare di Rhûn |
| Javanese | Segara Rhûn |
| Kannada | ಱ್ಹುನ ಸಮುದ್ರ |
| Kazakh Cyrillic | Рһұн теңізі |
| Kyrgyz Cyrillic | Рhун деңиз |
| Latin | Mare Rhûn |
| Latvian | Jūra Rhûn |
| Lithuanian | Jūra Rhûn |
| Luxembourgish | Mier vun Rhûn |
| Macedonian Cyrillic | Море на Рхун |
| Malagasy | Ranomasina Rhûn |
| Malaysian | Laut Rhûn |
| Maltese | Baħar ta ' Rhûn |
| Maori | Moana o Rhûn |
| Mongolian Cyrillic | Рhун тэнгисийн |
| Nepalese | ढ़ुन को समुद्र |
| Norwegian | Sjøen av Rhûn |
| Persian | دریایی از رهون |
| Polish | Morze Rhûn |
| Portuguese | Mar de Rhûn |
| Romanian | Marea Rhûn |
| Russian | Море Рун |
| Samoan | Sami o Rhûn |
| Scottish Gaelic | Muir of Rhûn |
| Serbian | Сеа оф Рхун (Cyrillic) More od Rhûn (Latin) |
| Sesotho | Leoatle la Rhûn |
| Sinhalese | ර්හුන් මුහුද |
| Slovak | Rhûn Mora |
| Slovenian | Rhûn morje |
| Somalian | Badda ee Rhûn |
| Spanish | Mar de Rhûn |
| Sundanese | Laut tina Rhûn |
| Swahili | Bahari ya Rhûn |
| Swedish | Hav i Rhûn |
| Tajik Cyrillic | Баҳри Рҳун |
| Tamil | ற்ஹுந் கடல் |
| Telugu | ఱ్హున సముద్రం |
| Thai | รูห์นทะเลของ |
| Tongan | Tahi 'o Rhûn |
| Turkish | Rhûn Denizi |
| Ukrainian Cyrillic | море Ргун |
| Urdu | سمندر کا رهون ? |
| Uzbek | Рҳун денгиз (Cyrillic) Rhûn dengiz (Latin) |
| Vietnamese | Biển Rhûn |
| Welsh | Môr o Rhûn |
| Yiddish | ים פון רהûן |
| Yoruba | Òkun ti Rhûn |
References