Spider-Man: No Way Home Trailer Dropped - The Loop
Play Sound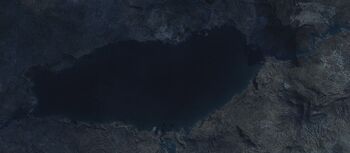 The Sea of Núrnen, also called Lake Núrnen[note 1], was a large inland body of water in Mordor.[1] It was roughly half the size of the Sea of Rhûn.
Núrnen was located in the southeast of Mordor. It was fed by rivers flowing down from the outcroppings of the Ephel Dúath and Ash Mountains that separated the volcanic plateau of Gorgoroth from the fertile volcanic plains of Núrn, and its waters were described by Tolkien as "the dark, sad waters of Lake Núrnen". Its waters were likely used for irrigation purposes to water the fields of Nurn.
After the War of the Ring, King Elessar granted the lands around Núrnen to the freed slaves of Mordor.
History
In The Atlas of Middle-earth, Karen Wynn Fonstad assumed that the Sea of Rhûn and Sea of Núrnen were the remnants of the inland Sea of Helcar. The atlas was however published before The Peoples of Middle-earth, where it was revealed that the Sea of Rhûn existed already in the First Age, as an apparently different body of water than the Sea of Helcar.
Portrayal in adaptations
The only appearance of the Sea of Núrnen in media is in the game Middle-earth: Shadow of Mordor. It depicts Mordor just after Sauron's return before the War of the Ring. In this game the history of Mordor's inland sea is enriched: after the War of the Last Alliance Gondor built defensive outposts around Núrnen to watch over it and protect the lands around it from invading forces from the south trying to enter Mordor through the Nargil pass. The southern tributary of the Sea of Núrnen is also given a name, the Gurthrant river (borrowed from MERP). However, when the Great Plague struck from the east, the Gondorian forts were abandoned, allowing the Corsairs of Umbar to claim them as places from which to direct pirate raids into Ithilien and Khand. Over the time these Corsairs, separated from their evil lords in Umbar, settled down as a peaceful independent nation, naming themselves the Tribesmen of Nurn and starting to farm the fertile lands around Mordor's inland sea. However, when Sauron returned, he fought with the Tribesmen - even though they tried to defend against him they were trapped inside Mordor, so he enslaved them to make food for his growing armies.
Translations
| | |
| --- | --- |
| Foreign Language | Translated name |
| Afrikaans | See van Núrnen |
| Amharic | ኑርነን ባሕር |
| Arabic | بحيرة نورنن |
| Armenian | Նւրնենյան ծով |
| Azerbaijani | Núrnen dənizi |
| Basque | Núrnenako itsasoa |
| Belarusian Cyrillic | Нурненско Море |
| Bengali | নুরনেন সাগর |
| Breton | Mor Núrnen |
| Bosnian | Núrnensko jezero |
| Bulgarian Cyrillic | Нурнен море |
| Catalan | Mar d'Núrnen |
| Chinese | 內陸海諾南 |
| Cornish | Mor Núrnen |
| Croatian | Núrnensko more |
| Czech | Núrnenské moře |
| Danish | Núrnensøen (hav) |
| Dutch | Zee van Nurnen |
| Esperanto | Maro de Núrnen |
| Estonian | Núrnen meri |
| Faroese | Núrnen sjónota |
| Finnish | Núrnen meri |
| French | Mer de Núrnen |
| Galician | Mar de Núrnen |
| German | Núrnen-Meer |
| Greek | Θάλασσα της Νυρνεν |
| Haitian Creole | Lanmè de Núrnen |
| Hebrew | נורנן ים |
| Hindi | णुर्नेन सागर |
| Hungarian | Núrneni-tenger |
| Icelandic | Núrnenshaf |
| Indonesian | Laut Núrnen |
| Irish Gaelic | Muir Núrnen |
| Italian | Mare di Núrnen |
| Japanese | ニュルンの海 |
| Javanese | Segara Núrnen |
| Kazakh | Нүрнен теңізі (Cyrillic) Nürnen teñizi (Latin) |
| Korean | 넨넨해 ? |
| Kurdish | Deryaya Núrnen (Kurmanji Kurdish) |
| Kyrgyz Cyrillic | Нүрнэн деңизи |
| Latin | Mare Núrnen |
| Latvian | Núrnenas jūra |
| Lithuanian | Núrneno jūra |
| Luxembourgish | Mier Núrnen |
| Macedonian Cyrillic | Нурненско Море |
| Malagasy | Ranomasina Núrnen |
| Malaysian | Laut Núrnen |
| Manx | Mooir Núrnen |
| Marathi | नरेनअॅक समुद्र |
| Mongolian Cyrillic | Нурненын тэнгис |
| Norwegian | Núrnensjøen |
| Occitan | Mar d'Núrnen |
| Old English | Núrnen Mere |
| Persian | دریاچه نورنهن |
| Polish | Morze Núrnen |
| Portuguese | Mar de Núrnen |
| Punjabi | ਨੂਰਨੇਨ ਸਮੁੰਦਰ |
| Romanian | Marea Núrneni |
| Scottish Gaelic | Muir Núrnen |
| Serbian | Нурненско језеро (Cyrillic) Nurnensko море (Latin) |
| Sicilian | Mari di Núrnen |
| Slovenian | Núrnensko morje |
| Spanish | Mar de Núrnen |
| Swahili | Ziwa Núrnen |
| Swedish | Núrnenska sjön |
| Tajik Cyrillic | Нурнен баҳр |
| Turkish | Núrnen Denizi |
| Turkmen | Núrnen deňiz |
| Ukrainian Cyrillic | Нурнен море |
| Urdu | بحیرہ نورنان |
| Uzbek | Нурнен денгизи (Cyrillic) Nurnen dengizi (Latin) |
| Venetian | Mar d'Núrnen |
| Vietnamese | Biển Núrnen |
| Welsh | Môr Núrnen |
| Yiddish | ים נורנען |
References
Notes