Scatha was one of the greatest of the Long-worms that infested the Grey Mountains in the north of Middle-earth.
Biography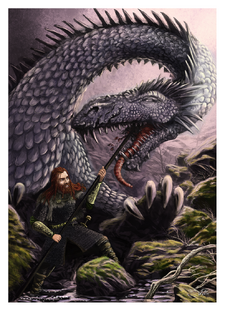 Of his life, little is known before his appearance in the Third Age. Scatha's lair was in the southern slopes of the Grey Mountains and he greatly troubled the Dwarves and Men living in the lands north of the Wilderland and had stolen a great deal of their treasure. He was slain by the Éothéod leader Fram, son of Frumgar (an ancestor of Eorl the Young) in the early days of the Éothéod (roughly TA 2000).[1]
After Scatha's demise, peace came to the land save for a dispute over his stolen treasure. In his hoard was found a silver horn, the Horn of Rohan later given to Meriadoc Brandybuck by Éowyn. The Dwarves also claimed the horn (partially justified as the Horn of Rohan was said to be of Dwarven making) but Fram would not give them anything. Instead, Fram sent them a necklace made out of Scatha's teeth. The Dwarves were insulted and may have slain him and took what they wanted.
Etymology
The name Scatha was likely taken from the Anglo-Saxon word sceaða, "injurious person, criminal, thief, assassin".[citation needed]
Speculations
If Scatha was born in the First Age, he could be one of two remnants of the dragons of Morgoth that fled to the northeast after the War of Wrath at the end of the First Age, and this means all dragons since the Second Age could have been their offspring. It is also possible that Scatha participated in the attack on Gondolin and looted the city after its fall. Thus the Elvish swords, Glamdring, Orcrist, and Sting, may have been part of the hoard that Fram now possessed.[2][3]
Gallery
Translations
| | |
| --- | --- |
| Foreign Language | Translated name |
| Arabic | سكاتها ? |
| Armenian | Սկատա |
| Belarusian Cyrillic | Ската |
| Bengali | স্ক্যাথা |
| Bulgarian Cyrillic | Ската |
| Chinese | 史卡沙 |
| Georgian | სკათა |
| Greek | Σκάτα |
| Gujarati | સ્કાથ |
| Hebrew | סקאת'ה |
| Hindi | स्काथा |
| Japanese | スカサ |
| Kannada | ಸ್ಕಥಾ |
| Korean | 스카타 |
| Marathi | स्काथा |
| Mongolian Cyrillic | Скэта |
| Persian | اسکاتا |
| Polish | Skat |
| Russian | Ската |
| Serbian | Ската (Cyrillic) Skata (Latin) |
| Sinhalese | ස්කතා |
| Tamil | ஸ்கத​ |
| Telugu | స్కత |
| Thai | สคาธา |
| Ukrainian Cyrillic | Ската |
References
↑ The Lord of the Rings, Appendix A: Annals of the Kings and Rulers, II: The House of Eorl
↑ The Lord of the Rings, The Return of the King, Book Six, Chapter VI: "Many Partings"
Community content is available under
CC-BY-SA
unless otherwise noted.