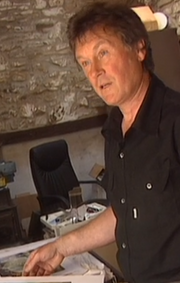 Roger Garland (born February 28 1950; died October 2017) was one of the illustrators for the 1962 publication of J.R.R. Tolkien's The Adventures of Tom Bombadil, and other primary literature of Tolkien.
Biography
Garland spent his childhood in Somerset in South England. He pursued art at Plymouth College of Art and the University of Wolverhampton, before teaching at the Poltair School in St. Austel, Cornwall for decade. In his tenure he soon developed reputation as a recognized artist, and was engaged by J.R.R. Tolkien's publishers in 1981 to provide cover art
Despite being colorblind, he illustrated many scenes from Tolkien's fantasy oeuvre, once receiving direction from Christopher Tolkien on accurately depicting Gandalf. Most of Garland's Middle-earth drawings are of landscapes, as he was told in an art commission that readers already have "a strong identity" with and vision of characters.[1] In 1994 Garland became an honorary member of the Tolkien Society. In 2001, he was an interviewee for Stephen Grant's documentary The Master of the Rings: The Unauthorized Story Behind J.R.R. Tolkien's The Lord of the Rings. A personal gallery of his work is shown, and he explains his methods.
Some of Garland's art is featured in Tolkien's World: Paintings of Middle-earth (1992), and a majority is shown indefinitely at the Lakeside Gallery in Duluth, Minnesota, which he and his wife had founded.
References
External links
Community content is available under
CC-BY-SA
unless otherwise noted.