The River Running, called Celduin by the Elves, was a major river of Rhovanion.
Geography
Edit
The river originated beneath the Lonely Mountain and flowed south to the Sea of Rhûn. The Redwater and the Forest River out of Mirkwood were both tributaries of the River Running.
The river was 600
Númenórean
miles long
[citation needed]
and ran from the Lonely Mountain south through the
Long Lake
, where it was joined by the Forest River, and thence through the eastern outskirts of
Mirkwood
. It then flowed southeast through apparently uninhabited regions of Rhovanion to its confluence with the Redwater. After this confluence, the River Running passed through the land of
Dorwinion
and emptied into the great inland Sea of Rhûn.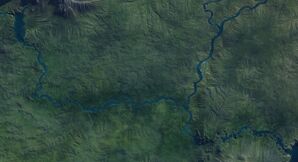 Translations around the world
Edit
| Foreign Language | Translated name |
| --- | --- |
| Afrikaans | Rivier Loop |
| Albanian | Vrapimi Lumi |
| Amharic | ሪቨር ሩንኒንግ |
| Arabic | نهر قيد التشغيل |
| Armenian | Րիվեր Րուննինգ |
| Azerbaijani | Çay Çalışan |
| Basque | Ibai Exekutatzen |
| Belarusian Cyrillic | Рака якая бяжыць |
| Bengali | নদী চলমান |
| Bulgarian Cyrillic | река Спринт |
| Cambodian | ការរត់ទន្លេ |
| Catalan | Riu Corrent |
| Chichewa | Mtsinje Athamanga |
| Chinese (Hong Kong) | 疾奔河 A.K.A. 賽爾督因河 |
| Corsican | Fiume Corsa |
| Croatian | Rijeka koja protječe |
| Czech | Bystrá řeka |
| Danish | Floden Kører |
| Dutch | Rivier die loopt |
| Esperanto | Rivero Kurado |
| Estonian | Rutujõgi |
| Filipino | Ilog Tumatakbo |
| Finnish | Virtaava Joki |
| French | Rivière qui coule |
| Galician | Río Correndo |
| German | Eilend |
| Greek | Ποτάμι τρέχει |
| Gujarati | નદી ચાલી રહેલ |
| Haiti Creole | Larivyè ki kouri |
| Hausa | Kogin Gudun |
| Hawaiian | Muliwai Holo |
| Hebrew | נהר שזורם |
| Hmong | Khiav Dej |
| Hungarian | Sebes-folyó |
| Icelandic | Áin Gangi |
| Indonesian | Sungai Menjalankan |
| Irish Gaelic | Abhainn Rith |
| Italian | Fiume Fluente |
| Japanese | リバー ランニング |
| Kannada | ನದಿ ರನ್ನಿಂಗ್ |
| Korean | 실행 하는 강 |
| Kyrgyz Cyrillic | Ривэр Руннинг |
| Lao | ແລ່ນນ້ໍາ |
| Latin | Cursum Fluminis |
| Latvian | Tek Upe |
| Lithuanian | Upių Tekančiu |
| Luxembourgish | Floss Laafen |
| Maori | Rere te Awa |
| Malaysian | Sungai yang mengalir |
| Malagasy | Renirano Mihazakazaka |
| Malayalam | നദി ഓട്ടം |
| Maltese | Xmara Jaħdem ? |
| Manx | Awin Roie |
| Marathi | नदी चालू |
| Mongolian Cyrillic | Ривер Руннинг |
| Navajo | Tooh toh ? |
| Nepalese | ड़िवेर ड़ुन्निङ |
| Norwegian | Elv som renner |
| Pashto | د سيند د چلولو |
| Persian | رودخانه در حال اجرا |
| Polish | Rzeka Działa |
| Portuguese (Brazil) | Rio Corrente |
| Punjabi | ਨਦੀ ਚੱਲ ? |
| Romanian | Râul Rulează |
| Russian | Келдуин |
| Samoan | Vaitafe Tamoʻe |
| Sanskrit | रिवेर् रुन्निङ् |
| Scottish Gaelic | Abhainn a 'ruith |
| Serbian | река Трк (Cyrillic) reka Trk (Latin) |
| Thai | แม่น้ำไหล |
| Sindhi | درياهه ڊوڙندو |
| Sinhalese | රිවෙර් රුන්නිඞ් |
| Slovak | Tečúcej Rieky |
| Slovenian | Reka ki teče |
| Somalian | Orodka Webiga |
| Spanish (Spain and Latin America) | Río Rápido |
| Sudanese | Walungan Aplikasi |
| Swahili | Mto Kuendesha |
| Swedish | Floden Kör |
| Tajik Cyrillic | дарёи давида |
| Tamil | றிவெர் றுணிங் |
| Tatar | елга иткән ? |
| Telugu | ఱివెర ఱున్నిఙ |
| Turkish | Nehir Koşu |
| Turkmen | Derýa Ylgaw |
| Urdu | دریا چل رہا |
| Uzbek | Ривер Руннинг (Cyrillic) Daryo Yugurish (Latin) |
| Vietnamese | Sông Chạy |
| Welsh | Afon yn Rhedeg |
| Yiddish | טייך ראַנינג |
| Yucatec Maya | Ja' ku yáalkab |
| Zulu | Emfuleni Ogijimayo |