"Weta Workshop...made everything you see in the films. Richard Taylor, the man in charge - I think he's a genius."
—Christopher Lee in the Extended Edition documentary "Weta Workshop"
Richard Taylor (born February, 1965) is the creator and head of New Zealand movie prop and special effects company Weta Workshop, and the chief creative supervisor in the making of the Lord of the Rings film trilogy from 1998 to 2001.
He appears in most of the behind-the-scenes documentaries in the extended editions of the films.
Biography
Richard Taylor grew up in Auckland, North Island, in New Zealand.
A close friend of Peter Jackson in cinema since 1989 (the year of Peter Jackson's show Meet the Feebles), Taylor with his team of young graphic designers created all of the props, prosthetics, miniatures, "bigatures", and weaponry for Jackson's The Lord of the Rings films in 1998 and on. He did the same for the first of the Chronicles of Narnia films. For his work on Jackson's trilogy, he shared in winning four Academy Awards: Best Visual Effects, Best Costume Design, and Best Makeup (twice). He had a cameo with Jackson and other crew members in the extended edition of The Lord of the Rings: The Return of the King, as a Corsair pirate.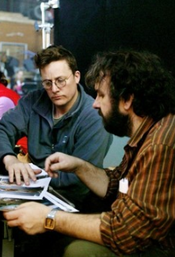 In the introduction to Gary Russell's 2001 book The Art of The Fellowship of the Ring, Richard Taylor (interviewed) tells of the forming of Weta Workshop, and the initial efforts to tackle visualizing Middle-earth for the film-making. For Chris Smith's 2003 film guide The Lord of the Rings: Weapons and Warfare, Taylor wrote an introduction with Daniel Falconer.
In 2004 and 2005, Taylor was part of the cinematography and art departments for Electronic Arts's The Battle for Middle-earth game series.
He worked with Peter Jackson again in King Kong (2005), and The Hobbit: An Unexpected Journey in 2011, for which he worked on creature design.
Taylor was knighted in 2010 into a high appointment of the New Zealand Order of Merit for his "services to film", giving him the acronymous title "KNZM".
External links
Community content is available under
CC-BY-SA
unless otherwise noted.