Spider-Man: No Way Home Trailer Dropped - The Loop
Play Sound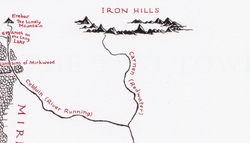 Redwater, also known as Carnen, was a river in the region of Rhovanion in Middle-earth.
The Redwater originated in the Iron Hills and was east of the Lonely Mountain. It flowed southward before emptying into the River Running, which was about 250 Númenórean miles to the south. This river, in turn, flowed past the land of Dorwinion and into the Sea of Rhûn.[1]
In the War of the Ring, in the year TA 3019, a large force of Easterlings under Sauron's command crossed and forded this river on their way to attack the Dwarf realm of the Lonely Mountain and the Mannish kingdom of Dale.[2]
Etymology
The name Carnen is the Sindarin equivalent of Redwater, the name for the river in the common tongue.[3]
Translations
Foreign Language
Translated name
Afrikaans
Rooi water
Albanian
Uji i kuq
Arabic
ماء أحمر
Armenian
Կարմիր ջուր
Basque
Ur gorri
Belarusian Cyrillic
Чырвона вада
Bengali
লাল জল
Bosnian
Crvene vod
Bulgarian Cyrillic
Червена вода
Catalan
Aigua vermella
Chinese (Hong Kong)
紅水河 (Redwater)

卡南河 (Carnen)

Croatian
Crvena voda
Czech
Cervená voda
Danish
Rødkildefloden
Dutch
Rood water
Esperanto
Ruga akvo
Estonian
Punane vesi
Faroese
Reyðvatn
Filipino
Pulang tubig
Finnish
Punainen vesi
French
Eau rouge
Galician
Auga vermella
Georgian
წითელი წყალი
German
Rotwasser
Greek
Κόκκινο νερό
Gujarati
લાલ પાણી
Hebrew
(Redwater) נהר אדום

(Carnen) קארנן

Hindi
लाल पानी
Hmong
liab dej
Hungarian
Vörös víz
Icelandic
Rauðvatn
Irish Gaelic
uisce dearg
Italian
Acqua rossa
Japanese
赤水川 (Redwater)

カルネン (Carnen)

Kannada
ಕೆಂಪು ನೀರು
Kazakh
Қызыл су (Cyrillic) Qizil sw (Latin)
Korean
혈뇨
Ladino
Agua kolorado
Laotian
ນ້ໍາແດງ
Latvian
Sarkanais udens
Lithuanian
Raudona vandens
Macedonian Cyrillic
Црвена вода
Malayalam
റെഡ് വെള്ളം
Malaysian
Air merah
Maltese
Ilma ahmar
Marathi
रेड वॉटर
Mongolian Cyrillic
Улаан ус
Nepalese
रातो पानी
Norwegian
Rødt vann
Persian
آب قرمز
Polish
Czerwona Woda
Portuguese
água vermelha
Punjabi
ਰੈੱਡ ਵਾਟਰ
Romanian
Apa ro?u
Russian
Красная (Redwater) Карнен (Carnen)
Samoan
Vai mumu
Scottish Gaelic
Uisge dearg
Serbian
Црвена вода (Cyrillic) Crvena voda (Latin)
Sinhalese
රතු වතුර
Slovak
Cervená voda
Slovenian
Rdeca voda
Spanish
Aguas Rojas
Swedish
Rödälven
Tajik Cyrillic
сурх Об
Tamil
சிவப்பு நீர்
Telugu
రెడ్ వాటర్
Thai
น้ำแดง
Turkish
Kirmizi su
Urdu
سرخ پانی
Uzbek
Қизил сув (Cyrillic) Qizil suv (Latin)
Vietnamese
Đỏ Nước
Welsh
Dwr coch
Xhosa
Amanzi alubomvu
Yiddish
רויט וואסער
References