We're Getting Mutants in the MCU - The Loop
Play Sound
The Pelennor Fields was a large field surrounding (mostly to the east) Minas Tirith, the largest city and capital of Gondor.
History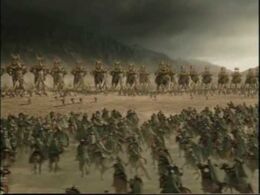 After Minas Ithil had fallen and was renamed Minas Morgul, the Pelennor Fields were walled by the Rammas Echor, to prevent attacks from Mordor. During the War of the Ring, the Pelennor Fields were the location of the Battle of the Pelennor Fields, when Sauron's Orc and Easterling armies overran the Rammas Echor and besieged the city.
It was on these fields that Théoden King was slain, along with the Witch-king of Angmar, and that most of the great battle was fought. After the War of the Ring, the Rammas Echor was rebuilt by the Dwarves of the Glittering Caves.[1]
Etymology
Pelennor was a Sindarin word for 'Fenced Land'.[2]
Portrayal in adaptations
In the live action movie trilogy by Peter Jackson, the Pelennor Fields is portrayed as an uncultivated, beaten down grassland. The perimeter wall is also nowhere to be found.
Translations
| | |
| --- | --- |
| Foreign Language | Translated name |
| Afrikaans | Pelennor Velde |
| Albanian | Fushave Pelennor |
| Amharic | ጰለንኖር መስኮች |
| Arabic | پيليننور الحقول |
| Armenian | Պելեննոր Արտեր |
| Azerbaijani | Pelennor Sahələri |
| Basque | Pelennorreko Zelaiak |
| Belarusian Cyrillic | Пеленорскіх палях |
| Bengali | পেলেন্নর ক্ষেত্রসমূহ |
| Bosnian | Pelenorskih Polja |
| Bulgarian Cyrillic | Пеленнор полета |
| Catalan | Camps de Pelènnor |
| Cebuano | Pelennor Kaumahan |
| Chichewa | Pelennor M'minda |
| Chinese (Hong Kong) | 帕蘭諾平原 |
| Cornish | Pelennor Gwelyow |
| Corsican | Pelennor Prigiuneru |
| Croatian | Pelennorskim Poljima |
| Czech | Pelennorská pole |
| Danish | Pelennorsletten |
| Dutch | Velden van Pelennor |
| Esperanto | Pelennor Kampoj |
| Estonian | Pelennor Väljadel |
| Fijian | Lomanibai ni Pelennor |
| Filipino | Pelennor Patlang |
| Finnish | Pelennorin kentät |
| French | Champs de Pelennor |
| Frisian | Pelennor Fjilden |
| Galician | Campos de Pelennor |
| Georgian | ფელენნორი სფეროებში |
| German | Pelennor-Felder |
| Gujarati | પેલેન્નોર ક્ષેત્રો |
| Greek | Πεδία Πέλεννορ |
| Haitian Creole | Jaden Pelennor |
| Hausa | Pelennor Filayen |
| Hebrew | שדות הפלנור |
| Hindi | पेलेन्नोर फील्ड्स |
| Hungarian | Pelennor Mezők |
| Icelandic | Pelennor Sviðum |
| Igbo | Pelennor Ubi |
| Indonesian | Dataran Pelennor |
| Irish Gaelic | Pelennor Réimsí |
| Italian | Campi del Pelennor |
| Japanese | ペレンノール野 |
| Javanese | Kothak Pelennor |
| Kannada | ಪೇಳೆನ್ನೋರ್ ಫೀಲ್ಡ್ಸ್ |
| Kazakh Cyrillic | Пеленнор өрістері |
| Korean | 펠렌노르 평원 |
| Kurdish | په‌له‌ننۆر زه‌ڤییێن (Arabic script) Peleninor Zeviyên (Latin) |
| Kyrgyz Cyrillic | Пэлэннор талаалары |
| Latin | Pelennor Agri |
| Latvian | Pelennor Laukiem |
| Lithuanian | Pelennoro Laukai |
| Luxembourgish | Pelennor Felder |
| Macedonian Cyrillic | Пеленнор сфера |
| Malay | Bidang Pelennor |
| Maltese | Oqsma Pelennor |
| Marathi | पेलेन्नोर फील्ड |
| Mongolian Cyrillic | Пеленнор талбарууд |
| Navajo | Pelennor Clo-dih ? |
| Nepalese | पेलेन्नोर फिल्ड |
| Northern Sami | Pelennor Bealdu ? |
| Norwegian | Pelennor-engene |
| Persian | دشت های پله نور |
| Polish | Pola Pelennoru |
| Portuguese | Campos de Pelennor |
| Punjabi | ਪੇਲੇਨ੍ਨੋਰ ਫ਼ੀਲਡਜ਼ |
| Romanian | Domenii Pelennor |
| Romansh | Champes Pelennor ? |
| Russian | Пеленнорские поля |
| Samoan | Pelennor Fanua |
| Sanskrit | पेलेन्नोर् रजस् |
| Scottish Gaelic | Pelennor Achaidhean |
| Serbian | Пеленорских поља (Cyrillic) Pelonorskih Polja (Latin) |
| Sinhalese | පෙලෙන්නොර් ෆීල්ඩ්ස් |
| Slovak | Pelennorských Poliach |
| Slovenian | Pelennor Polja |
| Somalian | Pelennor Beeraha |
| Spanish | Campos del Pelennor |
| Swahili | Pelennor Mashamba |
| Swedish | Pelennors Fält |
| Tahitian | Tuma i te mau Pelennor |
| Tajik Cyrillic | Пеленнор Майдонҳо |
| Tamil | பெலெணொர் புலங்கள் |
| Telugu | పెలెన్నొర ఫీల్డ్స్ |
| Thai | ฟิลด์สปเลเนนโร ? |
| Turkish | Pelennor Çayırları |
| Turkmen | Pelennor Meýdan ? |
| Urdu | پلننور فیلڈز |
| Ukrainian Cyrillic | Пеленнор поля |
| Uzbek | Пеленнор жойлар (Cyrillic) Pelennor joylar (Latin) |
| Vietnamese | Trường Pelennor |
| Welsh | Caeau Pelennor |
| Xhosa | Pelennor Amasimi |
| Yoruba | Pelennor Aaye |
| Yucatec Maya | Sikte le Pelennor |
References