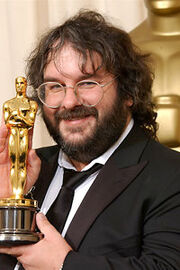 The Oscar is an award that the Academy of Motion Picture Arts and Sciences, an organization of more than 6,000 members, presents to celebrate achievements in film.
The Oscar trophy displays a knight holding a crusader's sword and standing on a reel of film. Originally, the Academy had five branches - actors, directors, producers, technicians and writers. These are represented by five sections, or spokes, of the film reel on which the knight stands.
The Lord of the Rings film trilogy, directed by Peter Jackson, has won seventeen Oscars, and was nominated for thirteen other Academy Awards.
See also
Community content is available under
CC-BY-SA
unless otherwise noted.