Jurassic World: Dominion Dominates Fandom Wikis - The Loop
Play Sound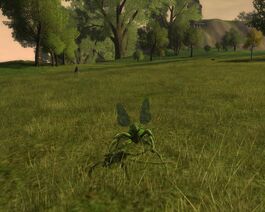 Neekerbreekers were the loud, cricket-like insects of the Midgewater Marshes. They were named by Samwise Gamgee.
History
The origin of these creatures is unknown. The Neekerbreekers were first recorded to have been heard in the Midgewater Marshes when Strider led the hobbits to Weathertop in TA 3018. There in the marshes, the group decided to make camp, though as night fell, most of the group found themselves unable to sleep because of the "Neekerbreekers," as Sam called them.[1]
It is possible that these creatures were Katydids, or a similar locust from the Acrididae family.
Etymology
The name Neekerbreekers comes from the "neek-breek breek-neek" sound emitted by the creatures.
Translations
| | |
| --- | --- |
| Foreign Language | Translated name |
| Amharic | ኘአከርብሬከርስ |
| Arabic | نييكيربرييكيرس |
| Armenian | Նէկերբրէկերս |
| Bengali | নিকেরবারীকের্স |
| Bulgarian Cyrillic | Никеркеркърс |
| Finnish | Skikirikittäjät |
| French | Nicbricqueurs |
| Georgian | ჭრიჭკრიკები |
| German | Zirperkirper |
| Greek | Νεεκερβρεεκερσ |
| Gujarati | નેકરબ્રીકર્સ |
| Hebrew | ןייכירברייכירס |
| Hindi | णेएकेर्ब्रेएकेर्स |
| Kyrgyz Cyrillic | Нээкэрбрээкэрс |
| Macedonian Cyrillic | Неекербреекерс |
| Malayalam | നെക്കാബീക്ക്രിക്സേഴ്സ് |
| Marathi | नेकर्सब्रिकर्स |
| Nepalese | णेएकेर्ब्रेएकेर्स |
| Persian | نههکهربرههکهرس ? |
| Portuguese (Brazil) | Crique-craques |
| Punjabi | ਨਿੱਕਰਬਰਕਰਜ਼ |
| Russian | Кровопросцы |
| Sanskrit | णेएकेर्ब्रेएकेर्स् |
| Serbian | Неекербреекерс (Cyrillic) Neekerbreekers (Latin) |
| Sinhalese | ණේකෙර්බ්‍රේකෙර්ස් |
| Spanish (Spain and Latin America) | Niquebriques |
| Tajik Cyrillic | Некирбрееклер |
| Tamil | நீக்கீர்பிரேக்கேர்ஸ் |
| Telugu | నీకెర్బరీకేర్స్ |
| Ukrainian Cyrillic | Неемербреемери |
| Yiddish | נעעקערברעעקערס |
References