Jurassic World: Dominion Dominates Fandom Wikis - The Loop
Play Sound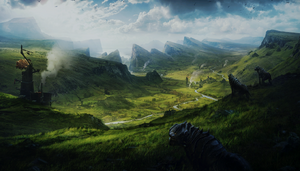 Núrn was a region located in the southernmost portion of the realm of Mordor that held the inland Sea of Núrnen. 
Núrn was a semi-arid place due to its close proximity to Gorgoroth and consisted mostly of short grass landed plains, fertile enough for farming to support the armies of Sauron, as opposed to the arid plateau of Gorgoroth, which was north-west of Núrn.[1][2][3]
History
Núrn was partially inhabited by Westron-speaking Men that were enslaved by the Dark Lord Sauron. It was fertile enough to feed Sauron's numberless hordes during the War of the Ring, and covered in vast fields of grain worked by slaves. Its soil had been enriched by ash from Orodruin's eruptions, and its grasslands were fed by water from the Sea of Núrnen.
After the overthrow of Sauron, the land was granted to the freed slaves of Mordor. They may have been allowed to govern it for themselves.[4]
Portrayal in adaptations
Video games
Núrn is heavily featured in the game Middle-earth: Shadow of Mordor, where it is portrayed as a lush but ailing land. Before the War of the Ring, the land was the domain of tribesman under the rule of Lady Marwen, Queen of the Shore. At the time the game takes places, the tribesmen were in the process of being conquered and enslaved by Sauron's forces. It was home to the settlements of Barad Núrn, Fort Morn, and the Núrnen Fishery which were overrun and used to supply Sauron's forces at the time of the War of the Ring. Many of Mordor's beasts reside there: Graugs, Trolls, Wargs, Caragors, Caragaths, Ghûls, Hell-hawks, Fellbeasts, and other nameless horrors.
Núrn was featured again in Middle-earth: Shadow of War, depicted much the same as it was in the previous game.
Translations
| | |
| --- | --- |
| Foreign Language | Translated name |
| Bulgarian Cyrillic | Нурн |
| Chinese | 諾恩 |
| Danish | Núrn ("Tristhedens Egne") |
| Hebrew | נורן |
| Korean | 누른 |
| Russian | Нурн (Cyrillic) Nurn (Latin) |
| Serbian | Нурн |
| Ukrainian Cyrillic | Нурн |
References