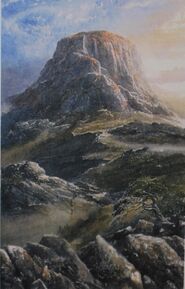 The Moors of the Nibin-noeg were a chain of hills running northwest from Amon Rûdh, the hill where Mîm and his family lived, being at one time the main area of settlement by the Petty-dwarves.
Prominent features
The moors stretched in a long chain of hills from northwest to southeast. They would have been about forty miles long, a long ridge across the lands. They were split into two main areas; the main hill chain and the rising lands about the slopes of Amon Rûdh. This hill was very tall, with a flattened top, much like a small Table Mountain. Around the slopes were many rocky ridges and areas of scree; only Mîm and his family knew the safe route through.
History
Amon Rudh, the hill where Túrin and his outlaw band stayed, was at the southeast end of the moors. It was previously inhabited by Mîm and his family. Many years before, the hill had been inhabited by many Petty Dwarves, mostly Mîm's extended family. The hill became known as Bar-en-Danweh, House of Ransom, after Mîm's son was killed by Androg, an outlaw in Túrin's band. When Túrin was betrayed to the orcs of Morgoth by Mîm, Túrin was taken north across the moors and through Dor-Cúarthol, the lands between Narog and Teiglin.[1][2]
References
↑ The Children of Húrin, Chapter VII: "Of Mîm the Dwarf"
↑ The Children of Húrin, Chapter VIII: "The Land of Bow and Helm"
Community content is available under
CC-BY-SA
unless otherwise noted.