Wiki Targeted (Entertainment)
Play Sound
Moon-letters were special Dwarven runes written in ithildin that could only be revealed by the Moon at a certain time.[1] They are only mentioned in The Hobbit when Elrond held up Thror's Map to read to Thorin and Company.
Description
Moon-letters were a system of writing invented by Dwarves - they were ordinary runes, but written in such a way that they could only be read when the light of the moon shone behind the writing. Some moon-letters could be read by any moonlight, but it was possible to make the writing even more secret. More sophisticated moon-letters could only be read by the same shape of moon, or at the same time of year, as when they were written.
Moon-letters were written with silver pens.[1] The substance ithildin, made the from the precious metal mithril, reflected only starlight and moonlight.[2]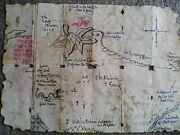 An example of these moon-letters would be on the map of the Lonely Mountain and surrounding areas that Gandalf gave to Thorin Oakenshield. The moon letters were of the more secret variety, and were written on a midsummer's eve under a crescent moon. They read:
"Stand by the grey stone when the thrush knocks and the setting sun with the last light of Durin's Day will shine upon the key-hole."[1]
Translations
| | |
| --- | --- |
| Foreign Language | Translated name |
| Afrikaans | Maanletters |
| Albanian | Mun-shkronja |
| Amharic | የጨረቃ-ፊደላት |
| Arabic | القمر حروف |
| Armenian | Լուսնային-տառերը |
| Azerbaijani | Ay məktubları |
| Basque | Ilargi letras |
| Belarusian Cyrillic | Месяц-літары |
| Bengali | মুন অক্ষর |
| Bosnian | Mjesečna slova |
| Breton | Loar-lizherennoù |
| Bulgarian Cyrillic | Лунни писма |
| Cambodian | សំបុត្រព្រះច័ន្ទ ? |
| Catalan | Lletres de lluna |
| Chinese | 月球 字母 |
| Cornish | Loor-lytherennow |
| Corsican | Lettere di luna |
| Croatian | Mjesec-slova |
| Czech | Měsíční písmena |
| Danish | Månebogstaver |
| Dutch | Maanletters |
| Esperanto | Lunaj literoj |
| Estonian | Kuutähed |
| Faroese | Mánibókstavarnir |
| Filipino | Mga titik ng buwan |
| Finnish | Kuukirjaimilla |
| French | Lettres lunaires |
| Galician | Letras de lúa |
| Georgian | მთვარის ასოები |
| German | Mondbuchstaben |
| Greek | Σελήνης-γράμματα |
| Gujarati | ચંદ્ર અક્ષરો |
| Hebrew | אותיות ירח |
| Hindi | चाँद पत्र |
| Hungarian | Hold-betűk |
| Icelandic | Tunglstafir |
| Indonesian | Huruf-huruf bulan |
| Irish Gaelic | Litreacha na gealaí |
| Italian | Lettere di lunari |
| Japanese | 月文字 |
| Kannada | ಚಂದ್ರ ಅಕ್ಷರಗಳು |
| Kazakh | Ай-әріптері (Cyrillic) Ay-äripteri (Latin) |
| Korean | 달 자모 |
| Kurdish | Nameyên heyvê (Kurmanji) |
| Kyrgyz Cyrillic | Мун-каттар |
| Laotian | ຕົວອັກສອນດວງຈັນ |
| Latin | Lunam-litterae |
| Latvian | Mēness burti |
| Lithuanian | Mėnulio raidės |
| Luxembourgish | Mondbréiwer |
| Macedonian Cyrillic | Месечина буквите |
| Maltese | Ittri tal-Qamar |
| Marathi | चंद्र वर्ण |
| Mongolian Cyrillic | Сар-үсэг |
| Nepalese | चन्द्रमाका-अक्षरहरू |
| Norwegian | Månebokstaver |
| Persian | حروف قمر |
| Polish | Księżycowymi runami |
| Portuguese | Letras da lunares |
| Punjabi | ਚੰਦ ਅੱਖਰ |
| Romanian | Scrisori de lună |
| Russian | Лунные буквы |
| Scottish Gaelic | Litrichean gealach |
| Serbian | Месечева слова (Cyrillic) Mesečeva slova (Latin) |
| Sinhalese | සඳ අකුරු |
| Slovak | Mesiac-listy |
| Slovenian | Luna-črke |
| Spanish | Letras lunares |
| Swahili | Barua za mwezi |
| Swedish | Månbokstäver |
| Tajik Cyrillic | Моҳ ҳарфҳои |
| Tamil | சந்திரன் எழுத்துமூலங்கள் |
| Telugu | మూన్ అక్షరాలు |
| Thai | ดวงจันทร์ตัวอักษร |
| Turkish | Ay-harfler |
| Ukrainian Cyrillic | Місячні літери |
| Urdu | چاند کے خطوط |
| Vietnamese | Chữ mặt trăng |
| Uzbek | Ой-ҳарфлари (Cyrillic) Oy-harflari (Latin) |
| Welsh | Llythyrau lleuad |
| Yiddish | לבנה-אותיות |
| Yoruba | Awọn lẹta oṣupa |
References