Spider-Man: No Way Home Trailer Dropped - The Loop
Play Sound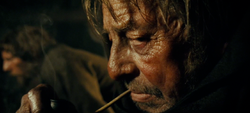 The Men of Bree, also known as Bree-folk, are the Men who lived in the village of Bree. The people who lived in the surrounding villages of Combe, Staddle, and Archet could also be referred to as Men of Bree (though some who lived there were Hobbits). They are hardy folk who even beat off an attack of Saruman's ruffians towards the end of the War of the Ring.
Description & historical accounts
The Men of Bree were mostly of Dunlendish, Middle Men stock who were probably in the area from as far back as the Second Age by those escaping the influence of Sauron. The early Third Age seems to be when the village was properly founded and the townfolk became more civilised, unlike their wild kin-folk living in Dunland.[1]
When the Dúnedain exiled from Númenor came to Middle-earth in the latter-half of the Second Age, the Men of Bree became part of Arnor, and after it became divided, the Kings of Cardolan claimed it; however, from the early 15th century onward it retained a certain degree of independence.[2]
The Men of Bree also lived with Hobbits (the only Men to do so) who fled from the threat of Angmar that began arriving in TA 1300.[2]
Men of Bree lived mostly in houses on Bree-hill[3], and often met and socialised at the Inn of the Prancing Pony. They were not keen on travelling, but were generally welcoming to strangers and visitors.[4][5]
One habit that the Men of Bree shared with Hobbits was a love of Pipe-weed. The variety called Southlinch was grown in the Bree-land, although it was not as highly prized by the locals as leaf from the Shire.
Family names
Translations
Foreign Language
Translated name
Afrikaans
Mans van Bree
Albanian
Burrat e Bree
Amharic
ብሬ ሰዎች
Arabic
الرجال من بري
Armenian
Մարդիկ ն Բրեե
Azerbaijani
Bree kişiləri
Basque
Bree jende
Belarusian Cyrillic
Мужчыны Бры
Bengali
বিরিয়্যার পুরুষ
Bosnian
Bri ljudi
Bulgarian Cyrillic
Мъже на Брее
Catalan
Homes de Bree
Cebuano
Mga tawo sa Bree
Chinese
男人布理
Cornish
Tus a Bree
Corsican
Omi di Bree
Croatian
Bri ljudi
Czech
Muži z Hůrka
Danish
Folk i Bri / Brimenneskene
Dutch
Mannen van Breeg

Breeglanders

Esperanto
Viroj de Brion
Estonian
Voore mehed
Faroese
Bree fólk
Fijian
Tamata ni Bree
Filipino
Tauhan ni Bree
Finnish
Brii Miesten
French
Hommes de Brie
Galician
Homes de Prebe
Georgian
ბრე ხალხი
German
Herren von Bree
Greek
Άνδρες της Βρεε
Gujarati
બ્રાયના લોકો
Haitian Creole
Menm moun Bree
Hausa
Maza na Bree
Hebrew
אנשי ברי
Hindi
ब्रेए के पुरुषों
Hmong
Tus txiv neej ntawm Bree
Hungarian
Brí emberek
Icelandic
Bree fólk
Indonesian
Laki-laki Bree
Irish Gaelic
Fir de Bree
Italian
Uomini di Brea
Japanese
ブリー村の人間
Kannada
ಬ್ರೀ ಪುರುಷರು
Kazakh
Брее халқы (Cyrillic) Bree xalqı (Latin)
Korean
브리 남자들
Kyrgyz Cyrillic
Бри эркектер
Latvian
Bree vīriešiem
Lithuanian
Bree vyrai
Luxembourgish
Männer vu Bree\Mënschen aus Bree
Macedonian Cyrillic
Мажи од Бри
Malaysian
Bree Lelaki
Maltese
Irġiel ta ' Bree
Maori
Tangata o Bree
Marathi
बिरीचे पुरुष
Mongolian Cyrillic
Брээ-ийн хүмүүс
Nepalese
ब्रेए मानिसहरू
Norwegian
Bri mennesker
Persian
مردان از بری
Polish
Ludzie z Bree
Portuguese
Homens de Bree
Punjabi
ਬ੍ਰੀ ਦੇ ਪੁਰਸ਼
Romanian
Oamenii din Bree
Russian
Мужчины Бри
Scottish Gaelic
Fir de Bree
Serbian
Људи од Бри (Cyrillic) Ljudi od Bri (Latin)
Sinhalese
බ්රීහි පුරුෂයෝ
Slovak
Muži z Svažiny
Slovenian
Bree Moški
Somalian
Niman yahow reer Bree
Spanish
Hombres de Bree
Swahili
Watu wa Bree
Swedish
Bri människor
Tajik Cyrillic
Мардон аз Брее
Tamil
ப்ரீ மனிதர்கள்
Telugu
బ్రీ మెన్
Thai
มนุษย์แห่งบรี
Turkish
Bree erkekleri
Ukrainian Cyrillic
Чоловіки з Брі
Uzbek
Брэ эркаклар (Cyrillic) Bree erkaklar (Latin)
Vietnamese
Người đàn ông của Bree
Welsh
Dynion o Bree
Xhosa
Amadoda aseBree
Yoruba
Ọkunrin ti Bree
Yucatec Maya
Wíiniko'ob u Bree
References