Even with 6,400 articles and 9,172 files, we still need YOUR help expanding and adding articles to the wiki!
---
---
If you're new to Wikis at FANDOM or are unsure how you can help, use the above links to get started.
To contribute a new article relating to The Lord of the Rings or Middle-earth, use the box below:
<createbox>width=30</createbox>
Thank you!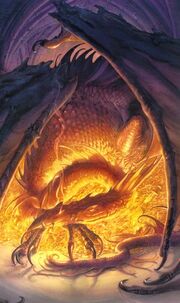 Dragons were ancient, intelligent, powerful creatures, as feared by others as they were admired in Middle-earth. Their exact origin is debated, though it was clearly stated that they were created by Morgoth in some sense.
Dragons lived throughout the First, Second, and Third ages of Middle-earth and may have lived longer. They were originally bred by Morgoth during the first age to serve as gigantic shock troopers and mobile artillery. The first dragon ever seen in Middle-earth was Glaurung, the father of dragons, who Morgoth used to great effect during the fourth and fifth battles in the War of the Jewels. Like most of the creatures made or twisted by Morgoth, they were capable of reproducing naturally. Dragons were sometimes referred to as serpents, great Worms, or simply Drakes, with the first two specifying the Wingless Dragons.
Read More...

Helm's Deep was a large valley in the north-western Ered Nimrais (White Mountains).

The valley was blocked over its entire width by the natural series of hills called Helm's Dike. Behind that lay the fortress of Aglarond or the Hornburg, at the entrance to the Glittering Caves.

Refresh
I have been writing a story of a time long before the time of Sauron's domination.
The story sets tw…
See more >

The One Wiki to Rule Them All, previously the Lord of the Rings Wiki, is Not in any way, shape, or form affiliated with Saul Zaentz, Middle-earth Enterprises, the Tolkien Estate, New Line Cinema, or Wingnut Films.


Copyrights and trademarks for the books, films, and other promotional materials are held by their respective owners and their use is allowed under the fair use clause of the Copyright Law.
Community content is available under
CC-BY-SA
unless otherwise noted.