Even with 6,485 articles and 8,760 files, we still need YOUR help expanding and adding articles to the wiki!
---
---
If you're new to Wikis at FANDOM or are unsure how you can help, use the above links to get started.
To contribute a new article relating to The Lord of the Rings or Middle-earth, use the box below:
Thank you!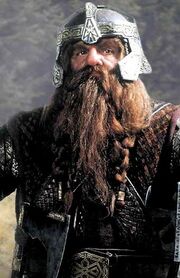 Gimli, son of Gloin, was a well-respected dwarf warrior in Middle-earth. He was a member of the Fellowship of the Ring, and was the only dwarf to readily fight alongside men and elves in the war against Sauron at the end of the Third Age.
Gimli was the son of Glóin, one of the former companions of Bilbo Baggins. He was by far remote a descendant of Durin the Deathless, father of the Dwarven people Gimli belongs to, but was not a member of the royal line. (Gimli was also the first cousin once removed of Balin, Lord of Moria).
When the One Ring was discovered, Elrond summoned representatives from the various races and nations of Middle-earth to Rivendell to formulate a way of destroying the ring. Gimli was one of the dwarven representatives. When others started to volunteer to accompany Frodo Baggins on the journey to Mordor, he volunteered, in no small part out of suspicion over Legolas Greenleaf, who had also volunteered.
Read More...

What games have you played before that is related to Middle-Earth?

 

What is your favorite ending credits song?

 
| | |
| --- | --- |
| | Lurtz does not appear in the book. He is a character created specifically for Peter Jackson's movie The Lord of the Rings: The Fellowship of the Ring. Lurtz was the first of Saruman's Uruk-hai to be bred, and led them into battle against the Fellowship of the Ring at Amon Hen. |

Lord of the Rings
Loading RSS data...
The Hobbit
Loading RSS data...
Refresh
·
Read more



The One Wiki to Rule Them All, previously the Lord of the Rings Wiki, is Not in any way, shape, or form affiliated with Saul Zaentz, Middle-earth Enterprises, the Tolkien Estate, New Line Cinema, or Wingnut Films.


Copyrights and trademarks for the books, films, and other promotional materials are held by their respective owners and their use is allowed under the fair use clause of the Copyright Law.
Community content is available under
CC-BY-SA
unless otherwise noted.