Even with 6,407 articles and 9,110 files, we still need YOUR help expanding and adding articles to the wiki!
---
---
If you're new to Wikis at FANDOM or are unsure how you can help, use the above links to get started.
To contribute a new article relating to The Lord of the Rings or Middle-earth, use the box below:
Thank you!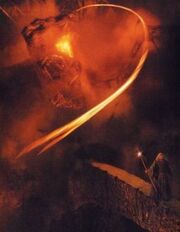 Durin's Bane refers to the particular Balrog of Morgoth that had fled following Morgoth's defeat during the War of Wrath to live and slumber deep within the depths of the Dwarven kingdom of Moria during the Third Age.
Durin's Bane was one of the Maiar spirits that existed before the creation of the world (of the same order as Gandalf and Saruman), who descended into Arda with the Valar. It was eventually seduced and corrupted by Melkor, becoming one of the Valaraukar and joining with the other balrogs in Morgoth's service. The balrog fought in many battles of the War of the Jewels, up to and including the War of Wrath. It somehow managed to survive Morgoth's defeat, fleeing east and taking refuge beneath the Misty Mountains.
Read More...

What games have you played before that is related to Middle-Earth?

 

What is your favorite ending credits song?

 
Gandalf found Glamdring in the troll's cave. He continued to use until the end of the war of the ring.

Glamdring was a sword, forged for the Elf Turgon in the First Age. For several thousand years it went missing, until Gandalf (and company) found it (along with Sting and Orcrist) in the trolls' cave in The Hobbit and claimed it for himself. He continued to use Glamdring through the events of The Lord of the Rings.

Lord of the Rings
Loading RSS data...
The Hobbit
Loading RSS data...
Refresh
·
Read more



The One Wiki to Rule Them All, previously the Lord of the Rings Wiki, is Not in any way, shape, or form affiliated with Saul Zaentz, Middle-earth Enterprises, the Tolkien Estate, New Line Cinema, or Wingnut Films.


Copyrights and trademarks for the books, films, and other promotional materials are held by their respective owners and their use is allowed under the fair use clause of the Copyright Law.
Community content is available under
CC-BY-SA
unless otherwise noted.