Even with 6,489 articles and 8,807 files, we still need YOUR help expanding and adding articles to the wiki!
---
---
If you're new to Wikis at FANDOM or are unsure how you can help, use the above links to get started.
To contribute a new article relating to The Lord of the Rings or Middle-earth, use the box below:
Thank you!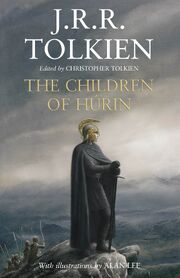 The Children of Húrin is the first of the Great Tales of Middle-earth. It was started by J.R.R. Tolkien in 1918 and had been revised many times, but it wasn't published until 2007, when more than thirty years of notes written by Tolkien were compiled and edited by his son, Christopher.
It is a closer account of the story of the wanderings and deeds of Túrin Turambar, son of Húrin, and his sister Niënor, their struggle against fate (and the curse cast upon Húrin's kin), as well as the tragic end of their lives and that of their mother, Morwen.
The book was released on 17 April 2007 with Houghton Mifflin in the United States and HarperCollins in the United Kingdom.
Read More...

What games have you played before that is related to Middle-Earth?

 

What is your favorite ending credits song?

 
| | |
| --- | --- |
| | The Black Gate was the common name for the Morannon, the gates which guarded Mordor. Frodo and Sam had a chance to go through the Black Gate when they arrived at Morder. |

Lord of the Rings
Loading RSS data...
The Hobbit
Loading RSS data...
Refresh
·
Read more



The One Wiki to Rule Them All, previously the Lord of the Rings Wiki, is Not in any way, shape, or form affiliated with Saul Zaentz, Middle-earth Enterprises, the Tolkien Estate, New Line Cinema, or Wingnut Films.


Copyrights and trademarks for the books, films, and other promotional materials are held by their respective owners and their use is allowed under the fair use clause of the Copyright Law.
Community content is available under
CC-BY-SA
unless otherwise noted.