Even with 6,002 articles and 10,024 files, we still need YOUR help expanding and adding articles to the wiki!
---
---
If you're new to Wikis at FANDOM or are unsure how you can help, use the above links to get started.
To contribute a new article relating to The Lord of the Rings or Middle-earth, use the box below:
Thank you!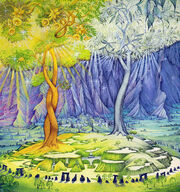 The Two Trees of Valinor, also known as the Trees of the Valar or simply the Two Trees. Laurelin (the Gold Tree) and Telperion (the Silver Tree), brought light into the Land of the Valar in ancient times. They were destroyed by Melkor and Ungoliant, but their last flower and fruit were made by the Valar into the Sun and the Moon.
The first sources of light for all of Arda were two enormous Lamps, Illuin, the silver one to the north, and Ormal, the golden one to the south. These were cast down and destroyed by Melkor. Afterward, the Valar went to Valinor and Yavanna sang into existence the Two Trees, silver Telperion and golden Laurelin. Telperion was considered male and Laurelin female. The Trees sat on the hill Ezellohar located outside Valimar. They grew in the presence of all of the Valar, watered by the tears of Nienna...
Read More...
Gandalf found Glamdring in the troll's cave. He continued to use until the end of the war of the ring.

Glamdring was a sword, forged for the Elf Turgon in the First Age. For several thousand years it went missing, until Gandalf (and company) found it (along with Sting and Orcrist) in the trolls' cave in The Hobbit and claimed it for himself. He continued to use Glamdring through the events of The Lord of the Rings.

Refresh

Belegs
•
Trying to create a page for the LotR fan film Horn of Gondor under https://lotr.fandom.com/wiki/Cat…
See more >
The One Wiki to Rule Them All, previously the Lord of the Rings Wiki, is not in any way, shape, or form affiliated with Saul Zaentz, Middle-earth Enterprises, the Tolkien Estate, New Line Cinema, Warner Bros., Wingnut Films, or Amazon Studios.


Copyrights and trademarks for the books, films, and other promotional materials are held by their respective owners and their use is allowed under the fair use clause of the Copyright Law.