Even with 6,301 articles and 9,556 files, we still need YOUR help expanding and adding articles to the wiki!
---
---
If you're new to Wikis at FANDOM or are unsure how you can help, use the above links to get started.
To contribute a new article relating to The Lord of the Rings or Middle-earth, use the box below:
Thank you!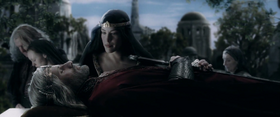 The Gift of Men refers to a gift of Ilúvatar to his Younger Children, which remains a source of some confusion for Tolkien enthusiasts. The concept includes both mortality, leading to death of old age, and free will. Below are two interpretations of the nature and extent of the Gift of Men as articulated by Tolkien.
Ilúvatar willed that the spirits or hearts of Men are not content within Arda, and find no rest therein, and therefore seek beyond the world and its confines. They are not bound to the Circles of the World, as the Elves and all other creatures of Arda are bound to the Earth. The spirits of Men truly leave the physical world, and do not return. Thus their fates are completely sundered from that of the Elves, who do not die until the world dies, unless slain by violence or ill chance, or by wearying at the last of the passage of centuries. But as the years grow long and Time wears, even the Valar will come to envy the gift of Ilúvatar to the race of Men, that of liberation from the physical world, and the inevitability of loss and sorrows that must come with this existence within Arda.
Read More...

Gandalf found Glamdring in the troll's cave. He continued to use until the end of the war of the ring.

Glamdring was a sword, forged for the Elf Turgon in the First Age. For several thousand years it went missing, until Gandalf (and company) found it (along with Sting and Orcrist) in the trolls' cave in The Hobbit and claimed it for himself. He continued to use Glamdring through the events of The Lord of the Rings.

Refresh
Hey I'm pretty new at this whole thing so it would be pretty cool if you guys could help ad some st…
See more >

The One Wiki to Rule Them All, previously the Lord of the Rings Wiki, is Not in any way, shape, or form affiliated with Saul Zaentz, Middle-earth Enterprises, the Tolkien Estate, New Line Cinema, or Wingnut Films.


Copyrights and trademarks for the books, films, and other promotional materials are held by their respective owners and their use is allowed under the fair use clause of the Copyright Law.