Even with 6,409 articles and 9,112 files, we still need YOUR help expanding and adding articles to the wiki!
---
---
If you're new to Wikis at FANDOM or are unsure how you can help, use the above links to get started.
To contribute a new article relating to The Lord of the Rings or Middle-earth, use the box below:
Thank you!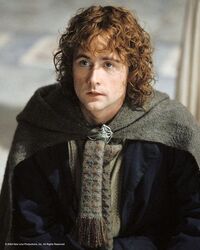 Peregrin Took (TA 2990-?), better known to his friends as Pippin, was a Hobbit, and one of Frodo Baggins's youngest but best friends.
The hair on his head and his feet (which are exceptionally hairy, even for a Hobbit) was almost golden and curly. At the beginning of Quest of the Ring he was smaller than the rest of the Hobbits because he was the youngest.
Pippin was six years younger than Merry, and thus was far younger than Frodo. He was a worthy accomplice to Merry's plans, but showed his age as well; he was still a cheerful, if occasionally thoughtless Hobbit, and was first to miss the comforts of Hobbit life. At Rivendell, Pippin was nearly denied the chance to accompany Frodo by Elrond who seriously considered using the youngest Hobbit as a messenger to the Shire. Gandalf, however, supported his and Merry's claims of friendship and loyalty, and Pippin was chosen as the last member of Fellowship.
Read More...

What games have you played before that is related to Middle-Earth?

 

What is your favorite ending credits song?

 
Gandalf found Glamdring in the troll's cave. He continued to use until the end of the war of the ring.

Glamdring was a sword, forged for the Elf Turgon in the First Age. For several thousand years it went missing, until Gandalf (and company) found it (along with Sting and Orcrist) in the trolls' cave in The Hobbit and claimed it for himself. He continued to use Glamdring through the events of The Lord of the Rings.

Lord of the Rings
Loading RSS data...
The Hobbit
Loading RSS data...
Refresh
·
Read more



The One Wiki to Rule Them All, previously the Lord of the Rings Wiki, is Not in any way, shape, or form affiliated with Saul Zaentz, Middle-earth Enterprises, the Tolkien Estate, New Line Cinema, or Wingnut Films.


Copyrights and trademarks for the books, films, and other promotional materials are held by their respective owners and their use is allowed under the fair use clause of the Copyright Law.
Community content is available under
CC-BY-SA
unless otherwise noted.