Even with 6,477 articles and 8,501 files, we still need YOUR help expanding and adding articles to the wiki!
---
---
If you're new to Wikis at FANDOM or are unsure how you can help, use the above links to get started.
To contribute a new article relating to The Lord of the Rings or Middle-earth, use the box below:
Thank you!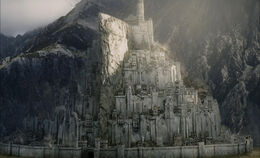 Minas Tirith [Sindarin; minas (tower) + tirith (watch/guard)] (IPA: tiriθ) was the capital of Gondor in the Third Age and the Fourth Age of Middle-earth. Originally known as Minas Anor, the "Tower of the Setting Sun", it replaced the city Osgiliath as the new capital and stockade of Gondor.
When the Enemy began to take shape again, Minas Anor was renamed Minas Tirith, the "Tower of Guard." The city was also called The White City, as the courtyard in the front of the city's Citadel contained the White Tree, and was also known as the City of Kings because of its connection with the kings and stewards of Gondor (who ruled the kingdom of Gondor from the Citadel of the city). Many important events took place in and in front of the city, such as the Battle of the Pelennor Fields, the healing of Meriadoc Brandybuck by Aragorn after that battle, and the coronation of Aragorn II Elessar outside the city gates.
Read More...

What games have you played before that is related to Middle-Earth?

 

What is your favorite ending credits song?

 
| | |
| --- | --- |
| | Smaug was a greedy, reddish-gold dragon of Middle-earth, who laid waste to Dale and captured the Lonely Mountain (Erebor) with all its treasure, which he gathered in a central hall and slept upon. Despite having accumulated such vast wealth, Smaug was intimately familiar with every last item within his hoard, and instantly noticed the theft of a relatively inconsequential item by Bilbo Baggins. |

Lord of the Rings
Loading RSS data...
The Hobbit
Loading RSS data...
Refresh
·
Read more

The One Wiki to Rule Them All, previously the Lord of the Rings Wiki, is Not in any way, shape, or form affiliated with Saul Zaentz, Middle-earth Enterprises, the Tolkien Estate, New Line Cinema, or Wingnut Films.


Copyrights and trademarks for the books, films, and other promotional materials are held by their respective owners and their use is allowed under the fair use clause of the Copyright Law.