Even with 6,225 articles and 9,737 files, we still need YOUR help expanding and adding articles to the wiki!
---
---
If you're new to Wikis at FANDOM or are unsure how you can help, use the above links to get started.
To contribute a new article relating to The Lord of the Rings or Middle-earth, use the box below:
Thank you!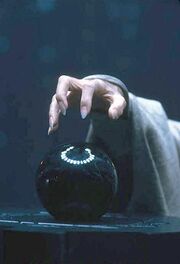 Palantíri (or singular Palantír) also known as Seeing-stones, the Seven Stones, and the Seven Seeing-stones were spherical stone objects used for the purpose of communication in Middle-earth and beyond.
The Palantíri were made by the Ñoldor in Eldamar, possibly by Fëanor himself during his time in Aman during the Elder Days in the Time of the Trees, and then given by the Elves to the Númenóreans, who kept them as heirlooms until the Fall of Númenor during the late Second Age; seven of these stones were rescued and brought to Middle-earth by Elendil and his sons and set in well-guarded towers throughout the Realms in Exile.
Read More...
| | |
| --- | --- |
| | Esgaroth upon the Long Lake, also known as Lake-town, is a community of Men in the north eastern part of Middle-earth. The town is constructed entirely of wood and stands upon wooden pillars sunk into the bed of the Long Lake, south of the Lonely Mountain and west of Mirkwood. |

Refresh
Hey I'm pretty new at this whole thing so it would be pretty cool if you guys could help ad some st…
See more >

The One Wiki to Rule Them All, previously the Lord of the Rings Wiki, is Not in any way, shape, or form affiliated with Saul Zaentz, Middle-earth Enterprises, the Tolkien Estate, New Line Cinema, or Wingnut Films.


Copyrights and trademarks for the books, films, and other promotional materials are held by their respective owners and their use is allowed under the fair use clause of the Copyright Law.