---
---
If you're new to Wikis at FANDOM or are unsure how you can help, use the above links to get started.
To contribute a new article relating to the Middle-earth legendarium, use the box below: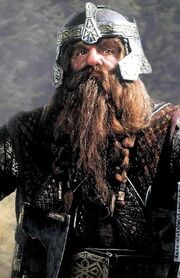 Gimli, son of Gloin, was a well-respected dwarf warrior in Middle-earth. He was a member of the Fellowship of the Ring, and was the only dwarf to readily fight alongside men and elves in the war against Sauron at the end of the Third Age.
Gimli was the son of Glóin, one of the former companions of Bilbo Baggins. He was by far remote a descendant of Durin the Deathless, father of the Dwarven people Gimli belongs to, but was not a member of the royal line. (Gimli was also the first cousin once removed of Balin, Lord of Moria).
When the One Ring was discovered, Elrond summoned representatives from the various races and nations of Middle-earth to Rivendell to formulate a way of destroying the ring. Gimli was one of the dwarven representatives. When others started to volunteer to accompany Frodo Baggins on the journey to Mordor, he volunteered, in no small part out of suspicion over Legolas Greenleaf, who had also volunteered.
Read More...
| | |
| --- | --- |
| | Déagol was a cousin of Sméagol. On one of Sméagol's birthdays, they both went fishing, and Déagol was pulled underwater by a big fish. It was then that he discovered the Ring, half-buried in the river-bed. |

Refresh

Belegs
•
Trying to create a page for the LotR fan film Horn of Gondor under https://lotr.fandom.com/wiki/Cat…
See more >
The One Wiki to Rule Them All, previously the Lord of the Rings Wiki, is not in any way, shape, or form affiliated with Saul Zaentz, Middle-earth Enterprises, the Tolkien Estate, New Line Cinema, Warner Bros., Wingnut Films, or Amazon Studios.


Copyrights and trademarks for the books, films, and other promotional materials are held by their respective owners and their use is allowed under the fair use clause of the Copyright Law.