Even with 6,480 articles and 8,579 files, we still need YOUR help expanding and adding articles to the wiki!
---
---
If you're new to Wikis at FANDOM or are unsure how you can help, use the above links to get started.
To contribute a new article relating to The Lord of the Rings or Middle-earth, use the box below:
Thank you!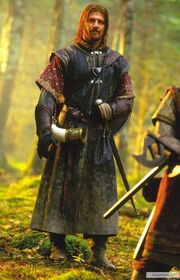 Boromir was a man of Gondor who was the son of Denethor II, the current Steward of Gondor. He was the eldest child, having only one brother, Faramir, and so would have taken over as Steward after Denethor's death. However, he was slain by Orcs during the Quest of the Ring on the shores of Anduin. He fell defending the two hobbits Merry and Pippin, two members of the Fellowship of the Ring. Aragorn, Legolas, and Gimli laid him to rest inside one of the boats of Lorien, and sent him down the falls of Rauros.
Boromir was a valiant warrior, having already achieved great merit in Gondor prior to the Council of Elrond. He was sent to Rivendell to decipher a cryptic rhyme that both he and his younger brother heard in their dreams.
Read More...

What games have you played before that is related to Middle-Earth?

 

What is your favorite ending credits song?

 
| | |
| --- | --- |
| | Bywater is a village in the Shire, lying within the Westfarthing near Hobbiton, and along Bywater Road. Bywater was located on The Water, a small stream that ran through part of the Shire. |

Lord of the Rings
Loading RSS data...
The Hobbit
Loading RSS data...
Refresh
·
Read more

The One Wiki to Rule Them All, previously the Lord of the Rings Wiki, is Not in any way, shape, or form affiliated with Saul Zaentz, Middle-earth Enterprises, the Tolkien Estate, New Line Cinema, or Wingnut Films.


Copyrights and trademarks for the books, films, and other promotional materials are held by their respective owners and their use is allowed under the fair use clause of the Copyright Law.
Community content is available under
CC-BY-SA
unless otherwise noted.